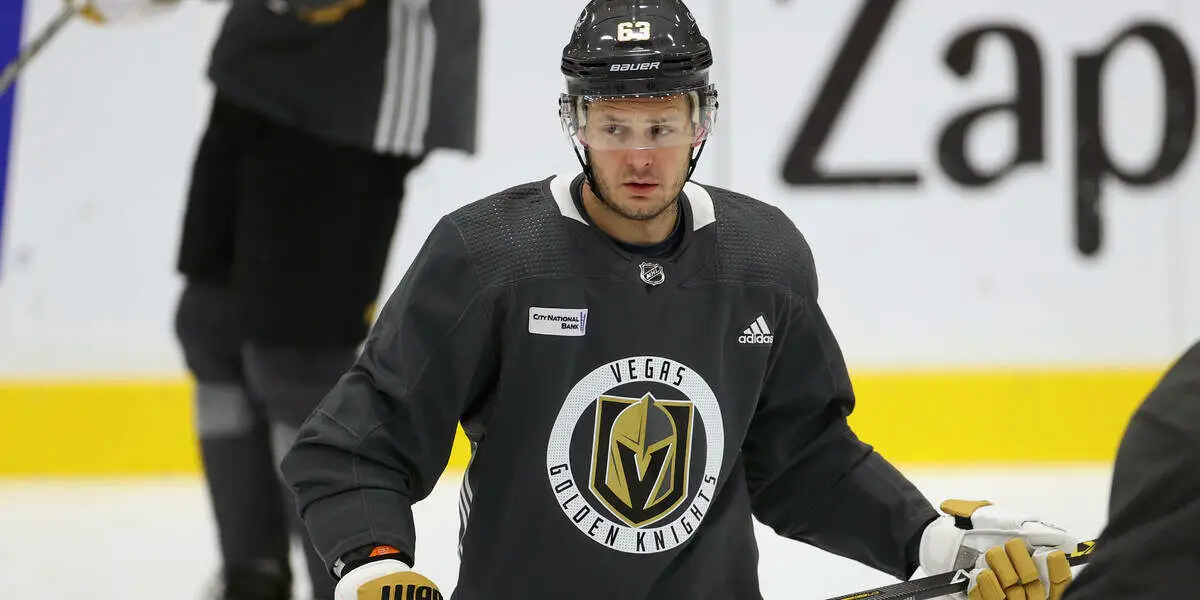 The Las Vegas Golden Knights may have found a way around their cap issues related to bringing in a healthy Jack Eichel with the recent wrist injury to Max Pacioretty, but does that mean they're done on the trade market? According to a source familiar with the situation in Vegas, it would appear that while Reily Smith is likely off the table due to the cap space issue being resolved with Pacioretty on LTIR. That said, according to our source, Evgenii Dadonov is on the block.
The 32-year-old right-winger has had an OK season with eight goals and six assists in 32 games. That said, he still isn't performing anywhere near the level he was in Florida, especially not to the level of that five-million-dollar contract he is sitting on. The significant difference between his time in Vegas/Ottowa and his time in Florida is his shooting percentage. Whether you believe it's because of his spot in the lineup, the number of minutes he's playing, or different chemistry with his linemates, Dadonov is a decent piece to be able to put on the block. It might help you build up that prospect pool that needs some love, or it might just be a small amount of cap relief for the 'just in case' situation, but either way, it would appear Vegas wants to move on.
The Contract
Dadonov is in his second year of a three-year contract he initially signed with the Ottowa Senators before being traded to Vegas. Dadonov came in a trade that sent Nick Holden and a third-round 2022 pick back the other way. If Dadonov does end up moving, this would be his second trade in a three-year contract and in a situation where he had least had partial control. Included in the three-year deal, Evgenii has a modified no-trade clause. This M-NTC gives some power to Dadonov but doesn't entirely save him from a potential trade.
Where Might He Land?
Based on his contract, it will be up to Dadonov to submit a list of acceptable landing spots for him, and it remains unclear to us which destinations Dadonov would decline a trade for. That said, based on an educated guess, there is a belief that Detroit, Arizona, and maybe Buffalo are all possible landing spots. These three locations make sense as teams that could afford to tag on a 5-million-dollar player mid-season and manage it with their cap space. Our source could not identify the exact return being requested from Vegas but did stipulate that Vegas would be willing to add a "sweetener" to get something done before the deadline. This type of trade would not be the first time Vegas has done something like this, as, during the off-season, they moved Marc-Andre Fleury in a similar style trade.
What Happens From Here?
The Vegas Golden Knights can likely keep their roster precisely the same if they want with Pacioretty's LTIR stint and be just fine cap-wise. They're going to take advantage of the same loophole Tampa Bay took advantage of to bring Pacioretty off LTIR for the playoffs, but that doesn't mean Vegas doesn't want the flexibility as they continue to be an excellent team. Suppose they're going to continue to be an excellent team pushing for a cup appearance and enjoy the flexibility on their roster. In that case, it makes perfect sense to move an underperforming Dadonov. Keep an eye on Inside The Rink as this story continues to develop.