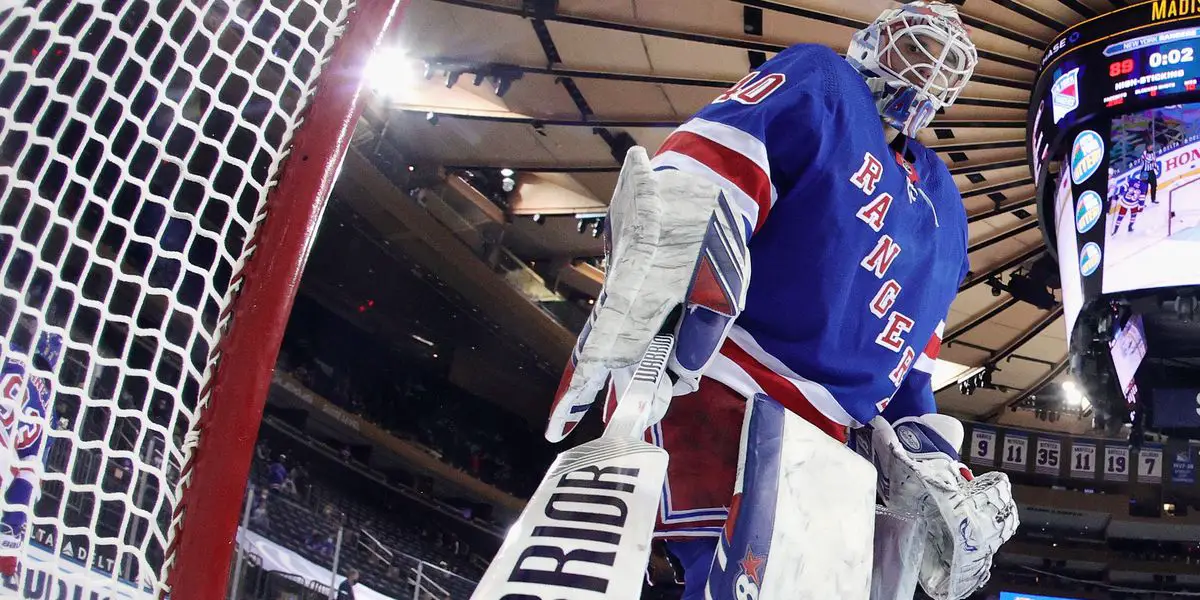 The Oilers' goaltending has not been near good enough as of late, as both Mikko Koskinen and Mike Smith are struggling. While the Oilers are not giving them a ton of help, it shouldn't be a surprise to hear the Oilers' name involved with a lot of goalies around the league. The latest news on the goaltending front is coming from Nick Kypreos, who said that the Oilers could look at New York Rangers goalie Alexandar Georgiev.
This comes not long after the Oilers got a pretty good scouting report on the Rangers netminder after he backstopped his team to a 4-1 victory and saved 33 out of 34 shots. Also, Oilers netminder Mikko Koskinen got some flack from head coach Dave Tippett after this game, where Tippett threw Mikko under the bus for his poor play early in the game. Koskinen would comment on the media, stating, "It doesn't feel nice to be thrown under the bus, but I had no big emotions about the things coach said. One just has to keep going next game."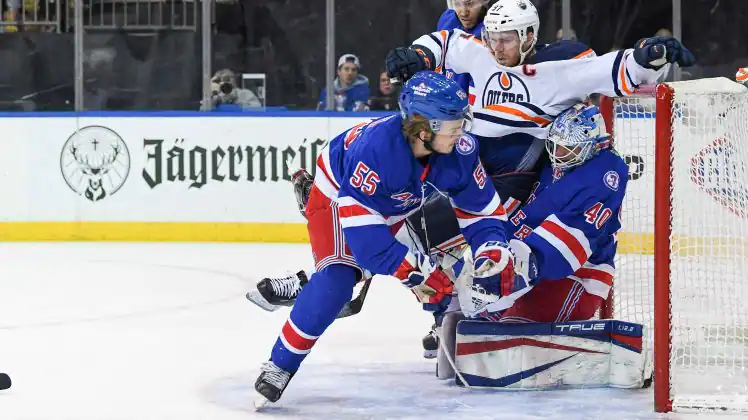 Alexandar Georgiev's name has been thrown around multiple times, especially with the Oilers. It's said that Georgiev isn't happy in New York and wants a chance to be a starter. Safe to say, with Igor Shesterkin being locked up long-term and his play being among the league's best, that Georgiev won't get that opportunity anytime soon with the Rangers. So far this season, Shesterkin has posted an immaculate 15-4-2 record and is boasting an insane 2.09 GAA and a .936 save%. While the other, being Georgiev, has a record of 6-4-2, and an underwhelming 2.89 GAA, and a .904 save%.
Most are quick to point to the goalies being the problem in Edmonton, and they have been far from perfect, but the Oilers also have terrible defensive play. While those Georgiev's numbers aren't great, they're better than both goalies in Edmonton. So far this season, Mike Smith has a record of 2-2-1, a GAA of 3.76, and a save% of .898. Koskinen's numbers are better, but by very little, as he has a record of 12-7-1, a GAA of 3.19, and a save% of .900.
Georgiev's contract is pretty cheap, coming with a cap-hit of $2.425 million. With only the remainder of this season left on his contract, Georgiev will be an RFA this coming July. If the Oilers were to make a deal with him and it doesn't work out, they could simply let him go in the off-season. Also, with Georgiev's play not being very strong, his deal will not be expensive if Ken Holland wishes to give him an extension after the trade.
If a deal were to be made, the Oilers would need to move out money to fit Georgiev under the cap. A deal could see the Oilers moving one of Mike Smith or Mikko Koskinen, but the Oilers would have to pay a pretty penny for the Rangers to take one of those guys. Another deal that could happen is the Oilers trading Zack Kassian. It was rumored that a couple of teams were interested in Kassian, those teams being the Pittsburgh Penguins and the New York Rangers. If that's true, or even if the Rangers still have interest in him, it's very possible that a deal including Kassian and Georgiev could be swung, as both look like they need a change of scenery. The Oilers will most likely have to give a sweetener with Kassian because of his poor play in this season and the previous one.
With the Oilers rumored in on a lot of goalies, it wouldn't surprise me to hear more come out, especially with some talking about Price and Fleury in the same breath as the Oilers. With the story changing every minute, it's safe to say expect the unexpected.