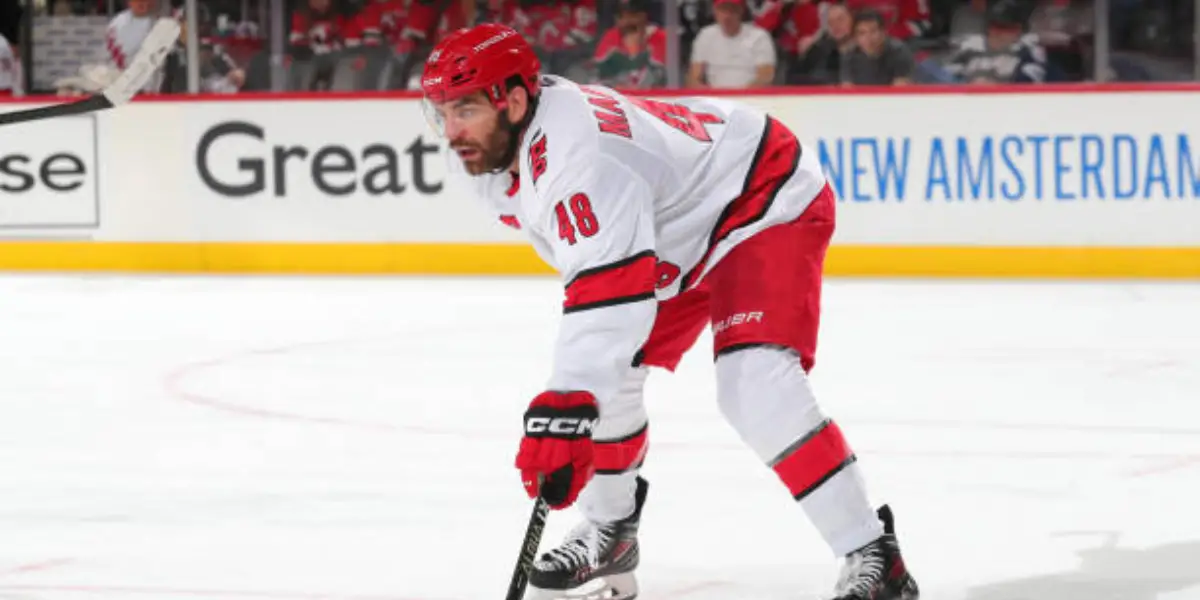 The Carolina Hurricanes are one win away from the Eastern Conference Finals. They have looked strong all playoffs long and are playing like a true Stanley Cup contender. Despite missing multiple key players due to injury, Carolina was able to handle the New York Islanders in a low-scoring, first-round series. Now their offense is exploding in round two against the New Jersey Devils. Their healthy top players are definitely a reason why, but so is their depth.
One of these depth players, in particular, has been outstanding in round number two and is emerging as an unlikely playoff hero for the Hurricanes. That player is Jordan Martinook.
Jordan Martinook is a 30-year-old winger who has spent his entire career as a bottom-six forward. It's his fifth season in Carolina, and he is producing like he never has before. Through ten playoff games, Martinook has three goals, six assists, and nine points. He's second on the team in points this postseason, only behind star center Sebastian Aho. Incredibly, all of that production has come in the second round against the New Jersey Devils.
Martinook was held scoreless in the first round by the New York Islanders. Through four games against the Devils, however, he has multiple points in every game.
In Game 1, he notched two assists in a 5-1 Hurricanes win. In Games 2 and 3, he finished with a goal and an assist. Last night in Game 4, Martinook potted a goal and two assists for a three-point night as Carolina crushed New Jersey 6-1.
Martinook has always been a solid depth player, but this kind of offensive explosion comes as a bit of a surprise. His previous career high for points in a single postseason was four in 2018-19. He's already more than doubled that this year, specifically in the last four games.
Martinook's offensive outburst has come at the perfect time. The Hurricanes are missing three top-six wingers, with Andrei Svechnikov, Max Pacioretty, and Teuvo Teravainen all out of the lineup with injuries. Svechnikov and Pacioretty have missed the entire postseason, and Teravainen only played the first two games.
With three key offensive producers missing, the Hurricanes badly needed depth players to step up into bigger roles. Jordan Martinook has answered the call superbly in round two. He is exceeding any and all expectations, and his play is a huge reason why Carolina has a 3-1 series lead.
Jordan Martinook had a career-best regular season this year with 34 points. He's now carrying that success over into the playoffs when the Hurricanes need him the most. It remains to be seen how long Martinook can keep up this level of scoring, but there's no doubt he is a big reason why Carolina is beating New Jersey. Martinook's second-round performance has him emerging as an unlikely, yet very real, playoff hero for the Carolina Hurricanes.
The boys are back after a long break but have plenty to talk about as the playoffs are in full swing. We go series by series, looking at how teams have fared so far and who will come out on top. Thanks for listening! Please rate and review our show on your favorite listening platform. Check out our partner's website at www.insidetherink.com for all your latest hockey news.