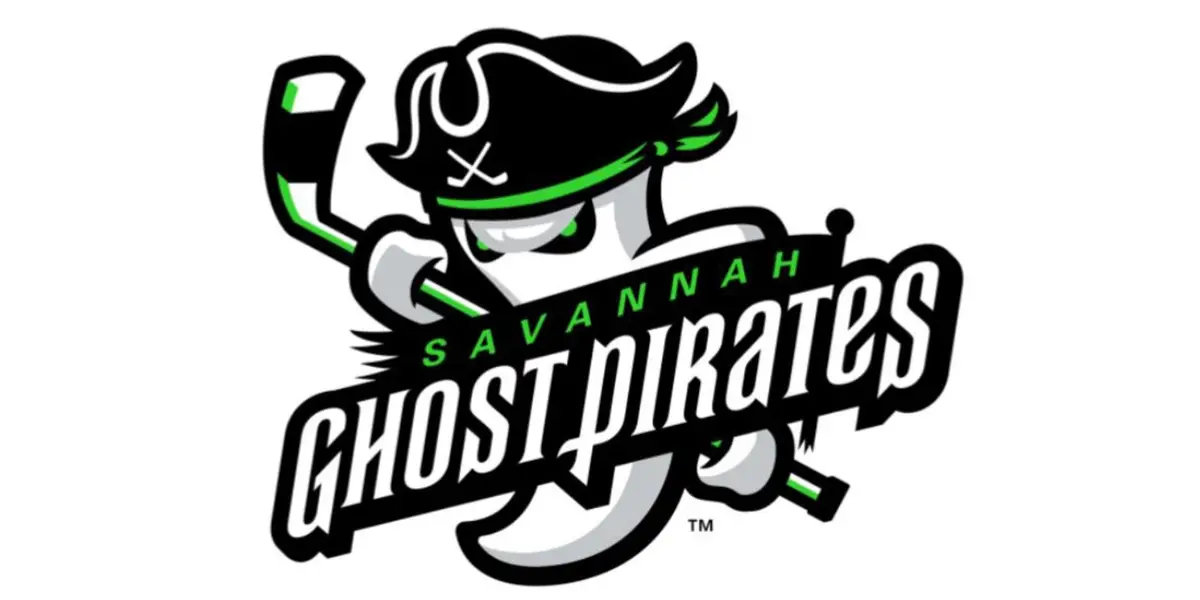 Love is a universally-spread emotion when it comes to hockey. Many teams will have a "kiss cam" during intermissions or pauses in play. Others have had the dedicated camera focus on fans as they propose to their partners. When it came to Valentine's Day for the new southern ECHL team, the Savannah Ghost Pirates made sure they did some extraordinary things for their new and loyal fans. One of these special gifts for their fans was a win against the Orlando Solar Bears and adding two new players to the roster. 
As the new ECHL affiliate of the Las Vegas Golden Knights, the Ghost Pirates have had a variety of surprises throughout their inaugural season. They've had many popular special event jerseys like their Marvel Black Panther jerseys, Scooby Doo jerseys, Hockey Fights Cancer jerseys, and more. They've also done some exciting promo videos for and during their games, such as the Ghost Pirates' social media post for Scooby Doo Night. 
Throughout Tuesday's game, numerous "Valentine's cards" with images of some players and jokes referencing their names and nicknames were displayed on the big screen. Numerous hockey players have shorter versions of their actual names as their nicknames. The same is true for the Ghost Pirates' players. In reference to Logan Drevitch, one of them remarked, "Drevy makes my heart heavy." Another said, "You make me sweaty," and featured Alex Swetlikoff. The game also had its usual Kiss Cam during one of the stoppages of play during the game, as well as the rest of their ordinary interactive camera events. 
As well as celebrating the official holiday of love, the SGP received much love from their fans as they sent the Orlando Solar Bears home defeated. The end of the game showed more love to the Ghost Pirates with a final score of 4-2. The only two players to score for the Ghost Pirates were Daniel D'Amato and Logan Drevitch, scoring two goals each. The assists on all four goals came from Alex Swetlikoff, Pat Guay, Peter Deliberatore, Mason Primeau, and Brent Pederson. Both Drevitch and D'Amato scored in the first period, Drevitch scored his second goal in the second period, and D'Amato hit his second in the third period. The two Solar Bears' goals were scored by Shawn Szydlowski and Ross Olsson, while Jordan Papirny was in goal. They scored with assists from Bennett MacArthur, Max Balinson, and Michael Brodzinski. They scored in the second and third periods. 
In terms of penalties, there were not too many, as both teams only had three total penalties each. Two out of Orlando's three penalties were called for tripping. Two of Savannah's three were for slashing and hooking. Savannah's Brent Pederson and Orlando's Shawn Szydlowski got penalized for dropping the gloves at 4:30 into the third period. As this season has gone by, it can be seen that there is some sort of recurring tension between Savannah and South Carolina, Atlanta, and Orlando.
The Savannah Ghost Pirates have really started to close out their first season strong. With two wins in the past week, we can see these players finishing the season with a hard fight. Now that Darion Hanson is no longer on the GP roster and with Isaiah Saville on reserve, Michael Bullion has been added as a new Savannah goaltender. With Darian Skeoch now out with an unknown injury as well, Artur Terchiyev has also been added to the roster as a new defender. With 21 games left in the regular season for Savannah, we can expect to see more of their hard work and resilience as the 2022-2023 season comes to a close. All of Savannah's fans are looking forward to two more hard-fought victories in this week's two remaining games.