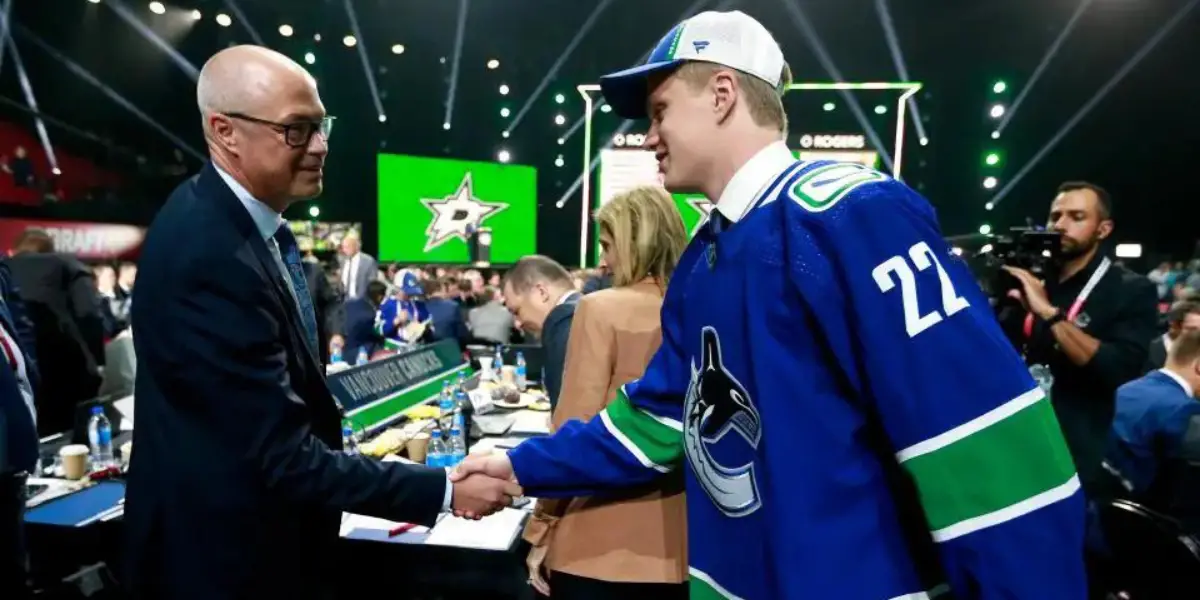 The GM for the Canucks, Patrick Allvin, announced today that the team has agreed to terms with their third round pick in the last draft Left Shot Defenseman Elias Petterson. Not to get confused with the star of the Canucks, Center Elias Petterson.
Allvin said in the press release, "We are very happy to have Elias sign with us as he takes another step forward in his hockey career…We really liked the year he had on the ice in both representing his country at the World Juniors and playing important minutes in the SHL (Swedish Hockey League). Our development team is excited about the opportunity to continue to work with him and create a stronger relationship and partnership, building upon his already strong desire to learn and compete."
Petterson plated for the Orebro HK, lacing up the skates for 43 games in 2022-23 and 14 games for the Junior league. In the 43 games he played in the adult league, he had 7 points & 6 PIMs while getting 13 games in the playoffs and no points.
As per Elite Prospects 2022 NHL Draft Guide, "Elias is a good skater with a long stride. He can travel with the puck and is quick out to the corners. Elias is very involved in the game and drives it with a strong first pass or puck traveling. He has good control and his head up. He uses mobility and reach to close gaps and likes to shut down with a hit too. Elias is not only physical, he is highly competitive in his own end too. When his team needs him he steps up"
If he keeps progressing as he has been, his speed and mobility as a new-age shutdown defenseman, once the room is cleared if and when Oliver Ekman-Larson and Tyler Myers move on or their contract expires, could make him a great fit in a couple of years.
This signing is excellent for the Vancouver franchise. However, it does appear that he might need a couple of years to make it to the NHL. As per Rick Dhaliwal of Donnie and Dhali – the Team, Pettersson will train in Vancouver throughout the offseason but plans on playing 2023-24 in Sweden. So don't look forward to seeing him live in Abbotsford or Vancouver until at least the 2024-25 season.
HSP – May 29th 2023 – Canucks Cap Issues, CFL Pre-Season and Arturs Silovs is the man!!!
–
Hughes Sports Podcast- HSP
Introducing the Hughes Sports Podcast, your go-to source for insightful discussions and expert analysis on the hottest topics in the world of sports. Join your hosts, Jake and Kevin Hughes, as they delve deep into the captivating realm of sports.In our latest episode, we spotlight the Vancouver Canucks' cap issues, dissecting the complexities and implications of their financial challenges. Jake and Kevin meticulously analyze the team's salary cap situation, offering invaluable insights into the strategies the Canucks can employ to navigate this obstacle and achieve long-term success.But that's not all! We also dive into the exciting realm of Canadian Football League (CFL) pre-season action. With a keen eye for detail, Jake and Kevin break down the standout performances, highlight emerging talents, and provide a comprehensive overview of what to expect in the upcoming CFL season. Whether you're a die-hard CFL fan or a newcomer to the sport, this episode will keep you well-informed and ready for the gridiron action.And let's not forget our tribute to the incredible goaltending prowess of Arturs Silovs. Recognizing his exceptional skills and immense contributions to the sport, Jake and Kevin pay homage to Silovs' extraordinary talent and discuss how he has become a force to be reckoned with in hockey. From his remarkable saves to his unwavering determination, we delve into why Silovs is the man to watch out for.Tune in to the Hughes Sports Podcast for a captivating blend of SEO-focused copywriting expertise and in-depth sports analysis. Jake and Kevin Hughes bring their passion, knowledge, and wit to the forefront, delivering a podcast that will keep you entertained, informed, and craving more. Don't miss the latest episode—your ultimate sports fix awaits!