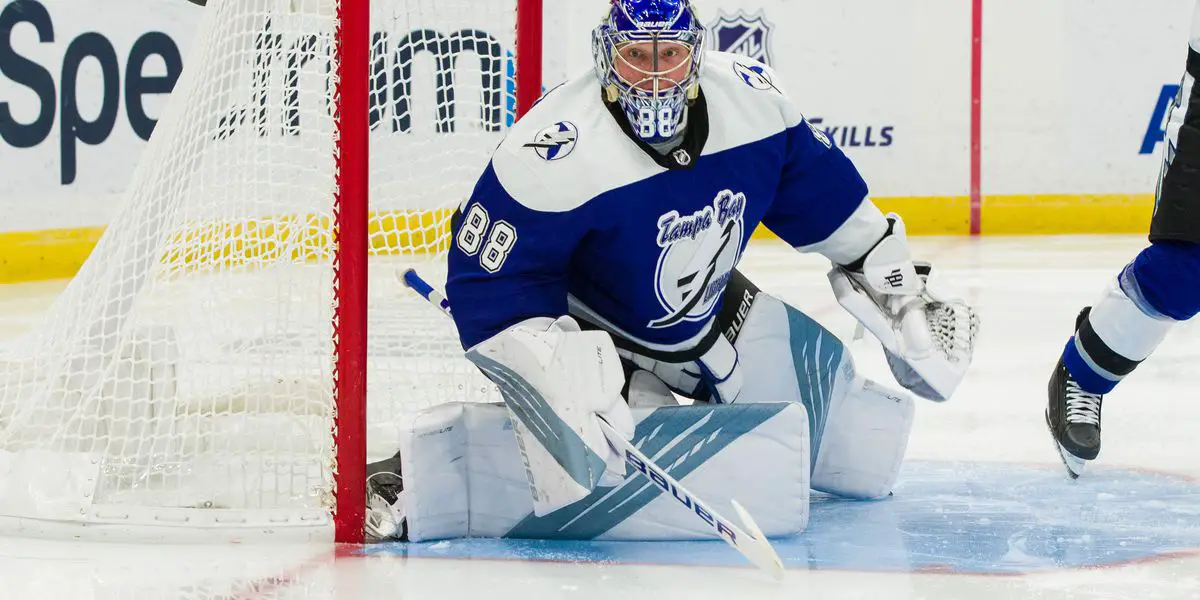 Andrei Vasilevskiy has been a key factor in the Tampa Bay Lightnings' success since taking over as the full-time goaltender for the 2016-2017 season. The 27-year-old has been especially stellar in the playoffs as he has helped the Lightning win back-to-back Stanley Cup Championships and has them fighting for their third straight. The only thing standing in their way is the high-powered Colorado Avalanche, who are on their own quest to win their first Cup since the 2000-2001 season.
While Vasilevskiy has been stellar in his career, one thing of concern heading into this finals matchup was his previous outings against Colorado. He hasn't won a game against the Avalanche since 2018 going 0-3 in his last three starts against them; in his career against the Avs, heading into the game one, he has posted averages of 3.44 GAA and a .877 SV %. This trend continued for Vasilevskiy in game one as the Avs took the first game of the series 4-3 in OT to get ahead of the defending champs. Vasilevskiy finished with four goals allowed and .896 SV % as he has now lost four straight to the them. He has a chance to redeem himself tonight as he looks to get back on track and try to minimize the damage this high powered Avs offense can produce.
While the numbers versus the Avalanche don't support Vasilevskiy's case, his series-clinching numbers do. If the Tampa offense can bail Vasilevskiy out in the coming games, history is on their side. Vasilevskiy has been unstoppable regarding series-clinching games over his past eight starts in that situation. In those situations, Vasilevskiy has gone 8-0 with 0.25 GAA, a .991 SV %, and six shutouts. If the Lightning finds themselves in a situation to close out the series, Vasilevskiy is the guy you want in the net as he has ice in his veins when it matters the most.
Game two of the Stanley Cup Finals takes place tonight at 8 pm EST in Colorado as the Avs look to take a commanding 2-0 lead and the Lightning look to even the series up 1-1 before heading back to the sunshine state for Game three.
Episode 51: Interview w/Jack Ahcan Episode 51 is back in action talking about the New York Paingers ITR bet, Can Buffalo Sabres make the playoffs? Is Vancouver in the wrong on the Boudreau treatment? Is Tocchet the right guy? Is Daryl Sutter the last Dinosaur in the NHL?YouTube: https://www.youtube.com/@insidetherinkTwitter: https://twitter.com/CueTheDuckBoatzFacebook: https://www.facebook.com/Cuetheduckboats/Thanks for listening! Please rate and review our show on your favorite listening platform. Check out our partner's website at www.insidetherink.com for all your latest hockey news. Also, catch all of the games in this year's NHL season by signing up for ESPN+ at Insidetherink.com/ESPN