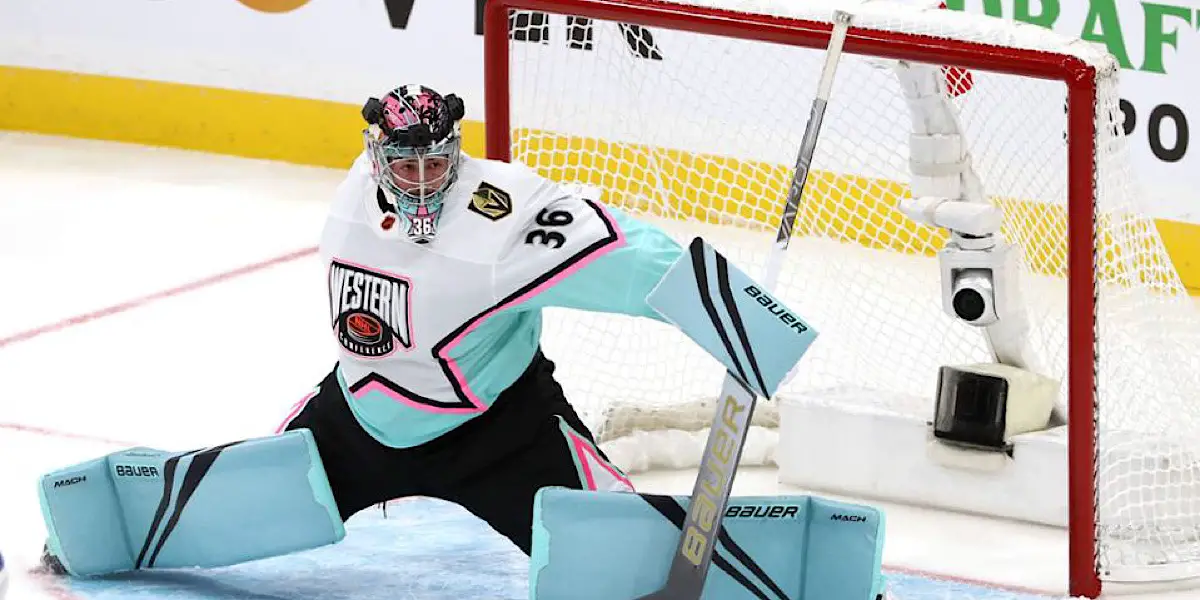 Laurent Brossoit is officially back in the NHL, albeit at the expense of Logan Thompson. After injuries, a log jam in Vegas' crease, and being sent down to Henderson Silver Knights of the American Hockey League. On Saturday, Vegas Golden Knights recalled Brossoit up to the NHL.
While it's good to see Brossoit get the call back up to the NHL, it only comes after Vegas revealed that starting goaltender Logan Thompson is considered out week-to-week with a lower-body injury.
Thompson was injured Thursday night in a 5-1 win versus the Minnesota Wild.
Early in the third period, Thompson appeared to sustain a non-contact injury, and the rookie of the year candidate scrambled to make a save on Minnesota forward Frederick Gaudreau. After that, he lay face down on the ice before the referees whistled the play dead. He appears to grab the back of his left leg while down, leaving the ice out with no pressure on his lower left side.
In 36 games played this season, Thompson has a .914 save % and 2.66 GAA. With a record 20-13-3 in his rookie season with Vegas, he appeared in his first NHL All-Star Game in 2023 and is in the mix for the Calder Trophy, awarded to the top rookie in the NHL.
As for Brossoit, 29, who the Calgary Flames drafted in the sixth round, 164th overall in 2011, he isn't short of NHL experience. In eight seasons with Edmonton, Winnipeg, and Vegas, he's played in 106 games, starting 86, carrying a 42-41-8 career record with a 2.84 GAA and .905 save %.
For the time being, Vegas will turn to Adin Hill and Laurent Brossoit to help them stay atop the Pacific Division standings.
Will the VGK win Game 6/7 or choke away the WCF?
–
The Vegas Fever Podcast
In this episode we review:The first 5 games of the WCF, the VGK lead 3-2We also..Discuss how closing out the Stars will go and how not closing them out will go after leading the series 3-0.Be sure to send in your questions, comments , concerns and emotional outbursts to our twitter DM'sThanks for checking us out! Please subscribe after you listen.