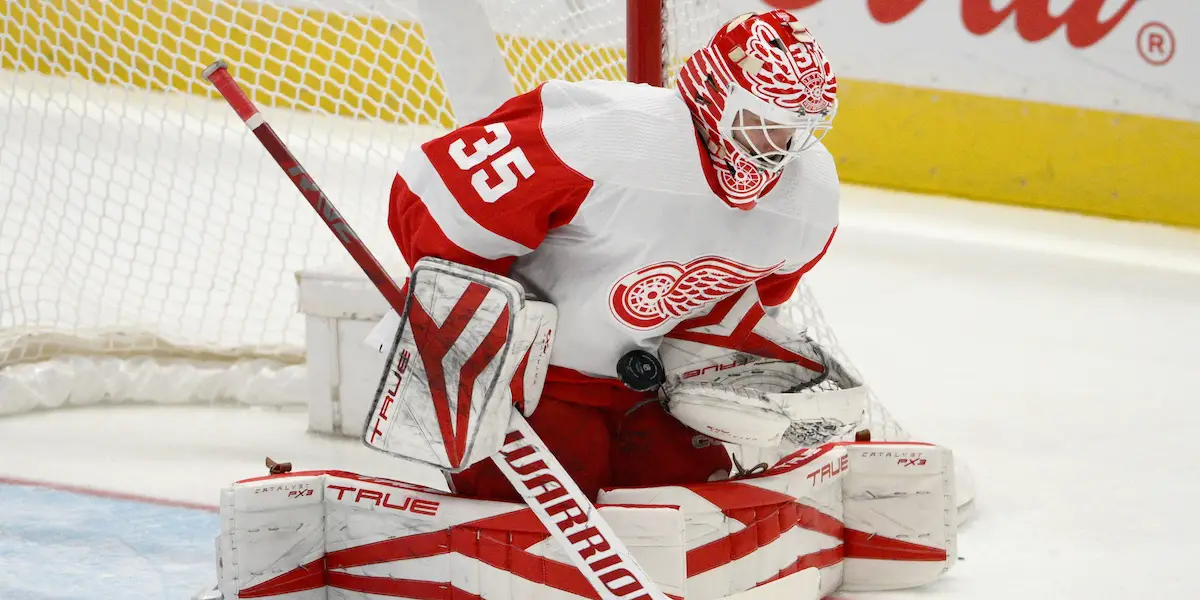 As of February 24th, the Detroit Red Wings are currently tied with the Buffalo Sabres for the final Eastern Conference Wildcard spot with 64 points in 57 games played. While players such as Dylan Larkin, Tyler Bertuzzi, and Moritz Seider have all stepped up their games, the most important player during the Red Wings' seven wins out of their past eight games is Ville Husso.
After a breakout season with St. Louis, posting a 25-7-6 record, a goal-against-average of 2.56, and a save percentage of .919, Husso was on track to be well sought after on the open market. On day two of the NHL Entry Draft, the Red Wings acquired Husso in exchange for their 3rd round selection. 
With uncertainty in goal, Steve Yzerman decided to take the risk on the now 28-year-old netminder, who had only had 57 career appearances, and immediately signed him for three years at an average annual value of $4.75 million. 
And throughout February, Husso has shown his potential. In eight starts, Husso has posted a 6-2 record, a goals-against-average of 2.29, and a save percentage of .929. In that span, Husso has goals saved above the expected of 4.82. 
Since February 1st, Husso ranks fifth in save percentage among goalies who have appeared in five or more games. 
Husso's calm demeanor in goal has allowed the Red Wings to play confidently in front of him. Still, with him already surpassing his career high in games played in a season, there are some questions about whether he can handle the increased workload.
During January, Husso (along with the rest of the roster) struggled to find consistency. He was overcommitting to an initial shot and struggled to track a rebound. In ten games, Husso went 5-5, posting a goals-against-average of 3.34 and a save percentage of .884. 
Husso is on pace to start 60 games this season, which would be among the league leaders; with Detroit's most challenging stretch yet to come, they need Husso at the top of his game, including not overworking him.
In his last two appearances, Magnus Hellberg gave the Red Wings a chance to win, allowing only two goals in both games and posting a save percentage of .937. With back-to-backs in the coming weeks versus Ottawa and Boston and facing teams such as St. Louis and Chicago, Husso should be able to have his workload lightened.
When at his best, Husso uses his six-foot-three frame to his advantage, squaring up to the shooter and finding pucks laterally. 
The Red Wings are in a race with five other teams for two playoff spots. If Ville Husso can keep this level of play up, the Red Wings could very well find themselves in the playoffs for the first time since 2016.
In this episode, we recap Traverse City and the annual Red vs. White game and discuss standouts and takeaways from training camp. Later, we give our breakdown of the Red Wings' 4-3 win over the Penguins, with DeBrincat making his Red Wings preseason debut, Danielson scoring his first goal, the first powerplay unit, and more! To wrap up, we give our Central Division predictions!