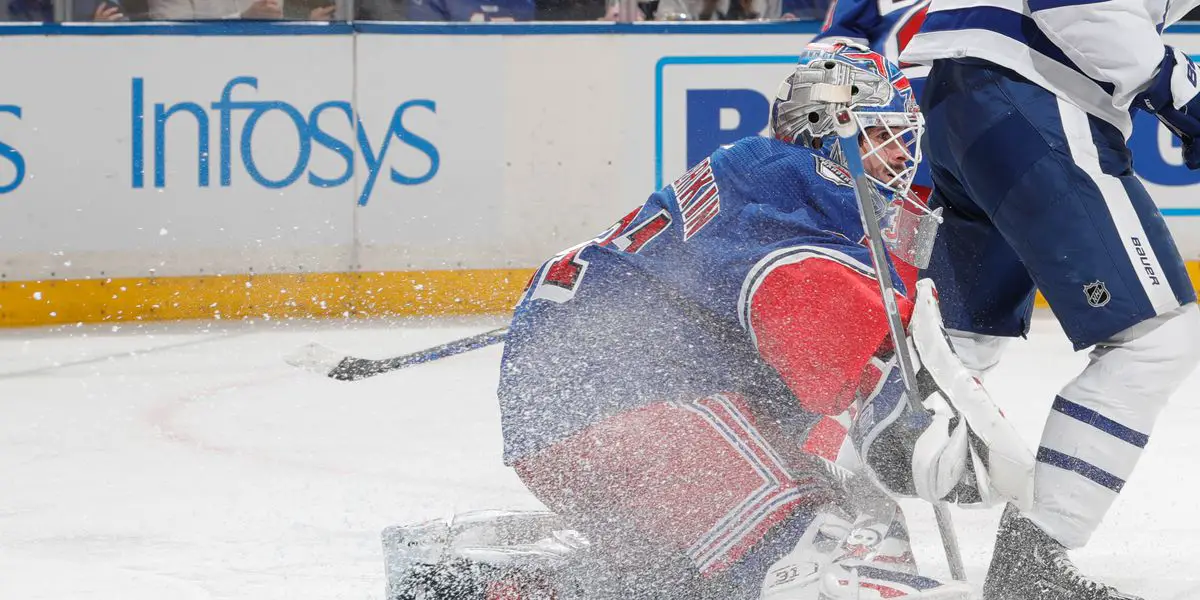 It has been an interesting season for New York Rangers All-Star goaltender Igor Shesterkin.
He has close to 30 wins, has performed well on the road this season, and was named to his first All-Star game. On the other hand, both his goals-against average and save percentage have taken a big hit this season, and there have been plenty of games where he has not played the way he can.
On Saturday, March 11th, however, the Rangers and their fans saw a familiar goaltender in their net who did precisely what he did last season: stealing a hockey game. It was Shesterkin who played one of his best games of the season in helping his team beat the Buffalo Sabres 2-1 in overtime in Buffalo on a goal by Artemi Panarin.
Shesterkin was masterful in this game. He stopped 32 of 33 shots and helped his team win a game they could have easily lost.
The Sabres took it to the Rangers for most of this hockey game. They generated a lot of zone time, created a lot of traffic in front of Shesterkin, and obviously put a lot of pucks on the net.
Shesterkin was at his very best, though. He did a great job of controlling his rebounds, made several great side-to-side saves, and, more importantly, came up with the big saves when his team needed them the most.
His body language between the pipes was also great about Shesterkin in this game. He came out of his crease and challenged shooters, he put himself in a good position to stop second and third opportunities when they were there, and he looked like a very confident goaltender.
It was also nice to see Shesterkin get his goals against down. Even when the team was winning many games, there were stretches where he allowed at least three goals.
That was not the case on Saturday evening in Buffalo. On this night, it was vintage Shesterkin, and for the Rangers, that can only be a good thing moving forward.
In this week's episode we discuss the new rumors regarding the Rangers coaching situation. Then go on to the fun stuff discussing the impact Tkachuck's play will make on the game, Rangers players and more. Thanks for listening! Please rate and review our show on your favorite listening platform. Check out our partner's website at www.insidetherink.com for all your latest hockey news.