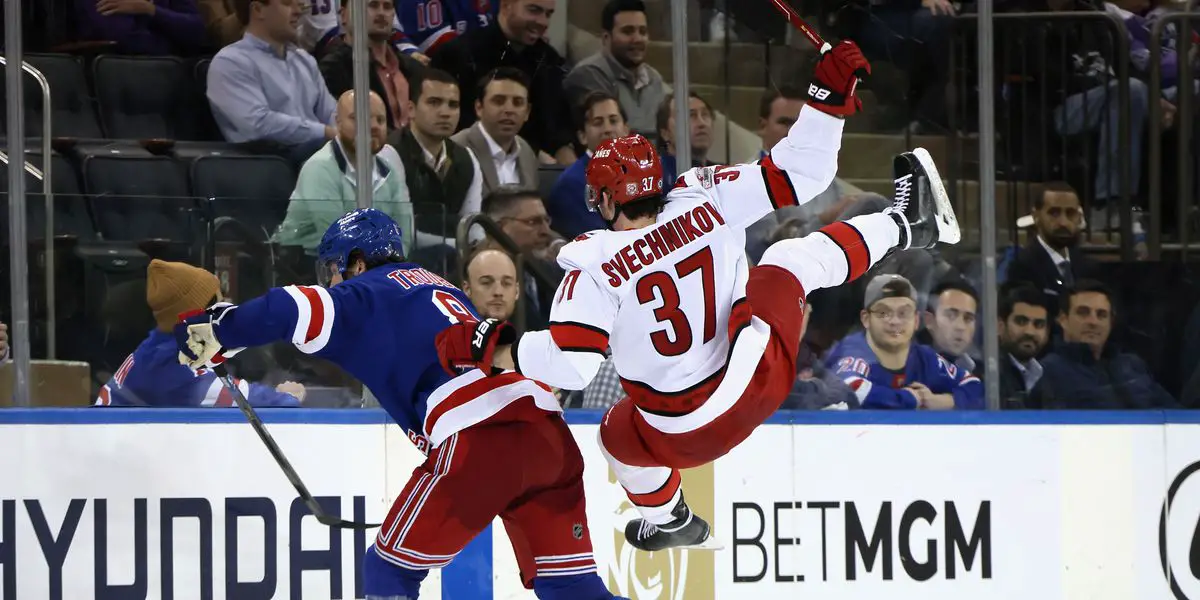 The Rangers have experienced many highs and lows throughout the first half of this season. Recently their play and results have been more favorable, but many still felt they needed to see more from them before truly believing this team could match last year's surprising squad. However, last night's gritty, bounceback 5- 3 victory against the blazing-hot Carolina Hurricanes might be evidence that this year's Rangers have what it takes for another long run. So let's break it down.
THAT'S GOOD!
NO QUIT IN NY
Yes, this is last year's mantra, and I know haters of the Rangers are incredibly sick and tired of it. Some fans of this team probably even felt it had passed us by with some of our early season struggles. (I got a full back tattoo of the slogan last year, so how do you think I feel?)
Still, the spirit behind the hashtag reflects the type of Rangers team everyone wants to see, and that spirit was alive and well in the Garden last night. Carolina absolutely swarmed the Blueshirts in the first period last night. They exhibited ferocious speed, relentless pressure, and forechecking, which displayed why they are always so tough to play against. Even with coming out of the period only down a goal, there was still a feeling of the dam inevitably breaking if the Rangers didn't eventually match their intensity.
Thankfully they matched that intensity and then some. Bucking recent trends of coming out flat for second periods, the Rangers pretty much equaled everything the Hurricanes threw at them in the first period. So much so that they overran them in the third period with a dominating final frame, scoring three unanswered goals to secure the victory.
The positive vibe in MSG was immaculate and palpable. More than any game this season, the Rangers' effort, especially when things seemed bleak, reminded you of everything we love about this version of the team. It was a signature win that really felt like a statement that might reverberate for the rest of the season.
SPREADING THE WEALTH IS "KEY"
Honestly, there were so many standouts last night that I wasn't sure who the three stars would be. They could have handed them out to any number of Rangers' players. That's a great sign of a team starting to gel.
Not only did five different Rangers tally goals, but there was a maximum effort from everyone up and down the lineup.
Most encouraging, of course, was the play of K'Andre Miller. Defensively, the Miller-Trouba pair still gives up at least one bad goal a game; however, we are starting to see positive offensive signs emerge. Miller is starting to round into the form that saw him become a star last year. Admittedly, expectations were that he would come out of the gate with the same ferocity, but that didn't materialize. Now though, K'Andre is getting more comfortable again, and his raw talent is taking over. This team will become incredibly formidable if he turns into that force we saw last postseason.
PUCK LUCK? US?
It's very hard to believe, but there's no denying the Rangers got a lot of help from the hockey gods last night.
Take your pick, really. There was Trouba's goal bouncing off two Hurricanes' skates, Miller's beautiful deflection finding the high corner, Panarin's whip-around shot finding the back of the net, and Mika's light touch pass fooling Kochetkov through the five-hole. The goals all were in complete contrast to the several great shots that were saved, hit posts, and "how did that not go in?" moments that we've had this season.
Granted, the Canes had bounces of their own, but for once, the Rangers were the primary beneficiaries of some puck luck.
THAT'S BAD!
"I realize it's not an uncommon trait throughout the NHL, as the team just scored upon naturally will have more jump. However, it's a bad habit that the Rangers can never shake as they constantly either give back the goal within the next two minutes or take a penalty that potentially sparks the other team."
Does that sound familiar? It should be because I just wrote that in my Sunday recap of the win over the Panthers. This trait was especially egregious in last night's game as twice the Rangers gave up goals within thirty seconds of scoring their own.
My copy/paste in the first paragraph says it all, but this is a dangerous habit the Rangers must figure out how to eradicate. They got away with it last night, but I wouldn't expect that to be the case often if it continues.
CAN I GO NOW?
Seems Chytil was demoted there for a spell last night. Gallant mentioned it was because he was on the ice for two goals against, including one he tipped in himself. I understand the spirit behind it but felt it was undeserved due to Chytil's overall play lately. Not to mention against a team this fast, his speed is an asset. So I was happy to see him get the empty netter at the end to keep his roll going.
Good to see the PP2 unit score a goal last night. Three power-play goals in all is an excellent sign for the team, even if some of them were weak. That's why you keep firing.
Kreider attempted a Michigan last night, and even though it didn't have a chance, I appreciate the effort. If he converted that, Rangers' social media would have exploded, in a good way this time.
Loved the play of many others last night, including Kaapo Kakko and Ryan Lindgren, to name a couple.
Great note last night that the Rangers have become the first team in NHL history to break two 15-game point streaks by opponents in the same season. They had also stopped Toronto's streak earlier. Amazing stuff.
Next game is Thursday night at Montreal. The Canadiens have been dreadful, so the Rangers need to be sure not to play down to the level of the competition. Instead, ride the fury of this win and secure what should be an "easy" two points.
https://share.transistor.fm/s/1a2b3585