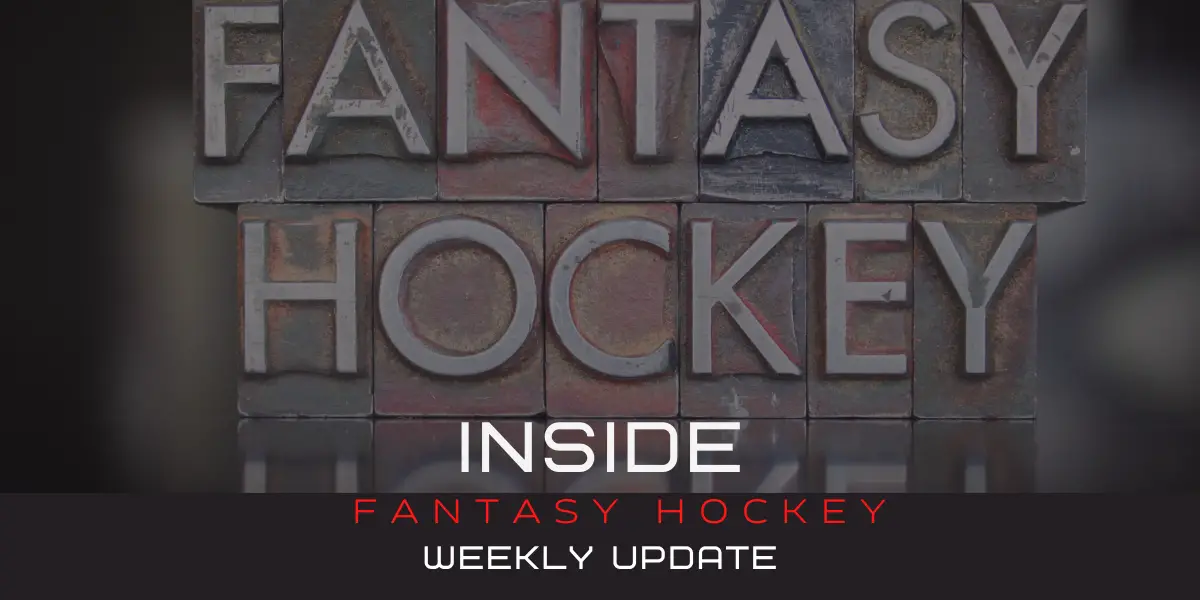 Week eight is now over, and Covid-19 is still taking its toll on the NHL, with players continuing to enter protocols for close contacts or positive test results. You will always hear that American Thanksgiving is a measuring stick for a team's success in an early season. Most of the teams out of a playoff picture by Thanksgiving tend not to make the playoffs. We have seen that gap grow for some teams, forcing coaching changes or front-office shake-ups for the likes of Montreal, Vancouver, and Philadelphia.
Fantasy Week All-Stars
Victor Hedman – Tampa Bay Lightning
Victor Hedman has continued to roll with his Norris caliber of play of late, picking up two goals this week and adding six assists. Hedman now has five goals and 21 assists on the young season. Tampa Bay had a rocky start to the year, which is to be expected after losing their entire third line and coming off of back-to-back Stanley Cup victories. Hedman, however, is rising above adversity on a consistent contender. I will not say that is surprising, though. Hedman will be relied on to produce and lead this Lightning team for a third and historic Stanley Cup. I fully expect this last week to be the tipping point of Hedmans' season, and I fully expect to see a couple of goals and a handful of assists weekly for the rest of the season.
Aaron Ekblad – Florida Panthers
While the Panthers have had a great start to their season and currently sit first in the Atlantic Division, Ekblad was not the Panther who shined. Ekblad tallied two goals and four assists last week for what I see as his breakout week. Being the first overall pick in 2014, Ekblad has had expectations on his play since day one. While some injuries and shortened seasons have stunted his performance in the stats department, I hope Ekblad can blossom with a Panthers team who has finally hit their stride and competes in the Eastern Conference.
Auston Matthews – Toronto Maple Leafs
Another first overall pick, Auston Matthews, lighting the NHL on fire over the last two weeks with a goal-scoring streak now sitting at six games. This week, Matthews potted another five goals, including a hat trick against the Colorado Avalanche. Many saw the Maple Leafs as "fixed" after their five-game winning streak. Toronto's problem is you never know what team you will see show up on a nightly basis. One thing Leaf's nation knows for certain is that Auston Matthews will score goals. Matthews is one of the premier snipers in the league and shows no signs of changing. Surrounded by top-flight talents such as Morgan Reilly, John Tavares, William Nylander, and Mitch Marner, Matthews has everything he needs around him to help him succeed and continue to produce.
Waiver Wire
Corey Perry – Tampa Bay Lightning
Corey "the Worm" Perry has been on my radar this fantasy season. Perry is an aging player with top-six talent on an outstanding roster. I have been waiting to see when he would pick up with the offensive production this year, and the time has finally come. Perry tallied three goals and an assist over the last week to help the Lightning to three straight wins. This season, Perry is only rostered in 2% of fantasy leagues and should be pretty easily obtainable in your league. Perry is going to be someone you want as a backup/depth piece to finish your fantasy season, as his play will elevate as we creep closer to the playoffs.
Evgenii Dadonov – Vegas Golden Knights
Since being traded from Ottawa, Dadonov has not had the best start with the Vegas Golden Knights. This season, Dadonov has tallied seven goals and five assists, not exactly lighting it up. With Jack Eichel being traded to Vegas earlier this season, Dadonov may find himself on the trading block to create cap space to activate Eichel from the IR. That aside, if Dadonov stays with the Knights for the rest of the season, I fully expect to see a spike in production after Vegas gets healthy. Dadonov is currently rostered in 11% of leagues this season and could be an obtainable depth piece.