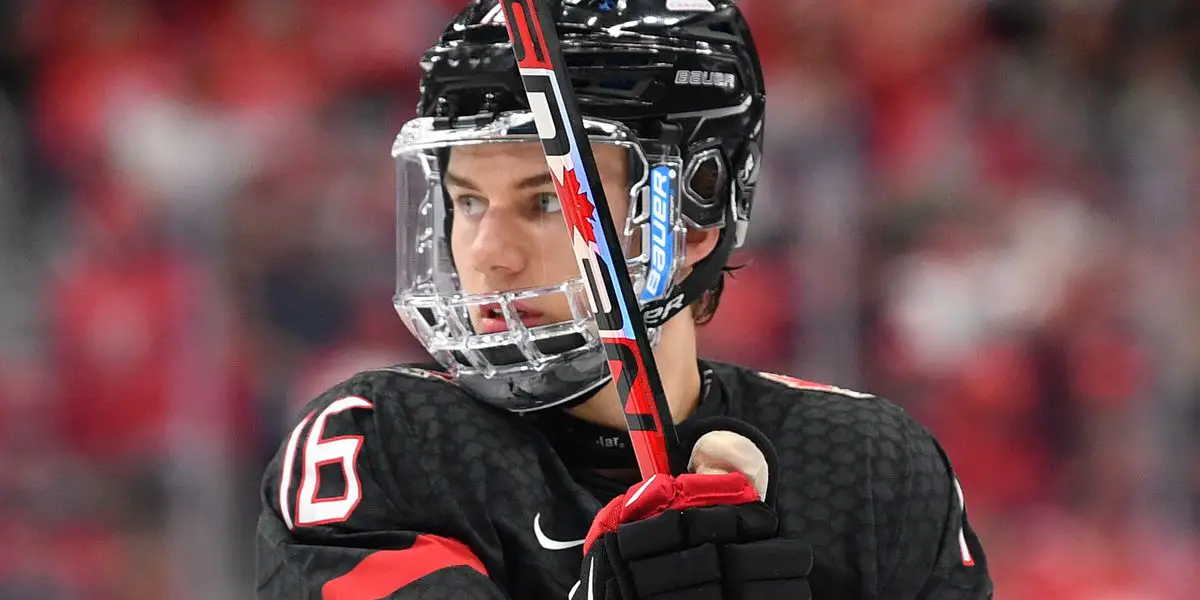 Earlier today, Dylan Guenther called out his team for trying to be too fancy during their game against Czechia. He said, "we aren't going to Michigan our way to the final." Canada came flying out of the gates, and the first 1:14 of the game, Canada applied a tremendous amount of pressure. That pressure resulted in Germany taking the first minor penalty of the game as they shot the puck out of play in their own zone for a delay of game penalty. Germany managed to successfully kill off the man advantage. Bedard went flying through the neutral zone, drawing a second penalty of the game. This time Canada made no mistake this time around as Dylan Guenther finished off a fantastic play as Zellweger found Bedard in the slot, and Bedard made a fantastic play to find a wide-open Guenther at the side of the German goal. Canada thought they had scored their second goal of the game; however, it was waived off as the whistle had already gone, so the score remained 1-0. Shortly after that goal was disallowed, the Germans went the other way and tied the game on just their third shot of the game as Roman Kechter managed to squeak one past Milic. With 7:41 to go, Zellweger got hit from behind by Lutz, which resulted in a boarding minor giving Canada their third power play of the game. Once again, Canada wasted very little time, and Shane Wright got a couple of lucky bounces as his second of the tournament made its way in the net to give Canada a 2-1 lead. Canada definitely received the message that they simply had to be better than they were against Czechia because they were absolutely flying the second the puck was dropped to start this one. Stankoven made an outstanding pass to find Connor Bedard, who went in all alone and made absolutely no mistake rifling it high glove side to make it a 3-1 game. As the first period came to a close, the score was 3-1 in favor of Canada, and the shots were 17-5 in favor of Canada as well. Just a dominant period of hockey for Team Canada.
Canada picked up right where they left off as Connor Bedard struck again, burying his second goal of the game 1:02 into the period making it 4-1. Oswald managed to break away and generated a scoring chance, but Milic turned him aside. With 12:42 to go in the middle frame, Zellweger was called for interference giving Germany their first power play of the game. During the power play, Del Monte fell awkwardly, and he seriously injured himself as he fell. His right ankle got caught under him, and all of his weight fell on it. He crawled off the ice and needed help getting to the German dressing room. Here's to hoping he is okay, but it did not look promising. Canada managed to successfully kill off the man advantage. With 8:42 remaining in the middle frame, Milic made a couple of great saves back to back to keep it a 4-1 game. Canada was given their fourth power play of the game as Germany was called for too many men with 6:14 to go. Canada's lethal top power play unit struck again as Connor Bedard rifled home his third goal of the game, making it 5-1. His release is just next level; he makes it look so easy, almost effortless.
With less than five minutes to go in the period, Bettahar launched himself at Fantilli making direct contact with his head, resulting in a five-minute major and a game misconduct giving Canada their fifth power play of the game. Gaucher immediately went after Bettahar the second he laid the hit on Fantilli, and rightfully so. Canada's power play remained red hot as Dylan Guenther fired home his second goal of the game as the onslaught continued. The power play struck yet again as Brendt Clarke launched a bomb from the point scoring his first goal of the tournament. The power play continued to roll as they struck for the third time during the five-minute power play as Connor Bedard made yet another fantastic cross-ice pass to find Dylan Guenther, who made absolutely no mistake ripping home his third of the game. With only four seconds remaining in the period, the power play struck once more for good measure as Logan Stankoven scored his first goal of the tournament, making it 9-1. Shots on goal in the second period were 21-6 in favor of Canada.
Canada continued their absolute onslaught as Ostapchuk fired a laser from the point, making it 10-1. While the majority of the first half of the third period was spent in the German zone, not a whole lot happened. Canada just continued to cycle the puck and essentially played keep away. Connor Bedard worked his magic once again as he carried the puck from his own zone all the way to the German zone, where he set up Joshua Roy for his first goal of the tournament. Unfortunately for Germany, they found themselves shorthanded yet again as Lutz was called for tripping with 8:07 remaining in regulation. The Germans managed to kill off the man advantage then they finally caught a break as Shaefer was called for goalie interference as he pushed the German goalie. Germany managed to capitalize on their power play as Sinn absolutely fired a one-timer past Milic. Canada was called for yet another penalty as Germany scored, giving the Germans another power play with just over five minutes remaining in regulation. Canada broke away for a two-on-0 while short-handed but full credit to the German goaltender as he went post to post to make an outstanding left-pad save. Germany was unable to strike with their man advantage as Canada successfully killed it off. With only 47.2 remaining in regulation, Zach Dean was called for a slashing minor. The final seconds would tick away as Canada would go on to defeat Germany 11-2. The final shots on goal were 52-16 in favor of Canada. Nikolaus Heigl was named player of the game for Germany, while Connor Bedard was named player of the game for Canada. Bedard had three goals and four assists, tying a Canadian record for most points in a single game during the world juniors.
Canada is right back at it tomorrow as they take on Austria at 6:30 EST! 
Be sure to follow me on Twitter @mikethefanatic for all your hockey news!
WELCOME BACK TO LEAFS LATE NIGHT! Presented by Inside The RinkRoscoe / National Biehnographic- Ketchup With Us- Willy Up The Middle- Game 1+2 Standouts- Stamkos Ain't HappyNEW MERCH IS AVAILABLE!JOIN OUR DISCORD!Remember to follow us on Twitter @LeafsLateNight & IG @LeafsLateNightCheck out Mike, Josh, and Nathan's articles on the Leafs + many more! insidetherink.com