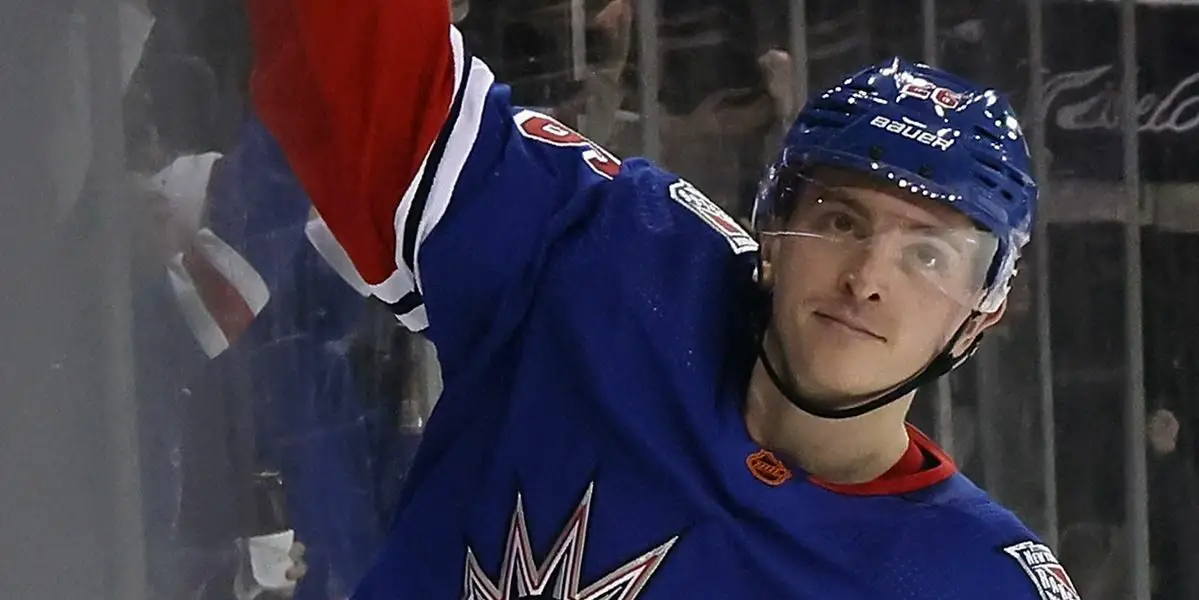 Last night, the Rangers extended their winning streak to five games, defeating the Toronto Maple Leafs 3-1 at MSG. The victory is one of the Blueshirts' most impressive overall efforts of the season, especially when you factor in Toronto came into the game on a 15-game point streak. Let's break it down.
THAT'S GOOD!
JIMMY VESEY
Many have pontificated that it's a glaring indictment of both Chris Drury and Gallant that Jimmy Vesey, who came to camp on a PTO, consistently finds himself in a Top 9 role. Those barbs will have to be shelved for at least a couple of days, as Vesey was clearly the best Rangers' forward last night, netting two goals against one of his former clubs. His first one was a sight to behold, as he drove the net aggressively and used slick hands to go top shelf over Matt Murray. His second goal was of the empty net variety but was well-earned with some intelligent and tough play as the Leafs pressed to tie the game. Vesey has impressed all year with his defensive prowess and energy. If he somehow starts to score consistently, it's hard to blame Gallant for putting him on whichever line he wants.
DE-FENSE!
To me, the shot totals were a little misleading. On the scoresheet, Toronto had 23 shots (22 saves for Igor), but Toronto's pressure was relentless at times. Credit the Rangers' defense and impressive backchecking for suppressing many of Toronto's potential attempts or causing them to miss the net entirely. Last night was a team-wide total sixty-minute effort against a team with a world of offensive skill and talent. If the Rangers emulate this style against all the teams they play, their position in the standings will be firmly in a playoff slot all season.
IGOR
As mentioned, this was a complete defensive effort. However, when the shots did get through, Igor was solid overall and stellar when he had to be. This included one five-star save on Mitch Marner (vying to extend his point streak), who Igor calmly stoned on a close point-blank shot.  
PP2!
Hey, what do you know? The Rangers have another power play unit! 
PP2 came out of the witness protection program and finally got significant ice time. All the members of The Kid Line got into the action, which resulted in a beautiful pass from Kakko to Chytil, who was in playoff-finishing mode, as he netted his 7th of the season. Defenders of Kakko and Lafreniere, especially, point to their lack of power play time as the reason for their low production numbers. Last night provided some evidence that line of thinking could be highly valid. Let's see if, in the future, it spurs Gallant to put them out there a little sooner.
THAT'S BAD!
(There won't be much negativity here on what was an important victory, but there are still concerning trends within)
5×5
Not to sour a great win, but again, only one goal at even strength, with too few phases of sustained offensive pressure. In fact, Rangers only had 19 shots total. Of course, some of that is due to Toronto's underrated defensive structure, but still, the NYR have trouble scoring against all teams, so last night was par for the course. That's why, as great as Vesey's night was, I still believe the Rangers' optimal lineup has yet to be showcased, which needs to be figured out as soon as possible.
CLEARING INEFFICIENCY
Clearing issues have been a thorn in the Rangers' side for as long as I can remember. During one of their games, I shout "CLEAR!" more than an EMT trying to resuscitate someone with defibrillator paddles. Even when the Rangers aren't blatantly turning over the puck, they are still guilty of getting too cute with clearing attempts. This bad habit, more than anything, is the reason for their opponent's sustained offensive zone time again and again. If they can clean this aspect up, the ripple effect would result in conserving more energy and possibly converting that into more rushes up the ice (remember those?) with consistent offensive zone time of their own.
CAN I GO NOW?
I didn't know whether to put this in the good or bad category because it was both, so let's put it here. The 2nd period saw the Rangers withstand an all-out 2-minute, 45-second blanketing by Toronto in their zone. It wasn't a power play, but it felt like one, as the Rangers could not clear the zone for a change. So while this is not ideal, you also have to give the Rangers high marks for their stamina, heart, and drive to keep the puck out of the net while skating on fumes. Metrics-wise, it looks terrible, but overcoming adversity like this unscathed is a very positive sign for a team looking to re-form its identity.
That's two games in a row the Rangers have become streak-busters. (Devils were 16 for 16 in games leading by two goals or more). Not only did they stop Toronto's 15-game point streak with no regulation losses (12-0-3), but they also stopped Mitch Marner's 23-game point streak.  
We still need more from Trouba, but he gets credit, along with Trocheck, fighting on that faceoff and helping Vesey score his empty netter.  
As far as the other defenseman go, I thought Braden Schneider had a really good game.
I want to thank Brodzinski for keeping our Hitting-The-Post streak alive. I'm not sure of the exact stats, but it's definitely in the 20-game range, with a total of approximately 7,245 posts hit, give or take.
There's a colossal opportunity here for the Rangers this weekend as they have a back-to-back at Philly, then at Chicago. This team has not earned the right to take anyone lightly, but a seven-game winning streak is staring them in the face if they can duplicate last night's effort in these two games.
In this week's episode we discuss the new rumors regarding the Rangers coaching situation. Then go on to the fun stuff discussing the impact Tkachuck's play will make on the game, Rangers players and more. Thanks for listening! Please rate and review our show on your favorite listening platform. Check out our partner's website at www.insidetherink.com for all your latest hockey news.