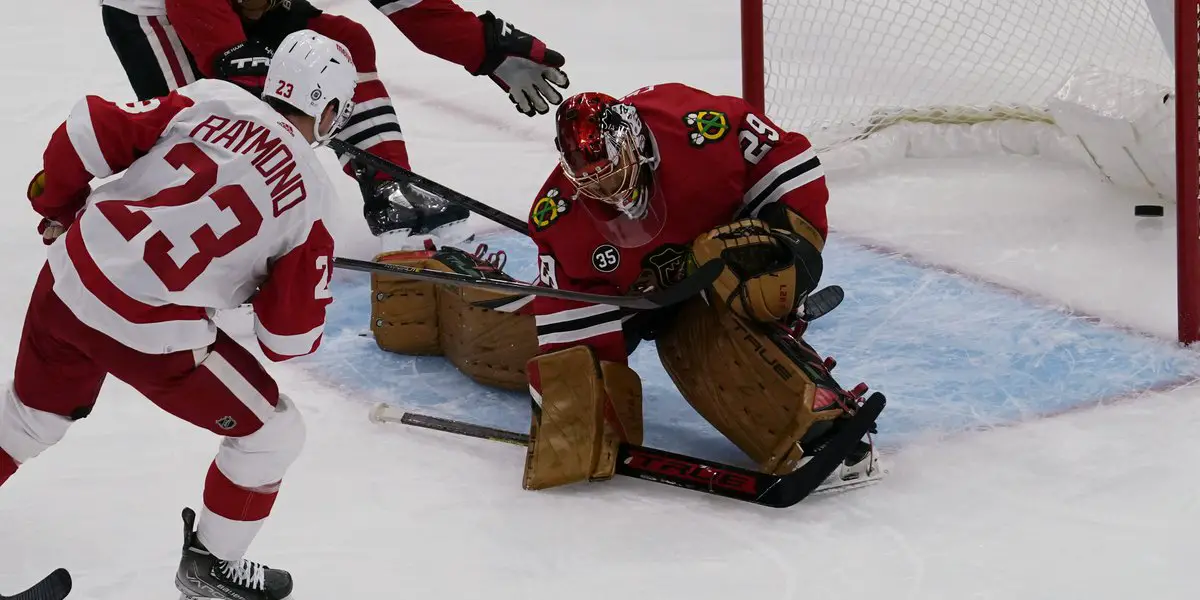 What can the Detroit Red Wings expect from Lucas Raymond in his sophomore season? Last season, Raymond had an exceptional year as a rookie, scoring 23 goals and 57 points while playing all 82 games. This year, Raymond is expected to play on the top line again, but with increased depth at forward, his line may not get as much attention as they received last year.
Here is a profile look at Red Wings' right winger, Lucas Raymond.
Lucas Raymond, RW
Age: 20
Draft: 2020 Round 1 #4 Overall by Detroit Red Wings
2022-2023 Contract: $925,000 (year 2 of a three-year entry-level contract)
Career in Sweden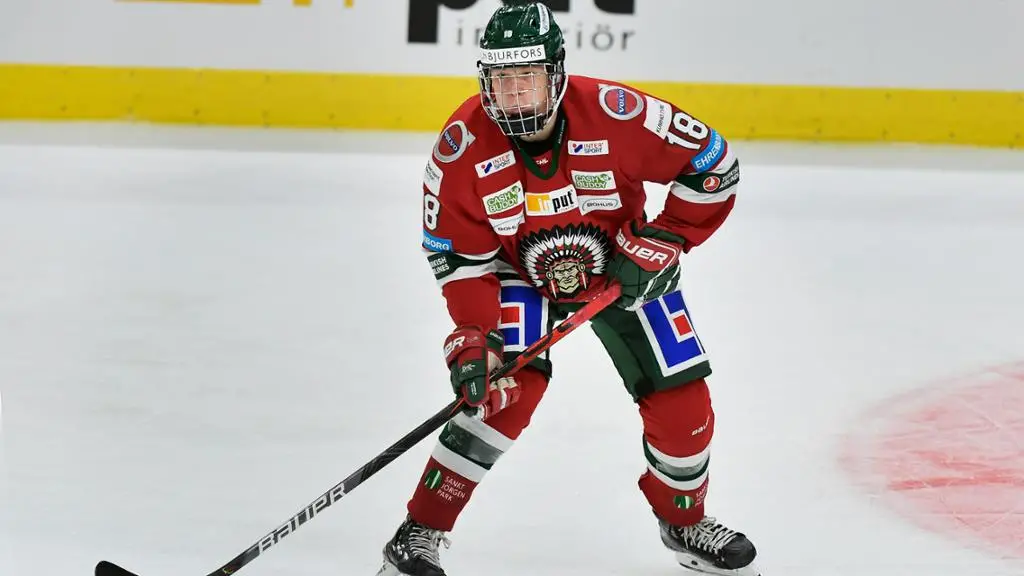 When he played in Sweden, Lucas Raymond played in all levels of the Frolunda organization. When he was only 12 years old, Raymond started playing in the U16 division of Swedish hockey. In 72 games over four years, Raymond scored an impressive 71 goals and 151 points, playing against older and stronger competition.
By the time Raymond was 14, he also played in the U18 division. In 56 games over three years, he scored 38 goals and 84 points.
Starting when Raymond was 15, he was playing in Sweden's highest junior level, the J20 SuperElit. In 54 games over three seasons, he scored 16 goals and 62 points. In 2018-2019, Raymond played his first games in the SHL and scored two goals in 10 games. He also represented Sweden at the WHC-17, and in six games, Raymond scored four goals and seven points. In the same year, Raymond played seven games in the WHC-18 and scored four goals and eight points.
In 2019-2020, Raymond played most of the season in the SHL. In 33 games, he scored four goals and 10 points, with a +6 rating. Raymond also represented Sweden in the WJC-20and scored two goals and four points in seven games.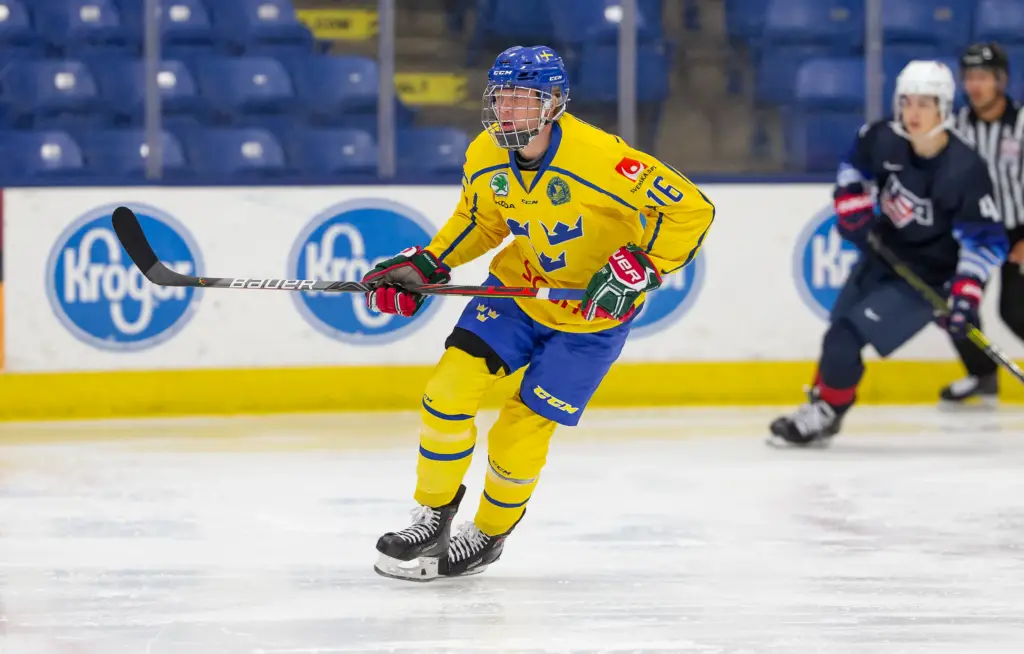 Immediately after being drafted by Detroit in 2020, Raymond played one final season for Frolunda in the SHL. In 34 games, he scored six goals and 18 points and had a +1 rating. He also played in the WJC-20 for the second time and scored two goals and five points in five games.
Signing and Playing with Detroit
In April 2021, Raymond signed a three-year entry-level contract with the Detroit Red Wings. For the duration of the contract, Raymond will have a cap hit of $925,000. Raymond was expected to start his North American professional career with Detroit's farm team in Grand Rapids (AHL). Raymond had an excellent training camp, and winger Jakub Vrana was injured to start the year.
Raymond made the opening night roster in Detroit; the rest is history. For most of the year, Raymond led all NHL rookies in scoring. When the grind of an NHL schedule got the better, Raymond slowed down the stretch but still ended up third in rookie scoring behind 26-year-old Toronto rookie Michael Bunting and Anaheim center Trevor Zegras. The above pair of forwards and Detroit defenseman Moritz Seider were nominated for the Calder Memorial Trophy as the most outstanding rookie.
Expectations for 2022-23
While watching Lucas Raymond as a rookie, there is no doubt that he thrives in high-pressure situations. He is slick with the puck, has a tremendous shot, can score and set up goals, and appears to have terrific chemistry with linemates Tyler Bertuzzi and Dylan Larkin.
Only time will tell if new head coach Derek Lalonde will keep the trio together. With additional forward depth in David Perron and Andrew Copp and a healthy Jakub Vrana, it will be more challenging to focus defensively against just one Red Wings line this year.
I believe with one year under his belt, Raymond will thrive under a new system in Detroit and will likely become a 30-goal scorer, similar to both of his linemates from a year ago. It will be fun watching Raymond prosper into a budding superstar in the NHL.
In this episode, we discuss the Red Wings finish to their four game roadtrip, winning in San Jose and Columbus and losing in the shootout to Anaheim. We dive deep into the games, breaking down Filip Hronek's hot start and what has been different this season. Seider and Copp finding their way, Bertuzzi and Walman return. And a look at the playoff picture in the Eastern Conference. Please rate and review our show on your favorite listening platform. Check out our partner's website at www.insidetherink.com for all your latest hockey news.