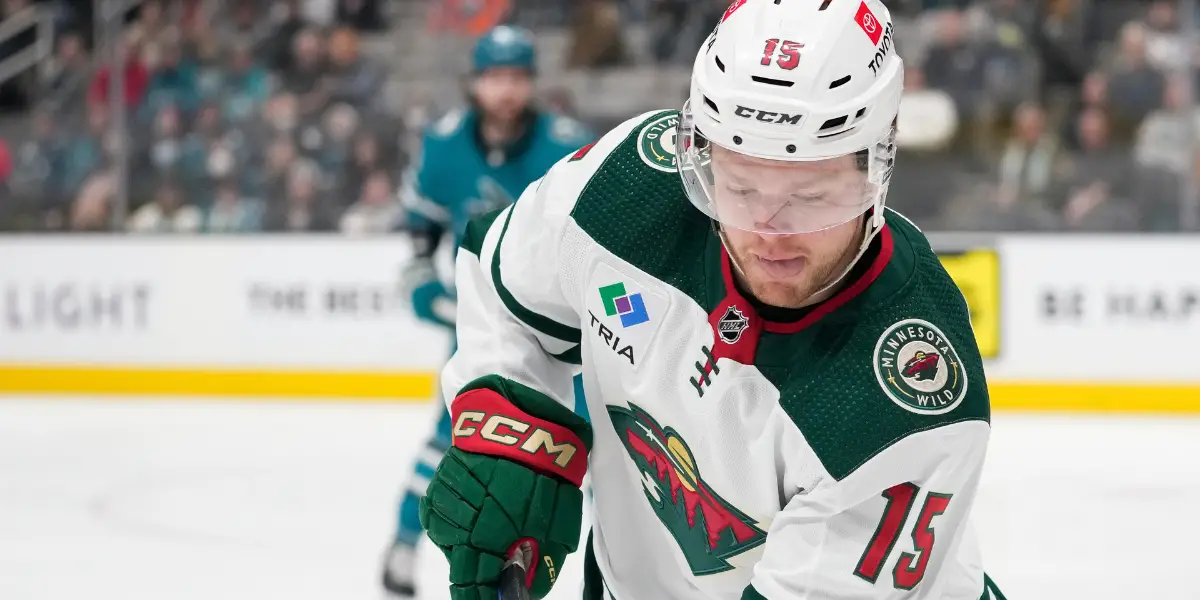 Today, the Iowa Wild announced they've signed forward Mason Shaw to a one-year, one-way AHL contract. After tearing his ACL on April 1, 2023, during a game with the Minnesota Wild against the Vegas Golden Knights, Shaw stayed in Minnesota over the offseason to continue his rehab. This is the fourth time that Shaw has torn an ACL, twice on each side. Signing with Iowa means that he will now continue his rehab in Iowa and get back into NHL shape by skating with the AHL team.
Why didn't he sign with the Minnesota Wild?
First of all, the limited salary cap space is well known. If they signed Shaw to an NHL contract, he would be taking money while not being able to play. The team needs as much money available as possible so that they can call up players from Iowa when needed. At this point, it's unknown if they can even carry a healthy thirteenth forward at the beginning of the season, so they really don't have room for an injured one.
Signing with Iowa also means that he'll still be adjacent to the Minnesota Wild system while he rehabs his knee. This past summer, the Wild have shown that Shaw is still considered a part of their club despite not being signed to a contract until October. Shaw made autograph appearances throughout the summer and was included in team bonding experiences like the charity golf event in September and the training camp trip to Duluth.
What does a one-way AHL contract mean?
An AHL contract means that Shaw is not signed with the Minnesota Wild and is technically not affiliated with them. While he is on this contract, he cannot be called up to the big club from Iowa. His contract also doesn't count towards the 50 contracts that each NHL team is allowed. Unlike NHL contracts, the terms of an AHL contract are not typically disclosed. The announcement for Shaw's contract today did not include a dollar amount. AHL deals also have no salary limits. The term "one-way contract" simply means that Shaw is not eligible to play in Minnesota.
When will he be back to the Minnesota Wild?
First of all, Michael Russo says that Shaw will most likely be medically cleared to play in early winter. After that, Shaw will most likely play in Iowa for a bit until he gets his legs back under him. Once that happens, the Wild can turn his AHL contract into an NHL deal and bring him up to Minnesota again. Shaw will have to clear waivers to come to Minnesota and it'll have to be done before the March 8th trade deadline.
Will there be a spot for Shaw later in the season?
While not being able to see into the future, it's easy to see that the Wild and GM Bill Guerin are fond of Shaw. He's the type of player who fits with the team easily because he's a grinder who is willing to do anything for the club. Shaw's off-ice friendship with fellow fourth-liner Connor Dewar is easy to see translated onto the ice as well. The two of them, usually flanked by a player who is large and physical (Ryan Reaves or Pat Maroon), are able to push almost any opponent out of the defensive zone and get things ready for the top line to hop on the ice. Coach Dean Evason has shown great trust in his fourth line by leaving them on the ice for a faceoff against an opponent's topline. 
Dewar and Shaw were also a formidable force on the penalty kill. Between a "do anything" attitude and good chemistry, these two are quick to challenge an opponent or block a shot with their body to help kill a penalty.