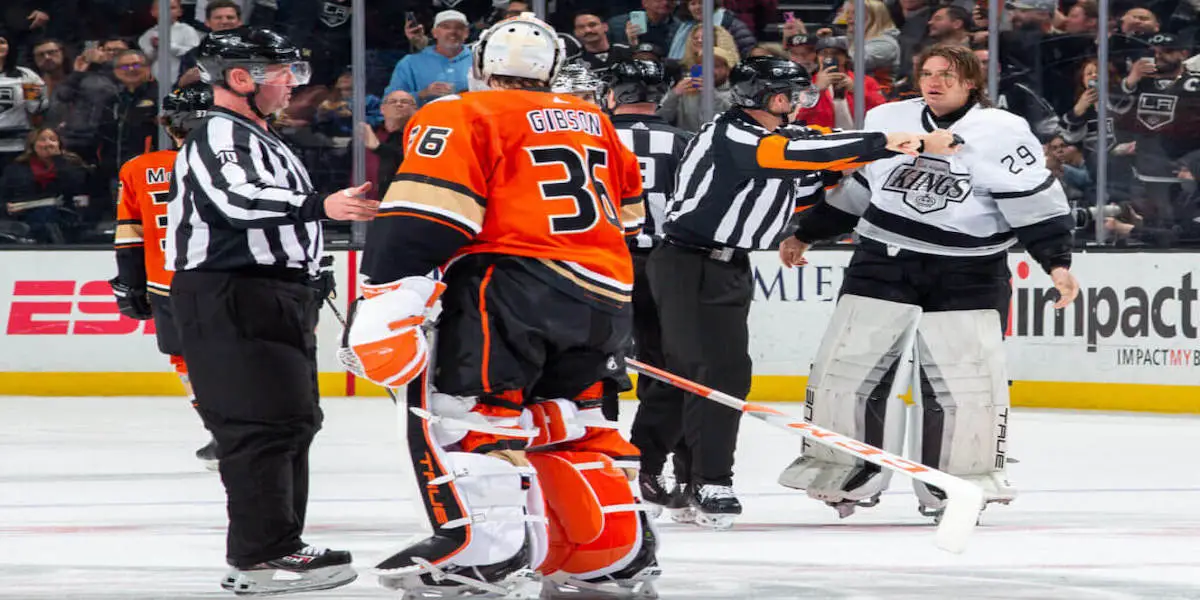 The Ducks played several games this week, and they mainly went as expected and within the observer's diminished expectations. Losing Troy Terry hasn't helped much, either. Anaheim lost to Vegas 7-2, Buffalo 7-3, and the Los Angeles Kings 6-3. However, an incident in the Kings game concerned me and made me wonder, what happened to the code?
Let me preface. I have been watching NHL hockey games for 40 years. I played hockey for 30 years. I was on club teams and beer leagues and knew I wouldn't be an NHL player. There were rules when we played and when I watched players with that particular skill play. I lacked that skill and started WAY too late for it to be a more serious endeavor.
Rules that weren't written down but were given on the ice, almost codified; a code. A code enforced by the players, there was respect that was given. In our case, we all had day jobs and had to return home to school, kids, or whatever at the end of our late-night games.
In the NHL, it was the same but even more prominent. The game is as physical as a game gets. Football is physical on every play; hockey is physical the entire time. If you're hurt on the ice, you're more likely to crawl off on your own power than a referee's whistle. As you still see occasionally today, when a player on the opposing team is injured, the team with the puck will often freeze it by sending it to their goaltender. This allows the injured player to get medical assistance and shows respect to a fellow player. But this is happening less and less. Not just the freezing of the puck, but the respect.
The incident that spawned this question happened in the game with the Ducks versus the Kings. During a minor scrum near LA goalie Phoenix Copley's net, Frank Vatrano gave a fairly innocuous tap to the netminder's face mask. Now, this happens all of the time. Guys try to get in the head of other players, and it's usually handled by the team in front of the goalie, as it was in this instance. Two players dragged Frank to the ground and began their assault. Completely predictable, and Vatrano had to know it was coming.
What was not scripted was when Phoenix Copley, while Vatrano was under two guys, prone and defenseless, pounced upon the top of the pile and began delivering kidney punches to a defenseless Vatrano.
With his blocker. 
Let me reiterate that: with his blocker. 
Assuming that most of you have played hockey, touched or worn equipment, or enjoy the game, you'll understand that a blocker is heavy. They are made of multiple layers of plastics, high-density foam, and other synthetic materials. Back in the day, they were called "Waffle boards" due to their appearance, but as technical innovations moved forward, that term is generally used by verbose hockey writers and TV announcers. My point in going into this is that it is a very hard object designed to stop 100 MPH slap shots without injury to the keeper. When slammed into a player, it stops being a hockey equipment piece and becomes a weapon. Copley was assessed a match penalty for "Punching With The Blocker." As mentioned, I've watched a lot of hockey and have never seen that called. It could have and probably should have been called "Intent to Injure."
All hockey players carry a much more convenient weapon, a stick. Sticks should not be used in fights, as someone could be seriously injured or killed. Helmets should not be removed and swung as weapons, as someone could be seriously injured or killed. A goalie's blocker should not be used to augment their punches on a player, as someone could be seriously injured or killed.
This is the age of CTE, and protecting a player's health is paramount. Seeing an NHL player act recklessly was as shocking as it was infuriating. Copley continually hammered away at the prone Vatrano until the referee removed the blocker from Phoenix. Copley continued throwing punches, which illustrates my final point on this action. This was a blatant intent to injure. What happened to respect your fellow player?
In putting together all my brain-addled memories of days gone by, I tried to pinpoint when I first saw the desire to injure overcome the respect for one's fellow man. This brought me back to Tony Granato.

From Wikipedia:
"During a February 9, 1994, game in Los Angeles, Granato, after receiving a hard hit from the Chicago Blackhawks' Neil Wilkinson, retaliated by hitting Wilkinson in the head with a two-handed slash. The NHL subsequently suspended Granato for 15 games. As of 2012, this was the seventh-longest suspension in NHL history."
Perhaps you were watching back then or have seen it on subsequent YouTube highlights. If so, you would understand that this was unheard of at the time. I remember rumblings of an assault charge, which brings me to my next example—a horrific incident between Todd Bertuzzi and Steve Moore. Basically, Tony tried to kill Neil Wilkinson.

Also, citing Wikipedia:
"On February 16, 2004, during a game between Vancouver and Colorado, Avalanche center Steve Moore checked Markus Näslund in the head, causing a minor concussion and a bone chip in his elbow. No penalty was assessed, and the league decided not to fine or suspend Moore, ruling the hit legal. Näslund missed three games as a result of the hit. In a rematch, with the Canucks trailing the Avalanche 8–2 in the third period, Bertuzzi began following Moore around the ice, attempting to provoke him into another fight. With Moore ignoring him, Bertuzzi grabbed Moore's jersey from behind and punched him in the side of the face from behind. Moore's face hit the ice as Bertuzzi pushed him, already out cold, and broke his neck. Bertuzzi and several other players from both teams landed atop Moore as he fell to the ice. Bertuzzi was assessed a match penalty and ejected from the game."
The attack ended Steve Moore's career. 
Bertuzzi faced a year-and-a-half prison sentence for aggravated assault. This also resulted in a 20-game suspension for Bertuzzi and several legal actions from Steve Moore and his parents. These were settled out of court, with the terms remaining confidential to this very day.
These incidents continue. I'll now cite something that happened this past season: Troy Terry getting pummeled by Arizona Coyotes' resident knuckle dragger, Jay Beagle.
Since it was fairly recent, I'll sum it up. Trevor Zegras scored on the Michigan around Sonny Milano and barely celebrated his highlight goal. When the game was out of hand, 5-0 for the Ducks, Jay Beagle cross-checked Zegras. Troy Terry tried to intervene, and, a flurry of punches from the MUCH bigger Beagle later, Terry had to be escorted off the ice and onto the IR. Troy Terry had never fought in his career. NHL's Department of Player Safety refused even to have a hearing on it: no code, no respect, no consequences.

Watching the much-ballyhooed Stadium Series game last night, I saw a blatant slew foot against a Carolina Hurricanes player. Complete lack of respect and attempt to injure. Big guy versus the little guy.
I suppose with the death of the "Enforcer" in hockey, the code has died.
"The original code states that fighters or goons don't fight anyone other than goons or fighters, as fair is fair and therefore they wouldn't hurt their own team or their opposition and fans would be happy because they witnessed a fight." – eloquently stated by Caitlin Campbell of Fansided.
I can easily expand on this slightly as you don't use weapons, you don't use the blades on your feet, and you make sure that your opponent goes home safely to his family at the night's end. It's good for the league that pays your bills, it's good for the fans that come to see skilled players play, and it's good to respect others that do your job lest you get that lack of respect returned.
Goons are dead. Enforcers are dead. The NHL has moved on, and those that don't abide by the code should move on themselves. Or be forcefully moved on.
Phoenix Copley should have the book thrown at him. He lost his mind and attempted to injure a player. Subsequent events like this should be similarly penalized. Brad Marchand agrees…
Come on, George, Mr. Parros. Use that giant Princeton brain and protect your sport.
Remember and revive the code.
On this week's chaotic episode of LAP, Jake, Chris, and Lou talk about the Stanley Cup Final, some coaching changes and share some thoughts on the ESPN and TNT broadcasts. They also talk at length abouth why Florida's uniforms need to change and finish things up with listener questions!Follow Late Arrivals Twitter: @latearrivalspodInstagram: @latearrivalspodFollow the hostsChris: @CJKChelConnor: @91_PlutyJake: @_JRobles71Louis: @Louiex37 Intro/ Outro done by Will Rice/ @pastorwillrice