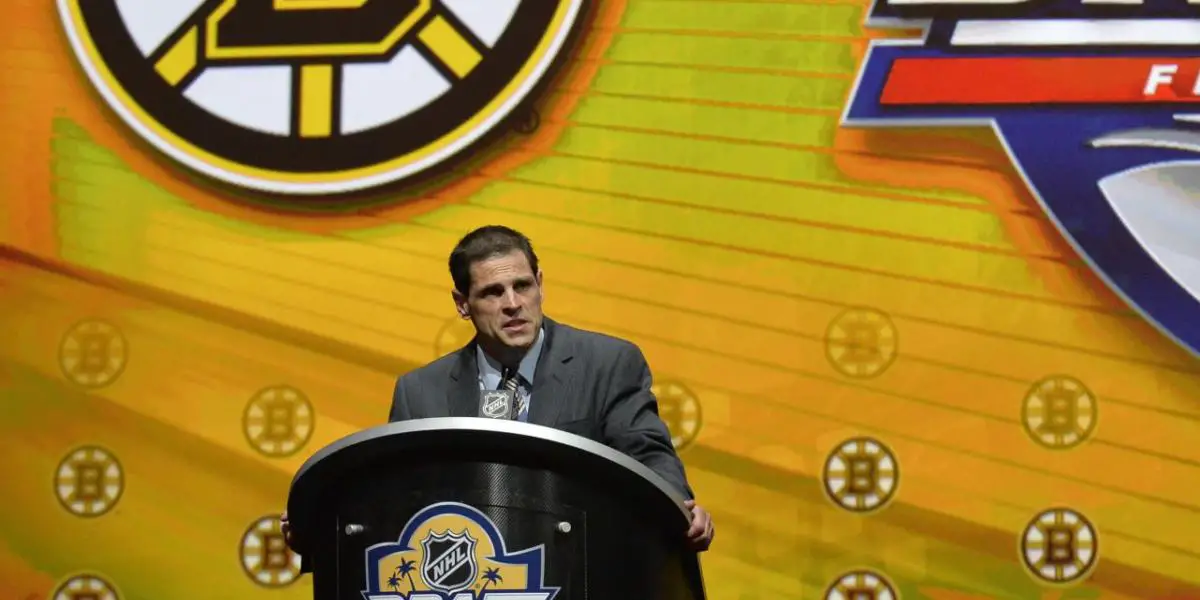 Since 2015, Boston Bruins' General Manager Don Sweeney has been drafting future Bruins, and the results have been erratic at best. The one draft that still haunts Bruins nation is the first one in 2015. The Bruins had three first-round picks (13, 14, 15) after a tough 2014-15 season and trades that sent Milan Lucic is Los Angeles and Dougie Hamilton to Calgary. Boston was set to get three impact NHL players and ended up with Jakub Zboril, Jake DeBrusk, and Zach Senyshyn.
Sweeney was hired as the general manager shortly before the draft and surprisingly reached for Senyshyn when future NHL regulars Mat Barzal, Kyle Connor, and Thomas Chabot, among others, were still available. There was redemption in 2016 when Sweeney selected Charlie McAvoy in the first round. Some say it was a no-brainer, and McAvoy fell into the lap of the Bruins, but McAvoy is a top defenseman in the league. Also, in the first round, the Bruins drafted Trent Frederic, who has contributed to the Bruins' bottom-six, but a third-line grinder is not a hit in the first round.
Sweeney found goalie-of-the-future Jeremy Swayman in the fourth round in 2017 after taking defenseman Urho Vaakanainen in the first round and center Jack Studnicka in round two. Vaakanainen was included in the trade for Hampus Lindholm, while Studnicka is heading into a make-or-break season with the Bruins. From 2018 to 21, the Bruins have yet to see a draft pick make the roster. There is some potential there, but time will tell.
As the 2022 NHL Draft approaches, the Bruins do not have a first-round pick. Their initial selection will be 54th overall. As to what the Bruins will be looking for, that's hard to say. Predicting what Don Sweeney's vision is regarding drafting can be a mystery. The Bruins favored tough, physical grinders over speedy, skilled players for years. Now, it seems that the Bruins struggle with their identity. Sweeney has tried to adapt to a more puck-moving, modern style while fans and Team President Cam Neely still hold on to the old "Big Bad Bruins" mantra. When analyzing the team's picks over the last six years, it is difficult to determine which direction the Bruins are going in.
Last draft, the Bruins selected the skillful, undersized Fabian Lysell. The year before, Boston selected a defenseman with size and some offensive skill in Mason Lohrei. In 2019, the selection was big, fast-skating forward John Beecher. In the third round each of the last two seasons, the Bruins selected centers Trevor Kuntar and Brett Harrison. Kuntar is a smaller, grinding forward, while Harrison is 6'2" with some offensive upside.
This upcoming draft will see Sweeney, who has yet to extend his contract, looking for another good prospect to add to a possible rebuild of the roster. The team is in desperate need of top-six centers. Without a first-round pick, the Bruins may not be able to find one there. But at some point, we might start to see what the identity of a new Bruins team will look like. Hopefully, it's a defined identity, one way or another.
Fabian Lysell is the Bruins' "top" prospect, jersey ads are here, David Pastrnak is not at captains' practice and rookie camp begins!