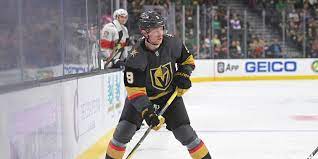 Last season was one to forget for the Vegas Golden Knights.
They missed the playoffs for the first time in franchise history, fired their head coach, dealt with many injuries, and were just a disappointing hockey team to watch. When you put all those things together, you have a team that deserved to miss the postseason.
Fast forward to this season, and things were different for an extended period. In fact, the Golden Knights were at one point first in the Pacific Division, first in the Western Conference, and were the second-best team in the league.
Unfortunately, the team's play, as of late, has been inconsistent. As of this writing (Monday, January 30), the Golden Knights are second in their division and tenth in the league with a 29-18-4 record and 62 points.
Yes, that is still a good record, but it is alarming that the Los Angeles Kings have the same number of points as the Golden Knights, the Edmonton Oilers are two points behind them, and the Calgary Flames are five points behind them. That is too close for comfort in today's NHL.
The Golden Knights are 0-2-2 in their past four games and are 1-5-2 in their past eight games. One reason why this team is struggling is because of the up-and-down play of Jack Eichel.
While Eichel, 26, is third on the team in scoring with 34 points in 38 games, he has just one point in his last six games. That is certainly not enough production for a player in the middle of an eight-year, $80 million contract, which carries a $10 million AAV.
Eichel needs to start scoring more goals and producing if the Golden Knights are to make the postseason this year. He has yet to play a playoff game in his career, and this year is a big opportunity for him to accomplish that.
Speaking of the team's offense, not many other players have stepped up. Players like William Karlsson (34 points), Reilly Smith (32 points), Jonathan Marchessault (32 points), and Phil Kessel (21 points) need to start producing more for this hockey club to help out the likes of Eichel and All-Star Chandler Stephenson (44 points).
It also does not help that their team captain, Mark Stone, is out week-to-week with an upper-body injury. Stone, 30, is a leader for this team both on the ice and off the ice, and right now, the team could really use Stone.
Prior to being injured, Stone had 38 points in 43 games. That is still good enough for second on the team in scoring.
During this tough stretch, there has also been some questioning regarding the team's effort. After their 4-1 loss to the New York Rangers at Madison Square Garden on Friday night, January 27, Golden Knights head coach Bruce Cassidy told reporters that the players need to change their mindset.
"It's just like, you've got to be sick of losing at some point, and it shows in your play, in your urgency," Vegas coach Bruce Cassidy said. "We've got to dig in that much harder to score to get a lead so we can feel better about our game."
With the division and conference being as tight as it is, the Golden Knights better find their game fast, or it could be another year of missing the playoffs.
Will the VGK win Game 6/7 or choke away the WCF?
–
The Vegas Fever Podcast
In this episode we review:The first 5 games of the WCF, the VGK lead 3-2We also..Discuss how closing out the Stars will go and how not closing them out will go after leading the series 3-0.Be sure to send in your questions, comments , concerns and emotional outbursts to our twitter DM'sThanks for checking us out! Please subscribe after you listen.