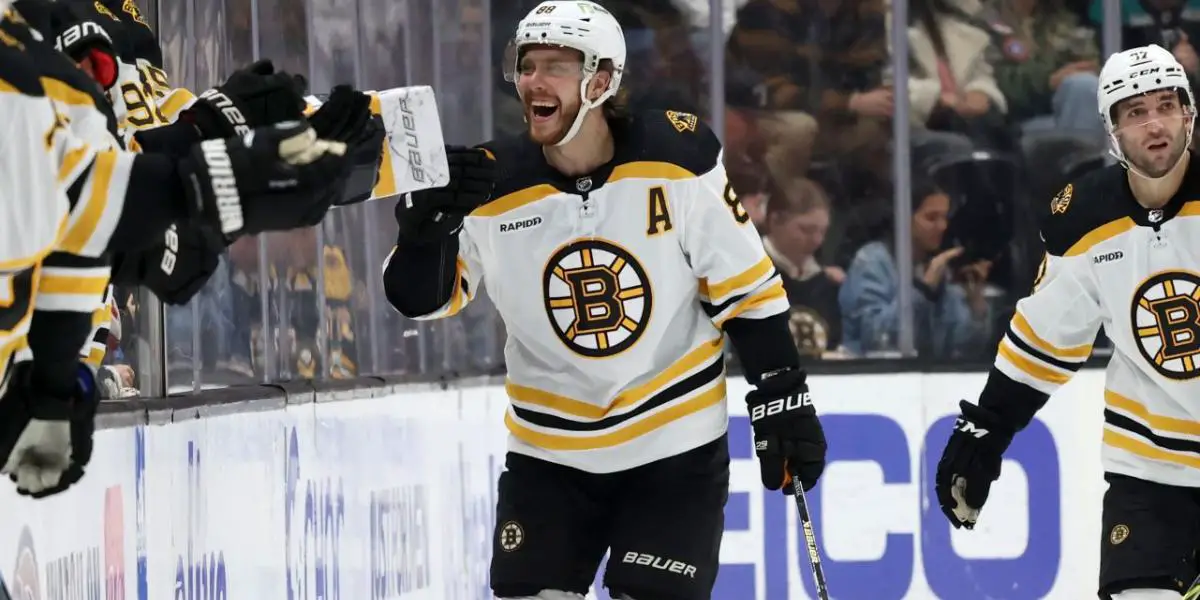 Boston Bruins winger David Pastrnak put on another masterclass in scoring in Boston's 7-1 over the Anaheim Ducks. Still, the Bruins and Pastrnak have yet to agree to an extension, meaning that free agency is inching closer.
The last update in talks was before the start of 2023, with The Atheltic's Pierre LeBrun reporting that the two sides have continued to discussed a new deal, "but my sense is the gap in positions is real."
Pastrnak's agent, J.P. Barry, was also quoted in the article and confirmed that discussions have taken place.
"I've been in regular discussions with (general manager) Don (Sweeney) about our respective positions for a few months," Barry told Lebrun. "We remain apart at this juncture. We will continue to negotiate."
If there really is a gap, there shouldn't be. David Pastrnak is having one of his best seasons as a pro and hasn't even entered his prime at just 26 years old. In just 40 games, Pastrnak has 32 goals and 26 assists. Against the Ducks, Pasta was on fire, scoring a hat trick and an assist.
If Pastrnak continues to play at this level, he will shatter his career highs and likely win some hardware. Along with that, the Bruins will be favorites to take home the Stanley Cup.
So what is the hold-up? Why on Earth have the Bruins not signed Pastrnak to a contract extension? If you look at the top average annual value of contracts across the NHL, the top tier is making anywhere from $11 million to $13 million. Nathan MacKinnon is currently at the top of the list with an AAV of $12.6 million. While originally it seemed like a contract extension for Pastrnak would look like an AAV of $11 million, "yesterday's price is not today's price."
The longer the Bruins go without signing Pastrnak, the larger the price to re-sign the winger becomes. While he might be willing to take a pay cut and has said he wants to return to Boston, he is not going to throw away millions of dollars.
If Pastrnak hits the open market, he has the capability to hit that $13 million AAV, if not more. He will be a hot commodity that plenty of teams will fight for.
So if Boston wants to sign him, they may have to jump to $12 million AAV. While they might hold off from eclipsing Connor McDavid's 12.5 million, they will have to be somewhere close to secure Pastrnak.
If the Bruins brass doesn't want to upset fans, they need to lock up Pastrnak. If they let him walk, Don Sweeney, Cam Neely, and ownership will not hear the end of it. Boston needs to break out the checkbook and ensure that the future of the team is secure.
The boys are back after a long break but have plenty to talk about as the playoffs are in full swing. We go series by series, looking at how teams have fared so far and who will come out on top. Thanks for listening! Please rate and review our show on your favorite listening platform. Check out our partner's website at www.insidetherink.com for all your latest hockey news.