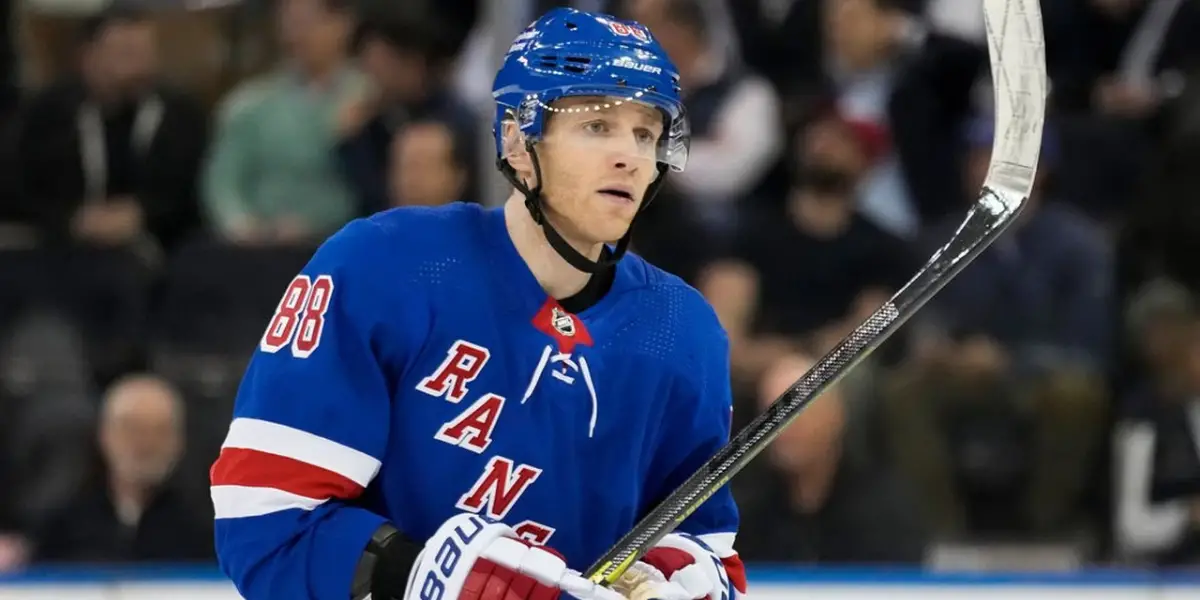 The New York Ranger's 2022-23 season came to a disappointing end Monday night. They lost 4-0 in Game 7 to the New Jersey Devils and failed to follow up last season's Eastern Conference Finals appearance with any similar type of playoff success. The first-round defeat stings even more, knowing that General Manager Chris Drury loaded up at the trade deadline to contend for the Stanley Cup this season.
With the Rangers now out of the hunt and an offseason full of question marks looming, many are left asking; what now for the New York Rangers?
There is no doubt GM Chris Drury has some tough decisions to make this offseason. The Rangers have numerous pending unrestricted free agents, two key restricted free agents, and a decision to make behind the bench. They also only have about $10 million in cap space to work with for re-signings and bringing in new talent. No one knows yet what the Rangers will do, except maybe Drury, but let's look at the decisions they have to make.
UFA's
The Ranger's UFA list isn't the longest in the league, but it certainly has some big names. The two biggest are New York's prized trade deadline acquisitions; Patrick Kane and Vladimir Tarasenko. Both were brought in to try to help this team win the Stanley Cup, but obviously, that didn't happen. Now they're pending UFA's and likely to hit the open market.
With limited cap space and other players to re-sign, there's virtually no chance of both Kane and Tarasenko staying in New York. Drury may be able to make the money work to keep one of those two if they take a team-friendly deal. In all likelihood, however, they were just rentals.
Kane and Tarasenko aren't the only unrestricted free agents for New York. Defenseman Niko Mikkola, forward Tyler Motte, and backup goalie Jaroslav Halak also need new contracts or to be replaced.
There's no chance of the Rangers keeping everybody. They have to decide who they want to offer contracts to and who they are willing to let go.
RFA's
Two other key players on expiring contracts are forward Alexis Lafreniere and defenseman K'Andre Miller.
Lafreniere, 21, is coming off his ELC and is certainly due for a raise. The 2020 first-overall pick scored a career-high 39 points this season but no-showed in the playoffs with zero points in seven games. Still, he's going to be making a lot more than $925K next season.
K'Andre Miller, 23, will also be making quite a bit more than $925K next season. He has become a staple of the Ranger's top-four defense, usually paired with captain Jacob Trouba. Miller set career highs in goals (9), assists (34), points (43), and penalty minutes (47) this season. His new contract is likely going to cost the Rangers a good chunk of their cap space this offseason.
Both of these players are restricted free agents, so the Rangers retain their rights. They can't just sign with anybody. However, they are eligible to be offer-sheeted and do need to sign new deals. It's going to cost at least half of what little cap space the Rangers have to keep Lafreniere and Miller.
Huge Trade Possible?
With how much it's going to cost to keep Alexis Lafreniere and K'Andre Miller, could one of them be traded? It definitely is an interesting possibility, especially with both needing new deals.
Kaapo Kakko is another player that could be moved in a major trade. The 22-year-old forward is coming off a career year with 18 goals and 40 points. Much like Lafreniere, his development has been slower than expected after he was taken second overall in 2019.
While the Rangers don't want to give up on any young players too early, they have to be wise about who they commit to long term. They have more young players in the pipeline and won't be able to afford to keep everybody as more players graduate from their entry-level contracts.
Drury won't be looking to give any of these players away, but if the right deal gets put on the table, one has to believe he'd at least pick up the phone.
Coaching Change?
Outside of roster decisions, Chris Drury also has to decide if Gerard Gallant will continue as the Ranger's head coach. Overall, Gallant has had a very successful two seasons behind the Ranger's bench. In 164 regular season games, he's gone 99-46-19. He also led the team to the Eastern Conference Finals in 2022. However, after such a disappointing exit this year, questions have arisen about his job security.
There's no doubt Gallant is a good coach, the question is; can he be a great coach?
Gerard Gallant led teams usually make the playoffs, but he's never led a team to a Stanley Cup win. For a team with Cup aspirations like New York, they need a coach who can win when it matters most. Whether or not Gallant can do that remains an unanswered question. If Drury believes Gallant can get the job done, he'll get another crack at it next season. If not, there will be a new bench boss coming to New York.
Crucial Offseason
There is certainly no shortage of major decisions to be made this offseason in New York. Chris Drury has his work cut out for him. He needs to somehow improve this Rangers team while playing salary-cap gymnastics and dealing with key expiring contracts.
This could be a legacy-defining offseason for the Ranger's GM. The expectations are sky-high, and the team needs to win a Stanley Cup with this core group to be considered a success. With all the crucial decisions Drury has to make this summer, they could make or break New York's viability as a true Cup contender.
If Chris Drury can find a way to make it work, the Rangers will be a force to be reckoned with in the Eastern Conference next year. If he can't, Rangers fans will be left feeling the bitter disappointment of an early exit once again and probably losing their patience.
In this weeks episode we have on Nick Morgan from Locked on Predators pod to discuss coaches Hynes and Laviolette.Thanks for listening! Please rate and review our show on your favorite listening platform. Check out our partner's website at www.insidetherink.com for all your latest hockey news.