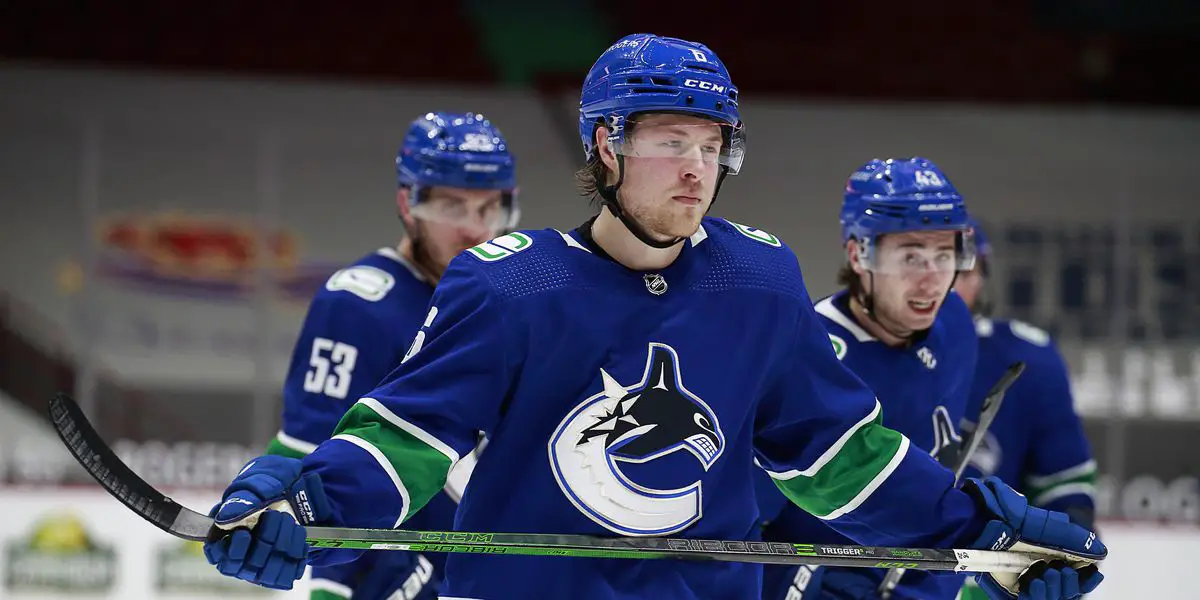 The Vancouver Canucks have had a relatively slow start to the 2021-22 NHL season, though their first 15 games have a record of 5-8-2 and are currently seventh in the Pacific Division and 27th in the league standings. What's going on with the Canucks? The Canucks were projected to be one of the top teams in the Pacific Division and still have time to be that. 
The Canucks Offseason
The Canucks had a strong offseason with additions in Oliver Ekman-Larsson and Conor Garland via trade from Arizona in exchange for Antoine Roussel, Loui Eriksson, Jay Beagle, 2021 1st (Dylan Guenther), 2022 2nd, and a 2023 7th. The Canucks also lost some big pieces of their team, losing long-time Canucks Defensemen Alexander Elder, who signed as a free agent with the Los Angeles Kings. They also lost Defensemen Nate Schmidt, who they traded to the Winnipeg Jets for a 2022 3rd round pick. They also resigned two significant pieces of their core in Elias Pettersson and Quinn Hughes. Pettersson signed a three-year contract with an AAV of $7.35 million, Hughes signed a massive six-year contract carrying an AAV of $7.85 million. 
What Went Wrong and Whose To Blame?
The Canucks have allowed seven goals in their previous two games against the Vegas Golden Knights and the Colorado Avalanche and have only scored a total of five goals, with four coming against the Golden Knights. There isn't one person at fault for the Canucks struggles as of late. The Canucks are being held in their end more times than not and aren't getting guys in the right spot to score when needed. Forward Elias Pettersson has had a slower start than what the team expects from him. He only scored three goals and nine-point thus far this season, which has made the Canucks look elsewhere for goal scoring and that elite playmaking ability. Pettersson is also coming off of an offseason surgery which probably has affected his game and play style thus far. They have also probably felt the loss of that big-bodied defenseman who is willing to get in the way of a shot and can clear the puck from their end.
What Needs To Change?
The Canucks are nearing a point where change is needed for them to have a chance to succeed; there are two main routes the Canucks could go. 
The first way is acquiring some more defensemen and scoring help. As I stated above, they haven't been getting the scoring needed to win games, and they also don't have that big-bodied defenseman whose willing to block a shot and make a play up the ice. 
The second option is to change the Head Coach, a spot currently held by Travis Green. This is your most extreme option, but if Canucks Management likes the current roster they have and thinks it can win, I think this will be the route they take. The Canucks have no shortage of possible options with guys like John Tortorella or Claude Julian available. They have two options from within the organization currently in Henrik And Daniel Sedin as viable options.