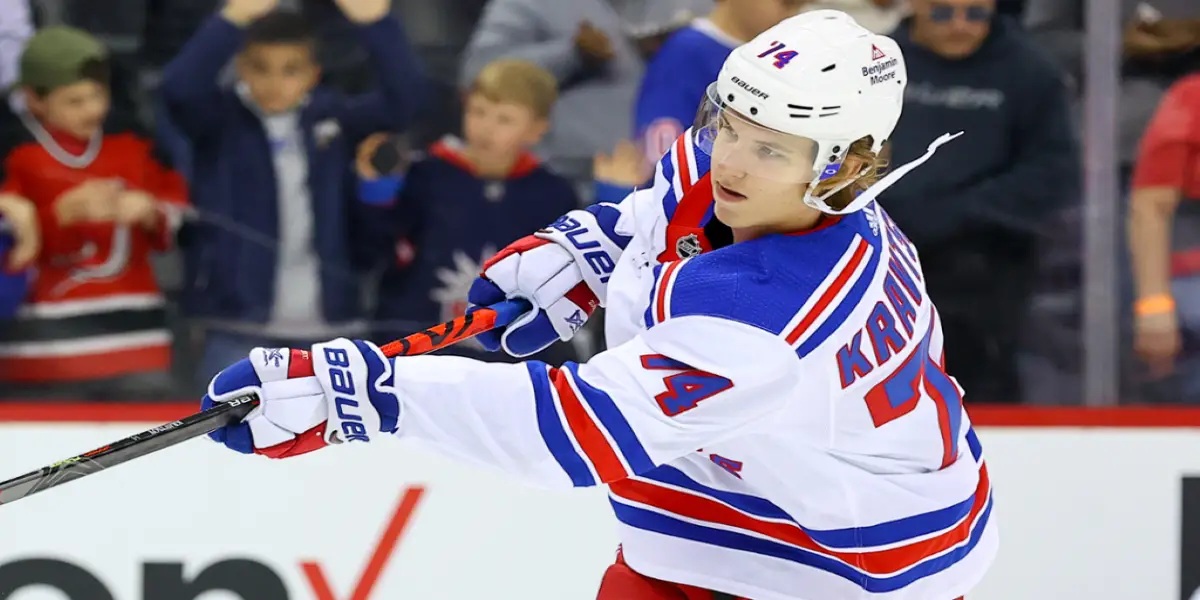 I won't lie—I've been a Kravtsov stan since his draft day. A skilled winger with size and speed? Give me six of them. As with most draft picks, I expected it would be a little while until we saw him playing for the Rangers, but no one was prepared for the Kravtsov quagmire and how long it would take to resolve. I'm still hoping his story won't end as another botched first round pick, but his path to success grows more narrow with every misstep.
I'm not going to recount the past drama. We all know what has happened, though few agree on
what it meant. Is he a selfish, entitled, immature brat that took his ball and went home? Is he a
mistreated and maligned young talent who was promised big things and passed over for lesser players? Both things can be true at the same time. But after what seemed like irreparable distrust and disorder, Kravtsov's return to the Rangers this past summer was as surprising as Malkin winning the Lady Byng would be.
Since reporting to the Rangers months early this summer, Kravtsov has done and said all the
right things off the ice. He's said he wants to show people he's not the guy he was made out to
be and that he's willing to do whatever he's asked to help the team. Laudable as his contrite reappearance has been, Kravtsov struggled on the ice during the preseason. He's looked timid,
nervous, and a step behind the pace of the game. For a kid with his skillset, it really boils down
to one thing: a lack of confidence.
Which is ironic for a player who was so confident he twice refused to play in the AHL. It
appears the thing he needs most now is the very thing he excised from himself to get another
shot—his insistence that he's a top 6 NHL forward. Despite alleged disagreement between coaching and management on where he should start the season, Kravtsov took the ice on opening night on the second line with his mentor and elite playmaker Artemi Panarin. Just minutes into the first period, though, Kravtsov left the ice after a suspect hit from the 6'7" Victor Hedman and didn't join the team on the road trip to Minnesota and Winnipeg.
When Kravtsov returns, he'll find his primed-to-succeed spot on the second line filled by
Lafrenière, who has taken the opportunity in the top six and ran with it, notching three points in
three games. Without Panarin to feed him the puck, Kravtsov will have to find chemistry with
third line center Chytil, who has looked excellent since playoffs last year. Whatever replacement level player is occupying the other wing. Getting his confidence back is the most important thing to Kravtsov's success, and it must now be done without the aid of one of the best passers in the league. It also doesn't help that the Rangers essentially run one powerplay unit, removing another path talented young players often get to start scoring and build confidence.
Suppose Kravtsov is going to shake off a lackluster preseason and opening night injury to become a productive NHLer. In that case, he's going to need to tap into the confidence that led him to this uncertain situation. There's a scene in the 2004 movie Miracle where an underperforming Jim Craig is told by coach Herb Brooks he might get sat down. Craig replies angrily, saying he's done everything
he's been asked to do, and Brooks reminds him he didn't take his psych evaluation test. Craig
says back, "You want me to take the test? I'll take the test," to which Brooks replies, "No, I
want the kid who wouldn't take the test."
In thinking about the saga of Vitali Kravtsov, who now finds himself on a precarious path to
success in the NHL, I imagine a conversation where Kravtsov says to Gallant, "I'll do whatever
you want me to do, if I could go down to Hartford, I would," to which Gallant would reply, "No, I
want the kid who wouldn't report to Hartford." At this moment, the same ego that landed him in
this mess might also be the thing that can get him out of it.
In this weeks episode we have on Rangers beat writer Colin Stephenson to discuss Training camp/preseason, Laviolette, players coming back and more.Thanks for listening! Please rate and review our show on your favorite listening platform. Check out our partner's website at www.insidetherink.com for all your latest hockey news.