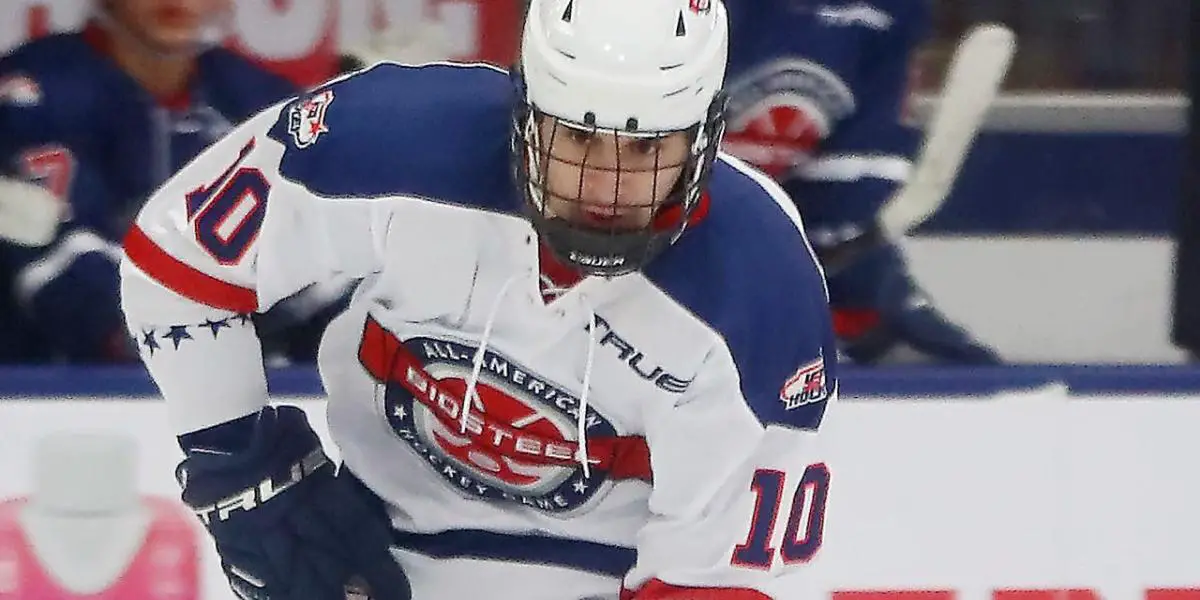 The Bruins addressed their most significant need this draft as they went heavy on centers with their first three picks. With question marks surrounding the team's future down the middle, it was a smart move by management to address the issue finally. Without a first-round pick, the Bruins will hope to find a steal in the later rounds. The Bruins have had some success in the past with later-round picks, as Brad Marchand was a 71st overall pick in 2006, Jeremy Swayman was a 111th overall pick in 2017, and former Bruins defenseman Torey Krug went undrafted. After drafting Matthew Poitras with the 54th overall pick, they once again picked a center with the 117th overall pick in the fourth round. It's clear Don Sweeney had one thing on his mind in this draft, and that was to load up on as many center prospects as possible in hopes at least one of them will pan out.
The 18-year-old 5'10" and 176-pound left-shot center is coming off a year where he played for the U.S. National U-18 Team. He has found success with the U.S National Team Development Program, where he recorded 20 goals and 19 assists for 39 points in 2021-22. He also played 26 games for the USNTDP Juniors, recording ten goals and six assists for 16 points.
Spicer will continue his development this fall as he is headed to Minnesota-Duluth, where he will begin his freshmen season playing in the NCAA. This is a path both Spicer and the Bruins are happy with after spicer was initially committed to play at the University of North Dakota for the last three years before making the switch.
Bruins Associate Director of Amateur Scouting Ryan Nadeau is also pleased with the decision. "He's going to Minnesota-Duluth, and they've done a great job developing players," said Nadeau. "We have a lot of comfort with that path for Cole, we're really excited on that."
Strengths
With his height and weight Spicer isn't the biggest player on the ice, but his two-way game stands out as he plays bigger than he is and plays a responsible defensive game. Spicer is a player who isn't afraid to crash the net and play in the slot as he makes a living in high-danger areas on offense.
While he may not be the most skilled player on the ice, he makes up for that with his hard work and high hockey I.Q. as he's a smart passer and makes good decisions when the puck is on his stick. Spicer is also a versatile player as he's played both wing and center in his juniors career, allowing him to be able to play either spot in the NHL and be comfortable with both.
Spicer has good speed and acceleration, something you see from him when he's skating through the neutral zone. He has a smooth stride and is solid and transition and all of this will only improve as he develops, getting bigger and stronger while at Minnesota-Duluth in the NCAA.
Regarding what Spicer is looking to improve on, speed will be at the top of his list. "You can always get faster, the game gets faster every year," said Spicer. "I want to get better speed and quickness, I feel you can never get enough of that."
Quotables
"Spicer plays an energetic, yet responsible two-way game. Despite his small stature, he competes hard and gets into the dirty areas around the opposing net. He shows good vision with the ability to make quick decisions in the offensive zone and though he may not be the flashiest playmaker, he consistently makes the smart read to string plays together and sustain possessions for his team. He will probably never be the main offensive driver on his line but he has the hockey IQ to be a strong complementary piece alongside skilled players." – Nick Richard, Dobber Prospects
"Spicer is a two-way center who primarily is a pass-first type of player. His overall impact on the game wasn't special, but his talent and work ethic I thought looked real good. He's got a quick stride and is a solid skater as a whole. Spicer is by no means considered big, but boy was he never afraid to engage in puck battles and physical play throughout the game…" – Douglas Larson, FC Hockey
"Spicer is a hard working center with average offensive skills. With minimal ice time this game he had a few times where he looked good on the rush. He looked better in transition this game compared to his offensive in zone play. I think a big part in that was Spicer found himself net-front more often than not and wasn't getting many puck touches offensively either…" – Douglas Larson, FC Hockey
The boys are back after a long break but have plenty to talk about as the playoffs are in full swing. We go series by series, looking at how teams have fared so far and who will come out on top. Thanks for listening! Please rate and review our show on your favorite listening platform. Check out our partner's website at www.insidetherink.com for all your latest hockey news.