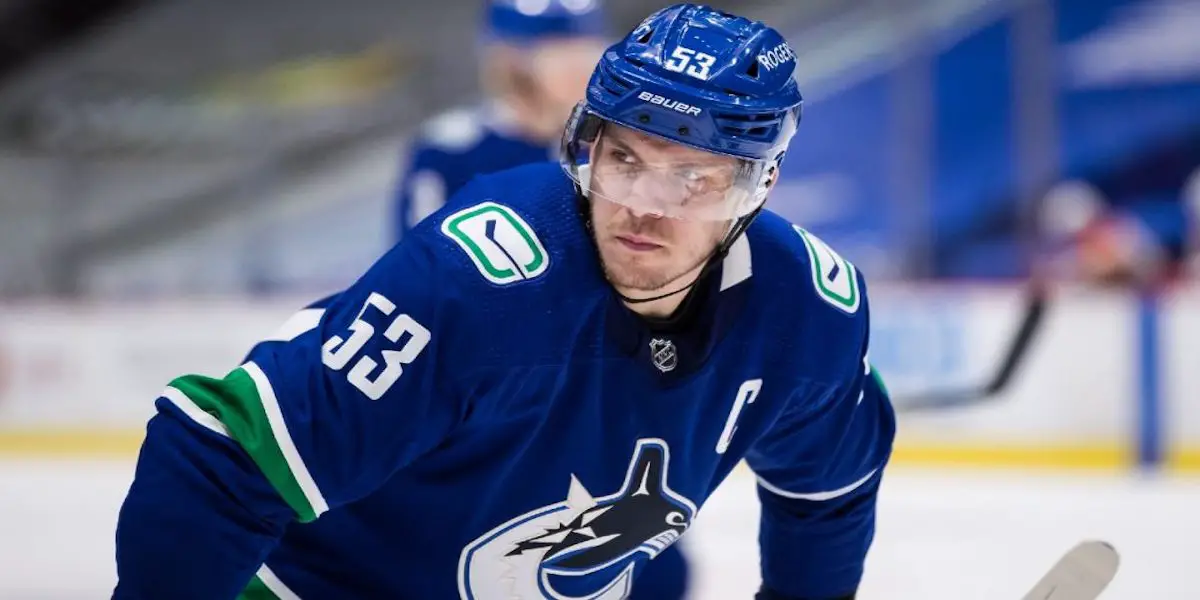 The Kraken are enjoying a solid season in just their second year as a franchise. After finishing last in the Pacific Division last season, the Kraken find themselves second in the Division this season, trailing the Vegas Golden Knights by one point while having a game in hand. Thanks to their early success, the Kraken are set to be buyers at the March 3rd trade deadline and have been linked to one of the hottest names on the market.
Bo Horvat's time in Vancouver has come to an end as the 27-year-old team captain is set to be an unrestricted free agent this offseason and has turned down the Canucks lastest extension at the start of the season. According to Rick Dhaliwal, the Seattle Kraken is a team that has been consistent in the pursuit of Bo Horvat as they look to make a deadline splash that will not only help the team this year but for the future.
President of hockey operations Jim Rutherford said he believes the Canucks have taken their best shot at extending the forward. 
"The contract we have on the table for Bo right now is fair value for what he's done up to this year," Rutherford said. "It's certainly under market value for what he's done this year so we're in a pickle here. He's had a career year, and he's looking for his money. He deserves it. I don't blame him.
"Even with what we have on the table for him now without any changes … we're well over the cap on projections. There are ways of moving money around but the fact of the matter is it's always a tough fit."
Rutherford also revealed what the Canucks are looking for in return. Vancouver wants to add young players that haven't made an impact on their entry-level contracts and bring them in for a second chance. While Rutherford may be looking to add young players, he will also look to add draft picks. The Kraken have a few pieces the Canucks could be interested in to get a deal done for Horvat.
Daniel Sprong
Sprong would be an interesting trade piece as Canucks GM Jim Rutherford is very familiar with the forward. Rutherford drafted Daniel Sprong when he was the general manager of the Pittsburgh Penguins in 2015 with the 46th overall pick in the second round. Rutherford was also the one who traded Sprng to the Anaheim Ducks for Marcus Pettersson in 2018.
Now with his fourth team in the NHL, Sprong is starting to see success in his seventh season. He is having a career year in Seattle as he's already scored a caeer-high in goals (15) and points (28) in 37 games this season. The 25-year-old Sprong is just coming into his own and would provide the Canucks with scoring from the wing. Even though he is producing career numbers with Seattle, he is only averaging 11:18 in time on ice. If given a more prominent role who knows what kind of production Sprong will provide a Canucks team.
Cale Fleury
Fleury checks a lot of boxes for what the Canucks want from a player in return. The 24-year-old is within the age range Rutherford is looking for as well as being hin his third NHL season. Fleury is on his third NHL contract though and will be a restricted free agent this offseason. Lastly the Canucks are looking to add a young NHL right-shot defenseman which Fleury is.
Fleury was picked by the Seattle Kraken in their expansion draft as he was originally a third round pick by the Montreal Canadiens in 2017. He has played in 56 NHL games through his three years in the league but has failed to crack the Seattle lineup since joining the team. He has only played nine games last season and six this year. Meanwhile, he played 58 games in the American Hockey League (AHL) with the Charlotte Checker, scoring seven goals and posting 33 points last season.
Moving on from Fleury would not only benefit the Kraken but fill a position of need for the Canucks. He would get a second opportunity in Vancouver to show he can have similar success in the NHL as he has in the AHL since he will likely crack the Canucks main roster.  
2023 First-Round Pick
A deal for Bo Horvat will require the Kraken to trade away their 2023 First-Round Pick and it's a no brainer for Ron Francis especially this year's pick. The Kraken are top-10 in league standings with a 27-14-5 record and giving up a late first-rounder to add a proven 27-year-old center for a playoff run and for what could be another eight years is worth it.
If Rutherfod is not satisfied with this return, the Kraken do have three 2023 second-round draft picks at their disposable they can use to sweeten the pot instead of giving up young talent.
The 2023 Draft class is highlighted by young superstar Connor bedard but has talent until the end of the second round. On top of adding Sprong and Fleury, the Canucks will likely be able to add one or two top prospects to their poor prospect pool this year from this trade alone.
Horvat to Seattle is worth keeping your eyes on as the trade talks continue to heat up with the March 3rd trade deadline less than six weeks away.
The boys are back after a long break but have plenty to talk about as the playoffs are in full swing. We go series by series, looking at how teams have fared so far and who will come out on top. Thanks for listening! Please rate and review our show on your favorite listening platform. Check out our partner's website at www.insidetherink.com for all your latest hockey news.