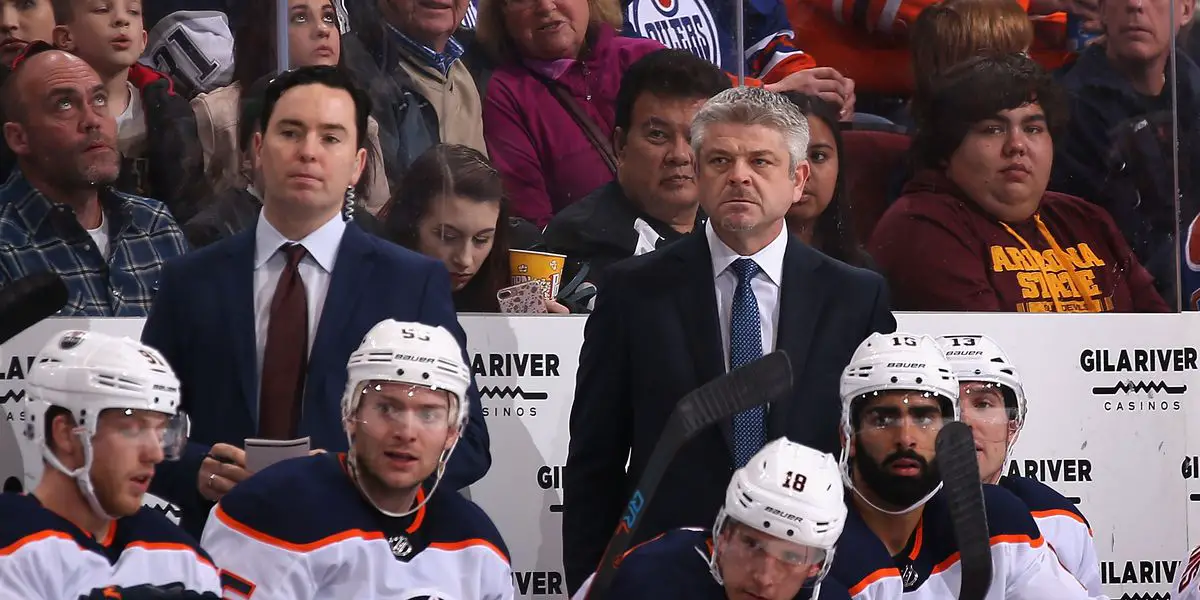 With the very recent news of Oilers firing Dave Tippett and hiring AHL affiliate Bakersfield Condors head coach Jay Woodcroft, the Oilers are doing something they haven't done in a long time… taking a step towards adjusting to today's game. Not only was Tippett fired, but the Oilers also fired defensive coach Jim Playfair. Holland would hire defensive coach Dave Manson, who was working with Jay Woodcroft in the AHL.
What Woodcroft and Manson will bring is something Oilers fans have been wanting for quite some time, a more modern playstyle to keep up with today's game, but let's take a look at their past.
Dave Manson's History
While the only thing that matters right now is Manson's coaching, it's worth noting that he was a long-time NHLer. Dave Manson was drafted 11th overall in the 1985 NHL Entry Draft by the Chicago Blackhawks. Manson would spend five seasons in Chicago before being traded (along with a 3rd round pick) to the Edmonton Oilers for defenseman Steve Smith. Manson spent three seasons in Oil Country, putting 121 points (33G-75A) in 219 games. Manson would go on to play for multiple teams, consisting of the Winnipeg Jets, Phoenix Coyotes, Montreal Canadiens, Chicago Blackhawks again, Dallas Stars, and the Toronto Maple Leafs, and finally in Dallas. Manson played 1103 games had 102 goals 288 assists, for a total of 390 points.
While it's great that Dave Manson has experience as a player, what's more, important is that he has experience in the coaching side of hockey too. Manson, while being new to the NHL, has coached for multiple years in the WHL and AHL. Manson coached the Prince Albert Raiders in the WHL for 12 years, where he also coached Leon Draisaitl for two seasons. Manson would join Bakersfield in 2017-18, coaching Oilers prospects.
During his time in Bakersfield, Manson would do a great time developing young Oilers' defensemen. Players such as Ethan Bear, Caleb Jones, Evan Bouchard would all develop greatly under Manson, and that's just to name a few. A few more are some recent helpers for the Oilers, players such as Philip Broberg and Marcus Niemelainen, and this season William Lagesson have all been solid for the Oilers. In the AHL, Broberg has thrived under the watch of Manson, as he has 18 points (2G-16A) in 26 games and has a +/- of +13.
Jay Woodcroft's History
Jay Woodcroft has paid his dues and is deserving of a shot at the head coaching job in Edmonton. He's got a healthy history with the Oilers and Ken Holland himself, dating back to 2005-06, being a video coach for the Red Wings. Woodcroft would be a video coach for three seasons in Detroit before earning an assistant coaching job in San Jose with the Sharks for seven seasons. After that, Woodcroft would join the Oilers, also as an assistant coach, for three seasons, before becoming head coach in the AHL for the Bakersfield Condors.
During his time in Bakersfield, Woodcroft would show off his coaching talent and have a pretty nice resume during his time in California. Through 197 games, Woodcroft's AHL record is 105-71-21, while winning the Pacific Division title just last season. Woodcroft also holds the 2nd longest winning streak in AHL history, as he coached the Condors to 17 straight victories in 2018-19.
Another thing to look forward to, with Woodcroft being the new coach, is getting the most out of the team and the players. Woodcroft seems to understand a player's playstyle and role very clearly, and also appears to be able to make his players understand it as well. For example, Cooper Marody in the AHL. Marody has struggled to get his feet under him in the NHL, and while the AHL is a lower level, Marody seemed to thrive under Woodcroft's system in Bakersfield. Through 159 games, Marody has 151 points (59G-92A) and has a +/- of +45. Those are some stellar numbers for not having the strongest forward group around him. It shouldn't be a surprise to see Marody get another shot in the NHL sooner rather than later.
Playstyle
One thing that will undoubtedly change (and needs to) is a change in playstyle, and with Woodcroft and Manson joining the big leagues, it's worth taking a look at what we will most likely see changes in.
Neutral Zone: This is most likely the change that'll make the most significant difference in the Oilers' play both offensively and defensively. In Bakersfield, Woodcroft liked switching between a 1-1-3 and a 1-3-1 zone. For those who don't know, a 1-1-3 consists of 1 player at the offensive blueline, one player at the red line in center ice, and three players at the defensive blue line. While the 1-3-1 is one player pressuring at the offensive blue line, three at the red line in center ice, and one at the defensive blue line. These are plays that Woodcroft liked to run in Bakersfield, and they worked very well.
Forecheck: One style of forechecking Woodcroft used was the 2-1-2. Two forwards pressure down low, while the 3rd forward stays above them, and the two defensemen are at the opposing blueline. This is a defense-style approach, with having the 3rd forward always be ready to backcheck instead of being caught down low.
Defensive Zone Breakout: In the defensive zone, the way it was set up was that the centreman would be low in the zone and then find an open passing lane for the winger to start the breakout of the zone and on the attack. Something the Oilers have struggled mightily with this season, and many before, is the breakout. If Woodcroft could get the players to translate this to his players, it would make life easier for everyone.
A lot of this section was taken from @bcurlock on Twitter, as he uploaded clips and gave an excellent description on all of it.
It's exciting to see the Oilers finally taking a different approach in management with a fresh perspective on today's game. We saw in Woodcroft's first game that Devin Shore was scratched for Philip Broberg, something so little but creative helped. With the help of Woodcroft and Manson, the Oilers may finally get that much-needed structure to their game.