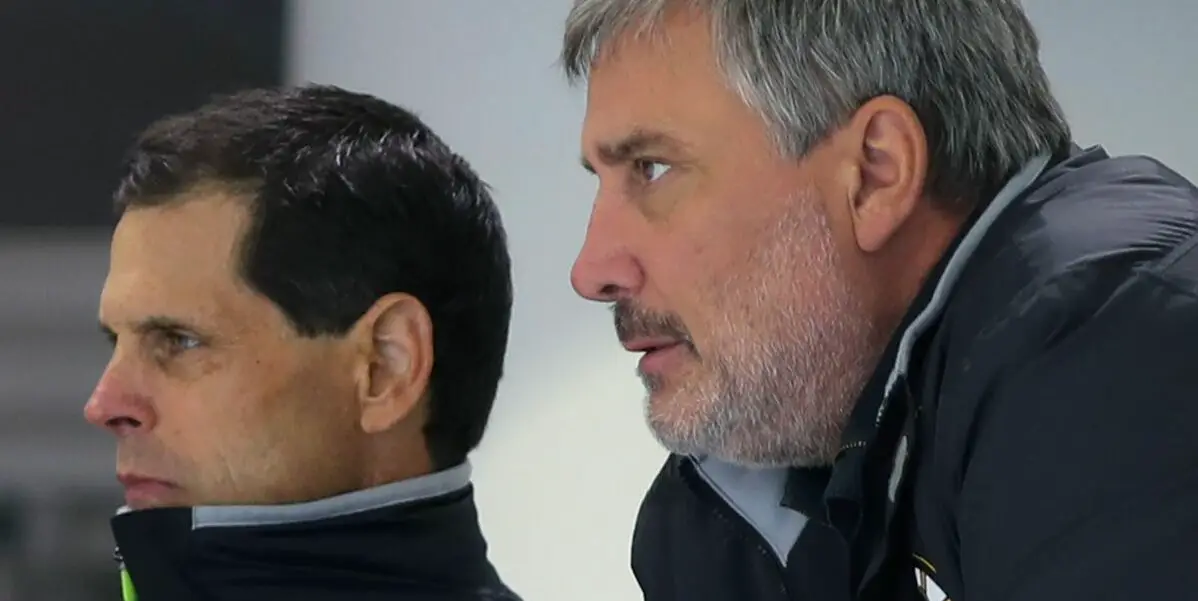 Let's be realistic. The Boston Bruins are in dire need of a rebuild, and most of the fan base isn't willing to face the facts. It is certainly a scary thought, as the Bruins have been one of the best teams in the NHL over the last ten years. It seems like we need to rip the bandaid off and take a look at what a Bruins rebuild may look like over the next few years.
First off, Patrice Bergeron isn't going to play forever. As much as we all love him and want to see him play forever, he will be retiring in the next few years. The B's will need another first-line center, and currently, their pipeline has three potential candidates. Trent Frederic is a good kid and is willing to stick up for his teammates against nearly any player in the league. Jack Studnicka has shown promise in his 27 NHL games, but his offensive consistency needs to improve for him to have a shot at top-6 minutes. John Beecher is currently playing on a stacked Michigan team and has 4 points in 12 games. All 3 of these players look good, but won't replace half of what Bergeron brings to the team. Perhaps they could build by drafting another centerman or make a trade for an established center that could take over in a few years.
If they are eyeing a rebuild, they may want to unload a few pieces. Picking up some draft picks or prospects in exchange for some established players may be the quickest way to gain some assets. Trading out some players like Carlo, Grzelcyk or Reilly could net the Bruins some decent returns. Taylor Hall is another player who could get them a decent return. When he arrived in Boston last season, he lit it up right away playing on Krejci's wing. Since Krejci's departure in the offseason, he has struggled, netting only five goals in 26 games. His inconsistency of late looks nothing like the league MVP from just a few seasons ago. If they are going to embrace a rebuild, the B's should get something for him while he still has some value. The Bruins need to take a new approach to draft players and should look around the league to see what's worked for other teams. With the current decline of the team almost imminent, they will have to draft better moving forward. Given Sweeney's draft history, it's hard to say if he is the right man for the job. They need to draft for their future needs and not trade away picks to try and solve the problems right now.
The B's are in a good spot when it comes to a young foundation. Pastrnak, McAvoy, and Swayman are the three pillars they need to build around moving forward. Most rebuilding teams lack young stars, but the Bruins have a very good starting point. Fabian Lysell looks like a steal and is performing well with the Vancouver Giants in the WHL. 2020 2nd round pick Mason Lohrei is currently leading Ohio State University in points by a defenseman with 15 in 18 games. Another young star in the making is Jack Achan, who is playing in Providence right now. The St. Cloud State product looks like a Torey Krug clone in the way he moves and transitions defense to offense. He is the same size as Krug and has looked very responsible on both sides of the puck so far in limited minutes. Of course, it's too soon to tell if he will turn into the Bruin's next offensive dynamo on the back end, but B's fans should keep their eye on him. They have some good pieces in place for a soon rebuilding team but lack that must-see, big-time #1 prospect.
It's tough to see a rebuild going over well in Boston. As an original six team, the Bruins fan base is ravenous at the best of times, and anything shy of being a contender is unacceptable. They have been good for a very long time, but it's starting to look like an end is near. Organizational changes may be needed to breathe life into a team that is clinging to the memory of 2011. A few off years are on the horizon, and the fans need to be patient—the B's need to get younger, faster, and more skilled throughout their lineup. The best way to do this would be to bring in management and staff with a clear plan.
I would point towards letting Bruce Cassidy go for staff changes and bringing in another hockey mind who has seen success in another market. I think hiring the recently resigned Paul Maurice would give the Bruins a new look moving forward. If you look at Jets Twitter, it's pretty apparent the fanbase is upset with his decision. After coaching in Winnipeg for the past nine seasons, he would be a welcome change to an organization that needs a shake-up. Don Sweeney should be next on the chopping block. It is beating a dead horse at this point, but the 2015 draft should have been the nail in his coffin. If his scouting group had selected better, there's a good chance his job would be safe for another half dozen years at least. I will throw a name out there that in hopes that we soon see him in a GM position – Kevin Weekes. Recently he was part of a handful of names that were considered for the Penguins vacant position. He has an excellent reputation as an honest, well-respected, and forward-thinking hockey mind who hit the ground running in his post-playing analyst career. It seems like only a matter of time until he winds up in a managerial position, and why not Boston?
It's not 2011 anymore. Bruins fans need to understand this and prepare for the teardown that is only a few years away. After Bergeron walks away, I feel like the reset will commence, and it's up to the Jacobs family to put the right pieces in place. There are so many moving parts in a rebuild, and teams like the Kings and Rangers have done it the right way. Stating a clear objective and working towards it as an organization should be the blueprint for any rebuilding team. The Bruins need to address some significant issues internally and deal with them now, so they don't become the Buffalo Sabres (sorry, Buffalo fans). I mean this in the way of preventing a perpetual never-ending rebuild that has your fans losing faith year after year. Let's hope that whatever turn-around the Bruins have in the coming years is short and to the point.