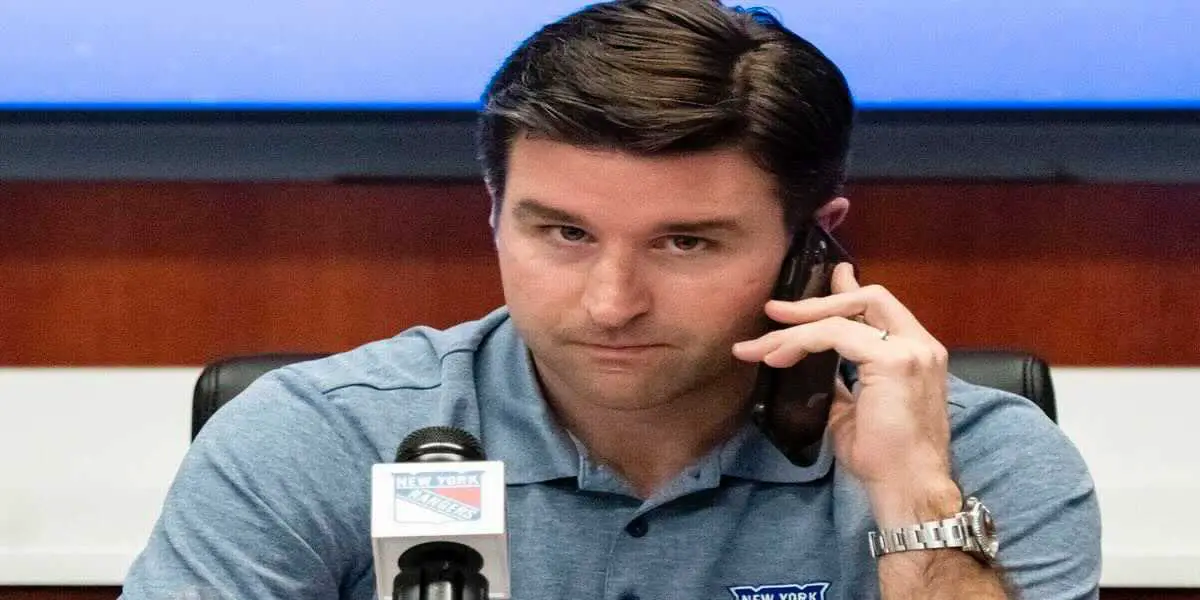 It was fun while it lasted. The 2021-22 New York Rangers far exceeded the expectations set for them in October at the beginning of the season as they finished just two wins shy of the franchise's first appearance in the Stanley Cup Final since 2014. So, where do they go from here? General Manager Chris Drury has a slew of decisions regarding the lineup and a limited amount of Salary Cap space to do so. 
I will outline some of the significant issues and concerns heading into the offseason and dive deeper into each section throughout the summer as more information and rumors trickle out. 
Unrestricted Free Agents:
Ryan Strome-
Frank Vatrano-
Andrew Copp-
Tyler Motte-
Kevin Rooney-
Justin Braun- 
Greg McKegg-
Restricted Free Agents:
Kaapo Kakko-
Sammy Blais-
Alexandar Georgiev-
Julien Gauthier-
With the addition of Vitaly Kravstov's newly minted 1-year deal (there is a high probability that he's dealt during the summer), the Rangers' Cap Space heading into the offseason is $13,346,022. It will be impossible for Drury to resign all of these players looking for new deals, but he could play it several ways. 
Option 1 (Trust the Kids)
Resigning Kakko and Blais is expected and shouldn't break the bank either. They could promote "The Kid Line" to the second line and, in turn, stack the top line with Panarin, Zibanejad, and Kreider (similar to what Boston has done in recent history with Bergeron, Pastrnak, and Marchand). 
With the promotion of the Kids, Drury would have approximately nine million in Cap Space to play with. The Rangers could decide to build a shut-down defensive line similar to how the Hurricanes utilized the Staal, Fast, and Niederreiter line in the playoffs. 
With K'Andre Miller, Alexis Lafreniere, and Filip Chytil all RFA's next season, this might be the best long-term option.
The potential lineup could look something like this:
10-93-20
13-72-24
64-21-91-74
29-UFA-75
Option 2 (Go after a UFA second-line center) 
This is probably the least likely option due to the current cap crunch and their list of high-profile RFA's next summer. Any signings this offseason have to be prudent and made in consideration of the three pending RFA's mentioned above. 
The Top UFA Centers:
Patrice Bergeron
Evgeni Malkin
Nazem Kadri
Claude Giroux
Vincent Trocheck
Bergeron is not leaving Boston. Malkin would most likely cost too much, and if he were to take a team-friendly deal, wouldn't he do that with Pittsburgh? Kadri is close to 32 years old and just had the best season of his career. He'll likely break the bank this offseason, and some team will regret it in a few years. 
Vincent Trocheck's name is being bandied about, and he's a phenomenal player, but that's a popular opinion, and his price tag could be too steep because of it. He's also in his 20s and a center; someone will shell out some big bucks. 
Giroux might be the perfect fit. He is a veteran on the back nine of his career that could have a few good years left, ala Joe Pavelski in Dallas. After he nixed a trade to New York during the regular season out of respect and loyalty to Philly, but that could change as a UFA. He's also a career 55% in the faceoff dot. 
Option 3 (Go after a UFA third-line center)

 
This option could be the most feasible given the cap ramifications. Many names could be thrown out here, but I'll throw out one. 
Paul Stastny
Stastny will be 37 this next season but is coming off a productive 45-point year. If the Rangers decide to promote Chytil and company, Stastny would be a very realistic and solid insurance plan (54% on career faceoffs). 
Option 4 (Trade for a second-line center)
There is an excellent chance that the Rangers will utilize the assets they've accrued over the years to acquire a center. A player like Mark Scheifele is a possibility. He's on a team-friendly contract, and the Rangers have made several trades with the Jets in the past few years. 
They may also go after a younger, more cost-controlled center. They certainly have the assets to make something happen, so anything is possible, especially when money and cap space is of the utmost importance. 
Option 5 (Trade for Patrick Kane)
This is undoubtedly the sexiest option of the bunch. Patrick Kane will go down as the greatest American-born hockey player of all time (Auston Matthews may catch him eventually). The Blackhawks are heading into an obvious rebuild, and unloading Kane to supercharge the rebuild with assets is a smart move. All they have to do is look at what the Rangers did in the past four years as evidence of its value. 
Chicago will most likely be asking for the moon for Kane, but he has a NMC, and that could help New York, but the price will be steep regardless. The Rangers also have a ton of defensive prospects that are reaching the point of the peak value. 
The potential lineup could look something like this:
13-93-20
10-72-88
64-21-91
29-UFA-75
The Defense:
The obvious omissions in the lineup options above are the defensive pairings. Currently, the top five is set for the foreseeable future with Fox, Lindgren, Miller, Trouba, and Schneider. 
Per Arthur Staple of The Athletic, it's worth noting that Gallant was going to name Jacob Trouba the captain before the season before someone above Gallant nixed the decision. This may not mean anything, but it could point to the Rangers' desire to get out from under Trouba's eight-million-dollar cap hit. He has a No-Move-Clause in his contract that becomes a Modified-No-Movement-Clause in 2024. The Rangers have traded their last two Captains and might be reluctant to name another one who could be on his way out in a few years. 
Someone the Rangers will most likely try and move this offseason is Patrik Nemeth. Nemeth had an abysmal first year in New York. After the Olympic break, he had a decent turnaround to his season (better than the beginning, at least) and started the playoffs on the third pair. Midway through the first round, he was benched in favor of trade deadline acquisition Justin Braun. Braun stepped in, and Nemeth never saw the ice again. 
Nemeth has a Modified-No-Trade clause (yes, the Rangers give away NMC like candy on Halloween), so it may make moving him a little more complicated, but it's still a possibility.
It's worth noting that 3.4 million in the buyouts of Dan Girardi, Kevin Shattenkirk, and Tony Deangelo will come off the books after next season. 
With so many questions surrounding the Rangers, one thing is for sure, Drury will have his hands full this summer.
In this week's episode we discuss the new rumors regarding the Rangers coaching situation. Then go on to the fun stuff discussing the impact Tkachuck's play will make on the game, Rangers players and more. Thanks for listening! Please rate and review our show on your favorite listening platform. Check out our partner's website at www.insidetherink.com for all your latest hockey news.