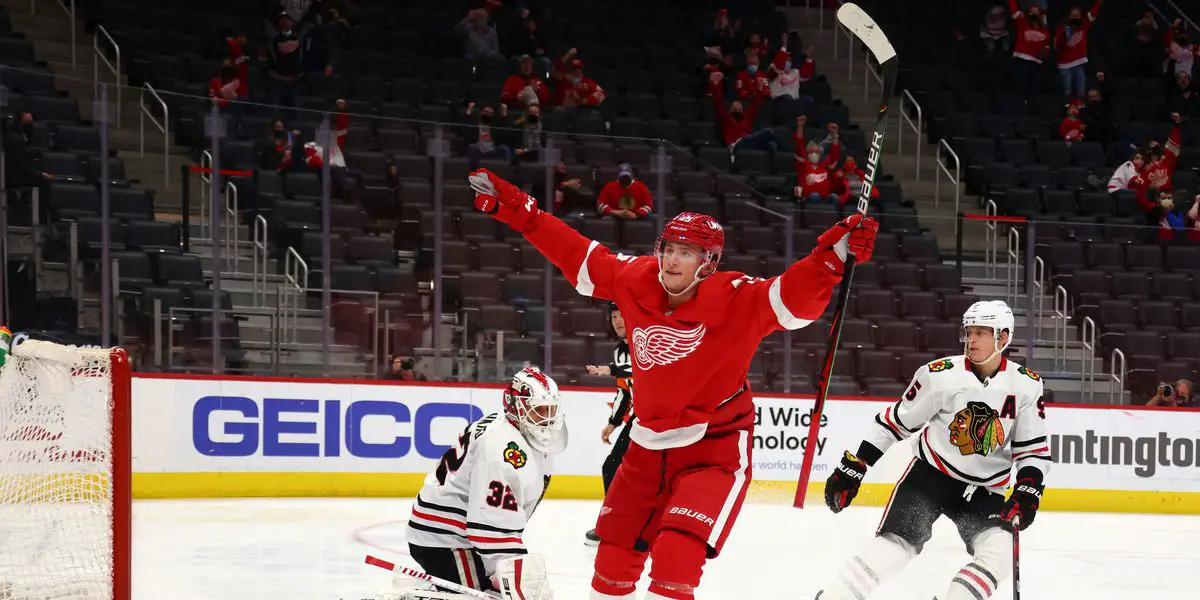 As soon as Jakub Vrana joined the Red Wings last season, he immediately became the best offensive play-driver on the team. Through 11 games, Vrana had eight goals and three assists, including a four-goal night versus Dallas. He was the first Red Wing to score four goals in a game since the player he was traded for, Anthony Mantha, did against Dallas as well. He was also the first Red Wing since Sergei Fedorov in 1996 to score four even-strength goals in a game.
Over the past few weeks, Vrana has been progressing after his shoulder surgery in September, skating with the Red Wings in a non-contact jersey in practice. Vrana is scheduled to meet with his surgeon in mid-February to see if he is ready for contact. With Vrana's impact in his short stint last season, discussions around the fanbase have been in full swing regarding where he will slot into Detroit's lineup. Here are some possible line combinations we could see Vrana factored into when he is fully healthy.
Option 1: Vrana-Larkin-Raymond
I see this as the most likely scenario for Vrana. With the emergence of the "Guelph Line" in recent weeks, there hasn't been that perfect fit with Larkin and Raymond on the top line. Namestnikov played in that left-wing slot for a good part of a month and didn't look out of place. This past Wednesday versus Philadelphia, Filip Zadina was put on the top line in an attempt to spark his game and played one of his strongest games of the year. But besides Bertuzzi, there hasn't been that perfect fit for that line, and that's where Vrana comes in.
As good of a goal-scoring season as Dylan Larkin is having, he's not a natural goal scorer as he's scored over 20 goals three times in his career. Lucas Raymond has come as advertised to Detroit with his elite hockey sense and playmaking ability but is still developing his scoring touch. Jakub Vrana has been one of the best five-on-five scorers in the entire league the past few seasons. 
Per QuantHockey, only Auston Matthews and Alex Ovechkin have scored more even-strength goals per 60 minutes than Vrana. Vrana averages 1.284 goals per 60 minutes while only averaging less than 14 minutes a game throughout his career. Granted, his ice time went up significantly in Detroit as Vrana was averaging 17:16 minutes a game. 
Vrana, on a line with Larkin, who can drive play and transition through all three zones, Raymond, who can create space with his elite hockey IQ and playmaking, could be a top-five line in the NHL. Vrana proved last season with more minutes that he can still score at an elite rate.
Option 2: Fabbri-Suter-Vrana 
With the way that the "Guelph Line" is currently playing, it seems unlikely that Red Wings' head coach, Jeff Blashill, will be willing to break the trio up. But with the way that Bertuzzi played with Larkin and Raymond and the ability to plug Vrana into that second line left-wing position, there might be some incentive to make this change. 
In a press conference recently regarding Vrana, Jeff Blashill said that the plan was to have Vrana on Pius Suter's wing at the beginning of the season. This makes a lot of sense as Suter spent most of last season playing with Chicago's Patrick Kane, so he knows how to play with talented players like Vrana. Fabbri with those two gives the line a player who can be the first player on the forecheck and another natural finisher. 
This line could work from an offensive standpoint, but I am unsure about the defensive side. While Suter is one of Detroit's best penalty-killing forwards and is trusted in a lot of defensive zone situations, Vrana and Fabbri are not exactly defensive specialists. Both players are more known for their offense, and Fabbri has been one of Detroit's worst forwards defensively this season with a plus/minus rating of -16. According to Evolving Hockey, Fabbri ranks last among forwards on the Red Wings in Expected Defensive Goals Above Replacement with a -4.2. Vrana wasn't much better with a -2.2 previous season split between Washington and Detroit but offensively was outstanding with 12.3 Expected Offensive Goals Above Replacement. While this line combination would be able to generate offense well, I am not sure the good outweighs the bad.
Option 3: Namestnikov-Rasmussen-Vrana
This is a realistic possibility as Vrana may not be fully ready for prime time minutes in his first games back. With the way the Red Wings top-six has been playing recently, it may make sense for Vrana to start on the third line to spark some much-needed offense in the bottom-six.
When asked about Vrana, Jeff Blashill has credited him in being able to generate his own offense and not needing players like Larkin or Bertuzzi with him to be successful. When joining Detroit, one of Vrana's most common linemates was Michael Rasmussen, playing a little over 64 minutes together, and he had no problem scoring.
Vladislav Namestnikov, who is in the midst of one of his best seasons, also gives the line a nice mix of skill and grit. Both Namestnikov and Rasmussen have been positive defensive players this season and may be able to allow Vrana to ease into the lineup and focus on his game. I wouldn't mind this trio if it were only for a few games. When he was first traded to Detroit, Vrana said he was excited to finally receive consistent top-six minutes in Detroit, and with his skill set, he should get those minutes on this team.
Option 4: Bertuzzi-Suter-Vrana
This line arguably can be more potent offensively than the first line. With Filip Zadina starting to find his game on the top line, Jeff Blashill can get creative with the rest of his lineup.
Tyler Bertuzzi has proven this year that he has the ability to drive his own line either with his scoring or playmaking. Add that in with Vrana, who scores similarly to Bertuzzi in the sense that they don't take a high volume of shots and can score. This season, Bertuzzi has 23 goals and a 22.3% shooting percentage. Vrana last season had eight goals with the Red Wings and was shooting at a 25% rate.
Vrana isn't the type of player that will win a majority of puck battles, as in Washington, one of the reasons his ice-time was so low was due to his compete on the puck. Having a player like Bertuzzi with him will take some of that pressure off and create more scoring chances for the trio. Suter has also shown that he is able to keep up with Bertuzzi offensively this season and produce as he has three points his past two games.
The question with this hypothetical top-six is how is Robby Fabbri's game impacted? Fabbri has struggled this season when he has been the go-to offensively, and with bumping him down to the third line, he would be looked to carry the offense.
Option 5: Zadina-Veleno-Vrana
Jeff Blashill has been pretty set on having more of a "shut-down" third line revolving mostly around Michael Rasmussen, Adam Erne, and Vladislav Namestnikov. With Vrana coming back into the lineup, there's an opportunity to run three scoring lines.
A line of Zadina-Veleno-Vrana has the potential to work out quite well for the Red Wings. Zadina has been trending up recently after his promotion to the Red Wings' top line as he has four points in his past six games. With this development, the Red Wings could look to move Zadina down the lineup to balance scoring, switching him with Namestnikov, who has shown he can play on the top-line this season. Veleno has been able to bring a new element to the current fourth line: his speed and playmaking ability alongside Givani Smith and Sam Gagner and could be due for a promotion. Vrana would be able to be the natural finisher of the line, and he has played some time with Filip Zadina and Joe Veleno dating back to last season.
The chemistry between Vrana and Zadina has been a bit overhyped after Vrana's four-goal game versus Dallas when Zadina assisted on two of those goals. Those would be the only two goals that Vrana and Zadina would combine on, and they would only play a little over 57 minutes together at even-strength.
The reality is that Jeff Blashill has been hesitant to play two young players like Veleno and Zadina together without a defensive-minded player with them. With players like Vrana and Rowney nearing a return, there's a chance that Veleno gets sent to Grand Rapids due to him not needing to go through waivers.
At this point of the rebuild, having the problem of "too many" top-six forward options is a good problem to have for the Red Wings. Jakub Vrana will be must-watch tv when he makes his return to the lineup and will make whatever line he is on more exciting.
In this episode, we recap the World Championships, highlighting Kubalik, Seider, Mazur. Next, we take a long look at the 2023 first round and which players will be available at 9th and 17th.