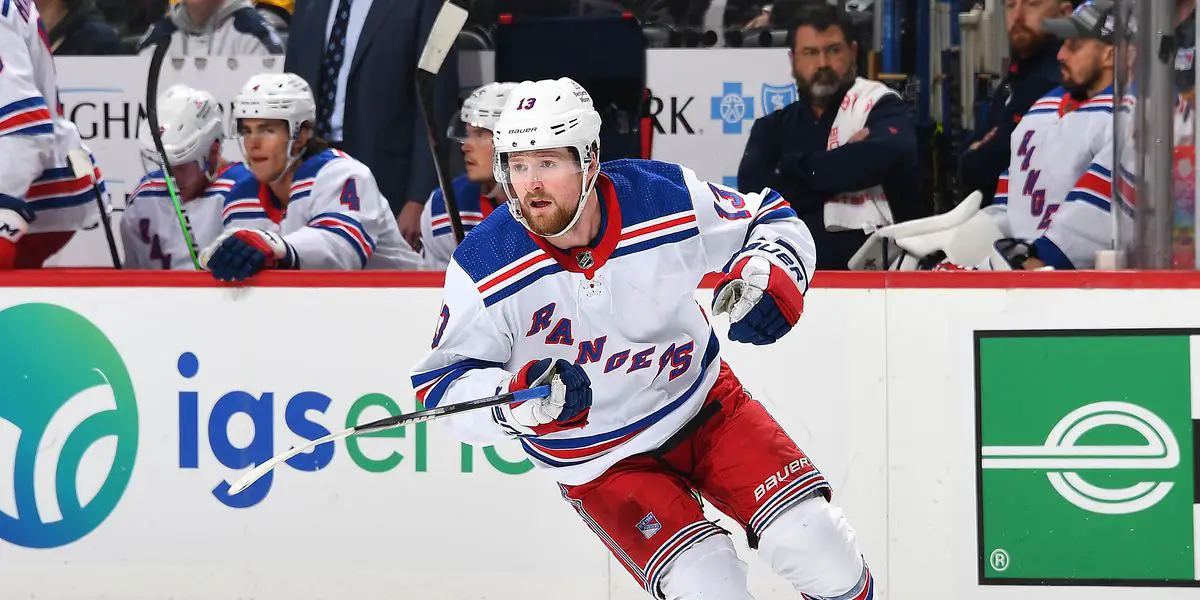 Lafrenière is a puzzling player to evaluate. He's like an inkblot test that shows you whatever it is you want to see in him. Some see a true 1OA draft pick who simply hasn't been given the opportunity to grow and gain confidence in the league. Others see a player with the NHL skillset of a third line grinder who can't skate or create at the speed of the NHL. Is he poised to eventually break out or bust? I'd question anyone who is certain either way at this point, but the one unquestionable thing—he's been held back in a myriad of ways.
Starting his NHL career with ten months in between actual games due to the Covid pandemic didn't do him any favors. Losing nearly a year at a crucial developmental juncture put him behind the curve right out of the gate. It also didn't help that he wasn't joining a true rebuilding team like most 1OA draft picks. With vets like Kreider and Panarin ahead of him on the left wing and a coach like Quinn who never favored giving the youth big minutes to figure it out, Lafrenière was tossed into the deep end of the lineup without a lifeguard on duty.
While no one is arguing he's been impressive for his draft pedigree, many might be surprised by how good his even-strength stats have been in the league. On Twitter, Stat Boy Steven (@StatBoy_Steven) posted a few different evaluations of his first 163 games, and he's in good company. Just check these two out: 
P/60 at even strength among 1st overall picks in first 163 games (since 2009-10):
Connor McDavid: 2.81
Auston Matthews: 2.62
Nathan MacKinnon: 2.20
Taylor Hall: 2.09
Alexis Lafrenière: 1.71
John Tavares: 1.64
Ryan Nugent-Hopkins: 1.57
Jack Hughes: 1.27
1st overall picks ranked by even strength goals after 163* games:
Matthews: 71
Ovechkin: 58
Kovalchuk: 57
McDavid: 50
Crosby: 46
Stamkos: 42
Hall: 37
Lafrenière: 36
Nash: 35
Hischier: 35
MacKinnon: 33
Tavares: 33
Hughes: 31
Lecavalier: 30
Nugent-Hopkins: 27
Thornton: 17
Looking at these numbers, you'd be well-armed to argue that any lackluster impression of his NHL start is misinformed or misunderstood. You'd also have a strong case to say his lack of power play time and minutes generally stunts his overall production.
But anyone who isn't looking at these stats could also be forgiven for being wholly underwhelmed when using the simple eye test. Lafrenière has rarely shown the game-breaking skillset he displayed in the QMJHL, where he racked up points at a Crosby-esque pace. It's a near consensus around the league now that his speed severely holds him back. If you watch highlights from his 19-20 season in Rimouski, it's easy to spot the difference—he has space! The separation he could find in juniors allowed him to use his vision to carve up defenses with accurate passes and score in bunches with his deceptive release. Even with his solid even-strength numbers, we've rarely seen glimpses of the player in those highlights. If Lafrenière is going to truly break out, he's going to have to get faster to create space for himself to work.
After suffering through third and fourth line minutes under David Quinn, there was hope Gallant would give him the opportunities he needed to take the next steps. But Gallant's line blender and predilection for punishing youth differently than vets for lackluster play hasn't afforded Laffy much more than he got under Quinn. With a restless fanbase who can't be of too different a mindset than management, rumors of moving him for picks and players are beginning to swirl. I want to be clear there has been nothing from any reliable source yet to suggest the Rangers are entertaining any offers. But where the Rangers stand with their roster construction and window, they don't have the luxury of time to play around with slow development.
It's hard to imagine he will actually be moved. But it would also be hard to imagine at the beginning of the season that he'd be scratched in favor of the still scoreless Ranger Sammy Blais. Gallant clearly is hoping to light a fire under him, but a lack of perceived effort has never plagued Lafrenière. If Gallant's solution to his slow progress continues to be more rod than carrot, it's hard to see the path forward that ends with him fulfilling the promise he had as the 1OA pick.
In this weeks episode we have on Drew Way to discuss analytics, defensive problems, the human element and more.Thanks for listening! Please rate and review our show on your favorite listening platform. Check out our partner's website at www.insidetherink.com for all your latest hockey news.