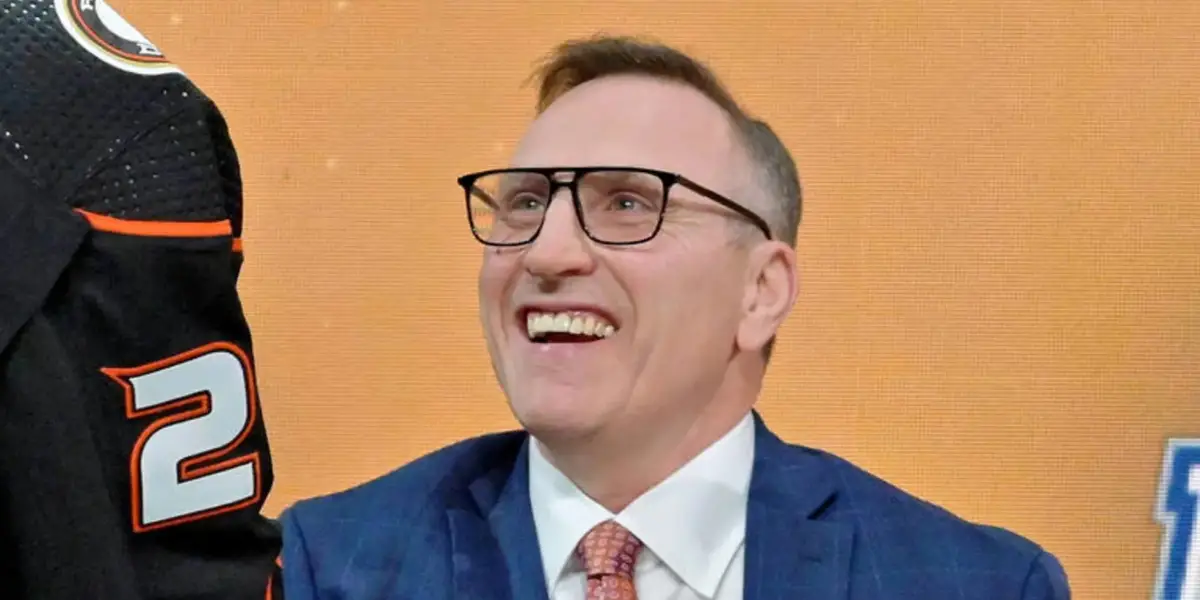 March 3rd, 2023, aka the NHL's trade deadline, is around the corner. As fans, we get whipped up into a frenzy every season with never-ending rumors swirling about while hoping our favorite teams will make necessary moves for the betterment of the franchise for the current season or the seasons to come. At this point in the year, teams have typically drawn their lines in the sand and separated themselves into one of two categories; "buyers" or "sellers." The Anaheim Ducks are in the midst of their worst season in franchise history and sit near the bottom of the NHL standings in terms of both points (43) and points percentage (.364). It's been crystal clear for months now that the Ducks will be sellers at the trade deadline. 
The playbook for a trade deadline seller is simple; trade away pending unrestricted free agents (UFAs) to the highest bidder, and if a general manager receives an offer for a player who is under team control beyond the current season, it had better be a "Godfather" offer (one he can't refuse) for them to consider it. Most everyone is aware of the players currently on the block for the Anaheim Ducks; John Klingberg, Kevin Shattenkirk, and Dmitry Kulikov will almost certainly be on new teams by the time the deadline is over. A couple more players (Adam Henrique, John Gibson, and Max Comtois) could also be on their way out if the aforementioned "Godfather" offer(s) finds its/their way to Ducks' General Manager Pat Verbeek. 
However, trade deadlines present opportunities of all kinds, especially in a league with the NHL's current salary cap structure (a hard cap that hasn't increased significantly recently). Teams find themselves up against the salary cap ceiling, and some are even willing to part with draft picks and/or prospects to rid themselves of expensive contracts (The Ottawa Senators just attached a couple of picks to Nikita Zaitsev to move on from him). There are also players across the league in need of a change in scenery or a greater opportunity who may benefit from finding new homes sooner rather than later. These situations could provide unique and cheap options for the Ducks to improve in the long term if Pat Verbeek were to choose to explore them. 
The Ducks are a team with sizable holes up and down the roster, which Pat Verbeek can begin patching immediately. It's fairly clear who their subtractions will be as the trade deadline draws nearer, so I thought exploring possible additions to the team that Verbeek could bring aboard would be a fun pivot. 
Salary Cap Dumps
Andreas Johnsson-Winger-New Jersey Devils
AAV $3.4 million UFA 2024
Johnsson (28) has hovered around point-per-game production throughout his six-year NHL career. He was placed on (and cleared) waivers and sent to the Utica Comets of the AHL at the end of December 2022. As a result of burying his contract in the AHL, he currently holds a cap hit of $2.275 million which counts against the Devils' salary cap sheet. The Devils are in the playoff picture and looking to add to their lineup at the trade deadline, so they might be willing to attach a pick or prospect to Johnsson to free up that $2.275 million in cap space. 
Philippe Myers-RHD-Tampa Bay Lightning
AAV $2.55 million UFA 2024
Tampa Bay acquired Myers (26) in a deal that sent Ryan McDonagh to the Nashville Predators. He was then signed to a one-year contract extension worth $1.4 million. Myers played 11 games for the Lightning before being placed on waivers and sent to Syracuse of the AHL. He is currently buried in the minors and is costing Tampa Bay $1.425 million in cap space. They could be needing to attach assets to open up that cap space, and Anaheim could use a right-shot defenseman post-deadline when the losses of John Klingberg, Dmitry Kulikov, and Kevin Shattenkirk will likely gut their defensive corps.
Mike Reilly-LHD-Boston Bruins
AAV $3 million UFA 2024
The Bruins are in "win right now" mode as they're at the top of the NHL standings (by a lot) and have a large contingent of pending UFAs on their payroll. Like Myers and Johnsson, Mike Reilly is eating $1.875 million being buried in the minors. Ridding themselves of that money (like they did earlier this week with Craig Smith) could allow them to add another piece to their potential championship puzzle. This is the current core's best chance at a Stanley Cup in Boston, and drastic measures are called for. Those drastic measures could include sending a hefty price to a team to unload Reilly.
Change of Scenery
Jesse Puljujarvi-RW-Edmonton Oilers
AAV $3 million RFA 2023
Puljujarvi's name has seemingly been in the rumor mill since he entered the league. His time in Edmonton has been tumultuous, to say the least. The fourth overall draft pick in the 2016 NHL Draft is an excellent skater for his size (6-4 201 lbs) and is one of the most menacing fore/back-checkers in the NHL. He wins battles on every inch of the ice surface and utilizes his high hockey IQ to singlehandedly thwart breakouts or rush opportunities defensively. Puljujarvi's biggest detraction has been his inability to produce at the NHL level the way he had during his time elsewhere. This has made him a scapegoat to a large portion of the Oilers' fanbase/media and caused his role to yoyo up and down the Oilers' lineup for years, with his ice time diminishing in the process (ATOI in 2022-23: 12:24 mins).
One way or another, Puljujarvi's saga in Edmonton seems mercifully coming to a close in the coming days. Edmonton GM Ken Holland is doing everything he can to not lose Puljujarvi for free by putting him on waivers and risking a claim. This includes sending talented young players to the AHL (Dylan Holloway) and calling up others on emergency loans (Devin Shore). If Pat Verbeek were to bring Jesse Puljujarvi to Anaheim, the cost would seemingly be minimal, and he can get the fresh start he's so craved. He'd likely slot in on one of the top two lines for the Ducks next to Trevor Zegras or Mason McTavish and, maybe most importantly, get a much-needed reprieve from the noise and scrutiny that has surrounded him for far too long.
Cal Foote-RHD-Tampa Bay Lightning
AAV $850K RFA 2023
Cal Foote was the 14th overall pick in the 2017 draft and is currently in his third NHL season. He possesses a large frame (6-5 224 lbs) but can skate effectively in all four directions. He's slid down the depth chart and found himself in the press box as a healthy scratch as often as he's been in the lineup for the Lightning this season, and when he draws in, he is only averaging 14:12 TOI. Tampa Bay GM Julien BriseBois has indicated that he could be shopping Foote in the near future. 
All signs point to the Ducks trading their pending UFA defensemen at the trade deadline. That opens up 3-4 spots for the team to fill just to ice a full lineup each night. Cal Foote has never averaged more than 15 minutes in his career and would immediately find himself in the top four on Anaheim's blueline. He'd likely play close to 20 minutes per night next to Cam Fowler on this current Ducks team. Beyond 2022-23, the team has several LHD prospects on the horizon (Pavel Mintyukov, Olen Zellweger, and Jackson LaCombe) who would benefit from having a partner with Foote's skillset. 
Vitali Kravtsov-RW-New York Rangers
AAV $875K RFA 2023
Kravtsov has had an interesting journey with the Rangers since signing his entry-level contract (ELC) in 2019. His time away from the NHL has been split between playing in the AHL and the KHL while producing decently well at those levels. When he's been on the "Blue Shirts," he's had difficulty staying in the lineup, and when he's been in, he hasn't played more than fourth-line minutes (11:25 TOI in 2022-23). This has led the ninth overall pick in the 2018 draft to request a trade formally. He has all the tools to be a star performer at the NHL level; good frame (6-3 193 lbs), silky hands, and excellent skating ability. He still needs to work on improving his play away from the puck, but he also needs the opportunity to do so. 
The Anaheim Ducks need the kind of high-end skill Kravtsov can provide. He would (should) find himself in a top-six role with a center like McTavish or Zegras and even receive powerplay time. A move like this could provide the kind of opportunity he needs to get his NHL career back on track in a lower-pressure environment.
Dylan Coghlan-RHD-Carolina Hurricanes
AAV $763K RFA 2023
The Vegas Golden Knights sent Max Pacioretty to the Carolina Hurricanes this past offseason and attached Dylan Coghlan as an extra incentive for taking on Pacioretty's full salary. Coghlan went undrafted in 2016, but his production took off in the WHL after that draft, and it continued when he began his professional career for the Chicago Wolves of the AHL. Despite his larger frame (6-2 206 lbs), he is a talented puck-mover and has improved considerably in his own end. Coghlan processes play quickly, and whether he has to make a breakout read or judge whether he can get a puck through to the net from the point, he usually makes the correct call. With Carolina's tight defensive structure, he hasn't had the easiest time cracking the lineup with his new team. He's been scratched or injured in all but 16 games in 2022-23 and could be on the move if the Hurricanes decide to go in a different direction. 
Like Foote, if Coghlan were to find himself in Anaheim, he'd have a top-4 defensive role waiting for him on the right side of the blue line. His play style makes sense next to Cam Fowler, and he could use the ice that kind of partner creates for him to make the impact plays with which Coghlan excels. 
Kasperi Kapanen-RW-Pittsburgh Penguins
AAV $3.2 million UFA 2024
At the time of writing this article, the Penguins have placed Kapanen on waivers. Kapanen has played 364 NHL games as a member of both the Toronto Maple Leafs and Pittsburgh Penguins and has produced just under .5 points per game (.47). He has all the offensive talent in the world; great, shifty skating ability in the zone or on the rush, creativity with the puck on his stick, and a nice little release on his shot. He tends to hang out on the perimeter without the puck in the offensive zone, which has led to a great deal of inconsistency throughout his career. Kapanen has found himself on the Penguins' third line since their acquisition of Rickard Rakell at the 2022 trade deadline and has not responded well to his placement in that role. Pittsburgh is in "win-now" mode and likely views Kapanen's $3.2 million cap hit as a burden and would be interested in spending that money elsewhere. 
In Anaheim, Kapanen would find himself back in a top-6 RW role on a team that needs the kind of high-end talent on their roster that he can provide. Playing on a line with a pair of workhorses like Mason McTavish and Frank Vatrano (for example) would benefit his play style and open up ice for him to create offense. If Kapanen clears waivers (we should know by the time of this article's release), a significant percentage of his AAV will count against Pittsburgh's cap sheet. They may even offer a team an incentive to take him in a trade. If so, Pat Verbeek should be on the phone immediately to make that happen for the Ducks.
Cale Fleury-RHD-Seattle Kraken
AAV $750K RFA2023
Cale Fleury was a 3rd round pick in the 2017 draft and was selected by Seattle in the 2021 expansion draft. He's played in 61 career NHL games over the last four seasons but has only managed a goal and an assist in that time despite decent production at lower levels. Fleury is the epitome of a two-way defenseman. He has excellent mobility, strength, and awareness both when moving the puck and defending in all three zones. Fleury's been a healthy scratch in all but 11 games in the 2022-23 season as Seattle favors what William Borgen brings to their defensive corps instead. 
Cale, like his older brother Haydn, has all the tools to be a very effective two-way defenseman in the NHL. For whatever reason, he has struggled to make the necessary strides to remain in lineups consistently. In Anaheim, he'd have a spot in their lineup nightly and could continue developing his game and adjusting to the NHL. Beyond this season, if he does indeed continue progressing, he would make an excellent partner for someone like Olen Zellweger, as they're both mobile and intelligent when their team has possession of the puck, and he can fill in the gaps in Olen's defensive game. 
Summary
The Ducks will be obvious sellers at the 2023 trade deadline. However, this deadline presents a unique opportunity for them to possibly add some talented players as well. From a salary cap perspective, they're in an excellent position to take on players other teams can't afford to keep paying while those teams look to add elsewhere. Pat Verbeek will have a lot of work to do between now and March 3rd, but he has the potential to display some creativity and improve this team in significant ways moving forward. 
On this episode of LAP, Jake, Chris, and Lou talk about the start of Anaheim Ducks training camp and the last weekend's rookie tournament. They talk about Greg Cronin's encouraging 'real' first day as Ducks head coach and the philosophies he's bringing to the team. They also talk about Pat Verbeek's comments in regards to Zegras and Drysdale's contract negotiations and round things out with listener questions!Follow Late Arrivals Twitter: @latearrivalspodInstagram: @latearrivalspodFollow the hostsChris: @CJKChelConnor: @91_PlutyJake: @_JRobles71Louis: @Louiex37 Intro/ Outro done by Will Rice/ @pastorwillrice