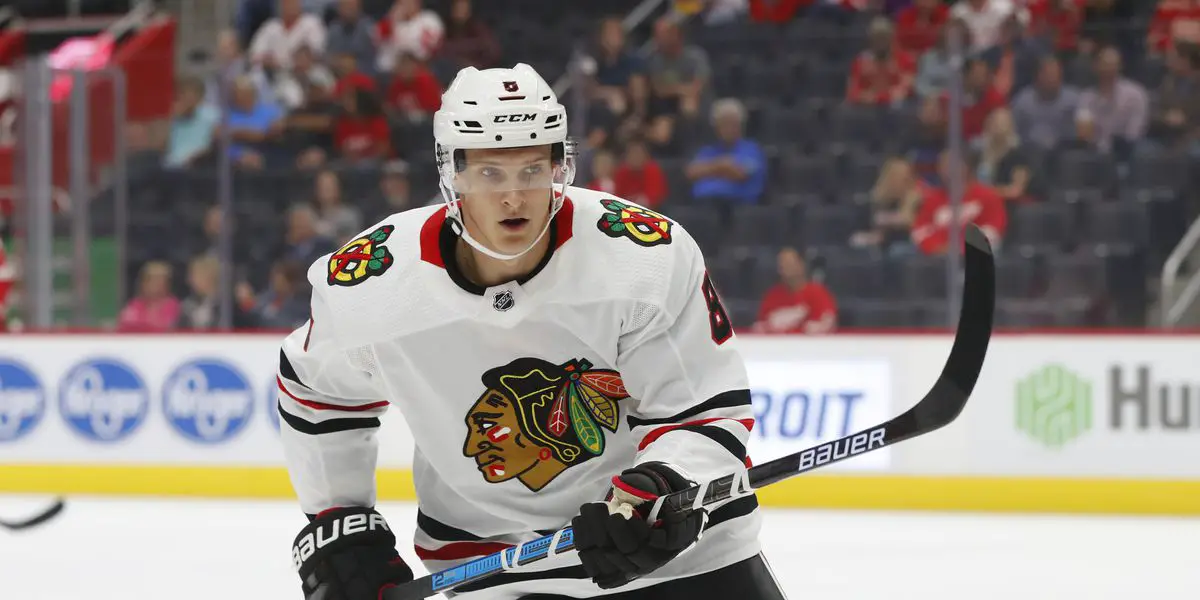 Chicago's season has not gone as planned. Stan Bowman's quick retool has been a disaster. The Blackhawks find themself in an enormous hole and need to start to look towards the future. Chicago doesn't have much draft capital for the upcoming NHL draft and this is where Kyle Davidson comes in. Davidson is going to need to put his big boy GM pants on and make some sizable moves for the organization as the deadline approaches.
Dominik Kubalik is going to be the hardest decision for Davidson. Kubalik is in the last year of his contract making 3.7 million. He's going to want a raise and will probably be asking in the 4.5-5 million range in the offseason. Chicago is going to have three contracts right around the 10 million mark next season, this could cause the Blackhawks to move on from Kubalik who has been good for the Blackhawks but lacks consistency. Kubalik will be a dependable two-way game on a nightly basis, but his goal-scoring is streaky, to say the least. He will go two weeks without scoring and then he can score six goals in six games. Some of this could be the fact he's not playing next to the best playmakers in The Windy City. Kubalik has played 156 games in his NHL career tallying up 53 goals and 43 assists for 96 points. Kubalik is twenty-six years old, with Kubalik being pretty young still and his ability to score goals and generate offense should be able to get the Blackhawks a solid return.
New York Rangers:

The Rangers are breaking out in a massive way this season. They are 21-8-4 and just beat the defending Stanley Cup champions twice in the last week. The Rangers have one of the best defensemen in Adam Fox and their defensive core is solid and deep. The Rangers do lack some goal scoring in the top six and this is where Kubalik comes in to play. According to Cap Friendly, money works. New York would get Kubalik and would send Vitali Kravtsov and a fourth-round pick (one of the two the Rangers have). The Blackhawks could also retain up to 50% of Kubalik's contract to sweeten the deal and give the Rangers more room to work. Kravtsov is currently in the KHL and would have the offensive upside Chicago would be looking for in a prospect. While Kubalik would slide in perfectly to the rangers line up and bring the goal-scoring they would be looking to add this season as they go Cup hunting
Edmonton Oilers:

Out of the four, this is the one that is the least likely. Kubalik for Yamamoto. Chicago would retain 50% of Kubalik's remaining contract. Edmonton would still be over the cap by around $599,667. Chicago can take on another cheap contract or the Oilers massage the cap a little to make it work. This would only work if the Boston rumors fall through. This would give the Hawks a slightly younger player in Yamamoto and Edmonton would get a little extra pop in the goal-scoring department. Both would be RFAs in the upcoming offseason giving both teams control of the player. It's a little bit of a stretch but could pay off for both teams.
Colorado Avalanche:

The Avs were a Stanley Cup favorite coming into the season started a little slow but have found their legs. There is rumbling the Avs will be looking to add depth to the winger position. Chicago would want a little more from Colorado as they are division rivals. The Avs would send over 2021 first-round pick Oskar Olausson for Dominik Kubalik and Chicago would retain 50% of his contract. Chicago could also ask for a late draft pick but the draft pedigree of Olausson should be enough.
Florida Panthers:

Florida has been a wagon all season. They have everything you could need in a team to win. They survived a coaching change and didn't miss a beat. The Panthers should be full speed ahead come the deadline. Florida doesn't have any glaring weakness but what team cant use another goal scorer. Florida would send Grigori Denisenko and a second-round pick next season for Dominik Kubalik and a 50% retained salary. Denisenko is a wing that was taken in the first round back in 2018. This season in the AHL he has scored seven goals and nine assists for sixteen points in just twenty-seven games. He's already twenty-one years old and has not found his way to the NHL as his development has taken longer than expected, and that's why Florida would need to sweeten it with a second-round pick. Florida would add more goal scoring to a team that is already loaded with depth.