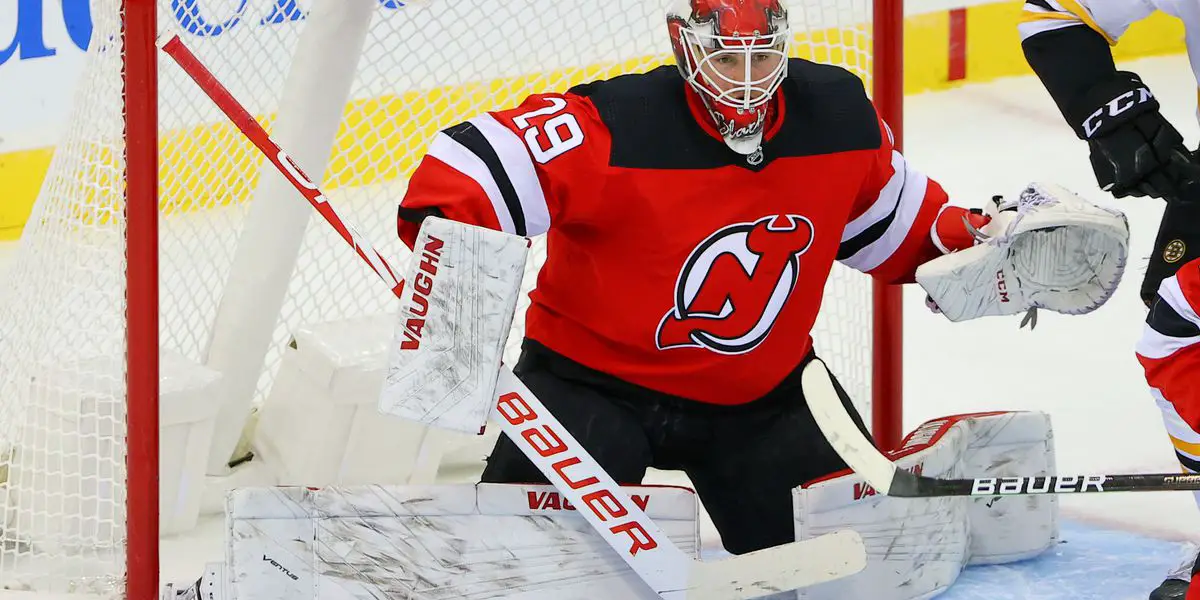 Overview
The days of Martin Brodeur are long gone and over with. Filling his shoes is tough to do as it is, but the Devils have yet to find a consistent replacement for him. If only they could be as lucky as their rival New York Rangers, who went from Henrik Lundqvist to Igor Shesterkin. Even the other squad in the metro area in, the New York Islanders, boasts Ilya Sorokin, who has taken over the crease on Long Island. Both are young and are the men in net. The Devils have a young netminder of their own in Mackenzie Blackwood.
The young netminder has the potential. Tom Fitzgerald has said he wants to upgrade in net. Whether it means going after Jack Campbell in free agency or Alexander Georgiev, the upgrade in net remains to be seen. Fitzgerald could have a goalie tandem with Blackwood or sever ties altogether. He should opt to keep the youngster as he could be the man in net.
The Potential
Mackenzie Blackwood got off to a hot start to his career. In 2018-19 it was a smaller sample size, but in 21 games started, he posted a 10-10 record while sporting a 2.61 goals-against average and a .918 save percentage. It showed he was ready to carry the load. In 2019-20 is where we saw Mackenzie Blackwood take his game to new heights. In his biggest workload, starting in 43 games, he posted a record of 22-14-8. The bigger workload saw his numbers rise slightly with a 2.77 goals-against average and a .915 save percentage. He finished with a positive goals saved above expected at 7.3, and his WAR (wins above replacement) was 1.31. He had all the makings of being the man in net and making highlight-reel saves and keeping the Devils in games.
The next two seasons did not follow suit. He finished with a losing record and posted a 3.02 goals-against average and a .902 save percentage.
But the 2021-22 season is one to forget for not only Mackenzie Blackwood but also Devils fans. It was the worst season of his young career. He went 9-10-4 and posted the worst numbers in his career. His 3.39 goals-against average and .892 save percentage were eye-opening. His -12.7 goals saved above expected was second-worst on the team.
Why The Drop
Mackenzie Blackwood was not himself. It would come to light that the young netminder had a lingering ankle injury and the coaching staff continued to throw him out there. He was their best option to win, but it worsened the injury, and his play reflected.
In the 2021-22 season, the Devils allowed the second-most goals in terms of goals against. Team defense was an issue and something the Devils will need to tighten up on. Of course, the goalie must come up with a timely save and not give up second chances. As a team, they finished with 131 rebound shots against, which ranked 7th highest in the league. And granted, the Devils' goaltending as a whole was brutal.
The Devils Should Keep Him
There is a case to be made to keep Mackenzie Blackwood. You saw flashes of brilliance during the 2019-20 season. He was sharp in net, made highlight-reel saves, and provided stability in net. His highlight-reel save against the Boston Bruins will be one to remember, and you got to think that kid is in there somewhere.
If not for injuries and being pushed to play when he isn't healthy, Blackwood could have faired much better. He told management he couldn't play on it, and they threw him in there anyways. Nobody should fault Blackwood for being hurt this past season. Heading into a new season, it would be wiser to give the kid a chance to showcase himself than to cut ties completely. He was not the only goalie that didn't have success for the Devils last year. Everyone struggled.
If Blackwood can return to his 2019-20 form, the Devils will be able to be more competitive. They have a solid core in place that can win games; they just need goaltending to help them out. There has not been a goalie to come in and ease the load for Blackwood, and pairing him with someone could do wonders for his game and the team in general.
https://share.transistor.fm/s/170d32bd