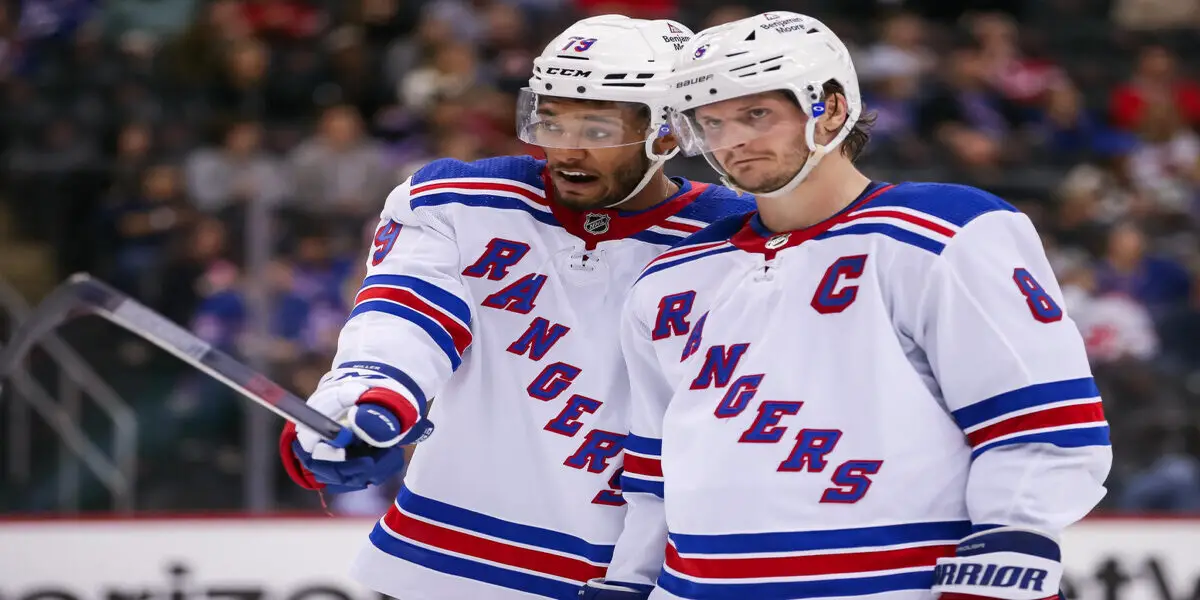 In some of my previous articles for this site, I have mentioned to you that while I grew up a New York Rangers fan and will always root for them, I am a hockey fan first.
For this particular article, I am going to wear both hats as it concerns both areas. As a Rangers fan, I am scared of their upcoming first-round Staley Cup playoff matchup with the New Jersey Devils.
I know that as a Rangers fan, I should feel confident. The team has goaltender Igor Shesterkin on top of his game, a lot of offensive talent, and is coming off their second straight regular season with at least 100 points.
I should also be looking at the fact that compared to the Devils, the players on this team have a lot of experience playing in the postseason. Guys like Patrick Kane and Vladimir Taransenko won Stanley Cups, while the rest of the team came to within two wins of getting to the Stanley Cup Final last year.
Despite all of that, however, this Devils hockey club has me questioning whether or not the Rangers make it out of the first round. For starters, the Devils play with a lot of speed.
Players like Jack Hughes, Jesper Bratt, Nico Hischier, Dawson Mercer, Erik Haula, and others are all very fast skaters who know how to make quick plays with the puck. These particular players know how to get the puck out of their own zone in a quick manner and then get up the ice with speed to create offense down in the other end.
The Devils' speed is also known to cause a lot of turnovers. This worries me a bit because Rangers' forward Artemi Panarin is known to give up the puck a lot. If you give up the puck a lot in the playoffs, it usually ends up in the back of your net.
Speaking of pucks going in the back of the net, that is something the Devils did a lot of this season. The Devils were fifth in the league in goals scored during the regular season, as they finished with 289 (3.52 goals per game).
Jack Hughes is electric for the Devils. He led the team in goals (43), assists (56), points (99), power-play goals (nine), power-play points (31), and shots (336).
Hughes is a threat to score every time he is on the ice. He can beat you with his speed, puckhandling skills, great vision, and offensive awareness.
Hughes is not the only threat the Devils have on offense. Players like Hischier (80 points), Bratt (73 points), Mercer (56 points), Tomas Tatar (48 points), Haula (41 points), and Timo Meier (14 points in 21 games with the Devils) are all threats to create offense and keep Shesterkin very busy in the first round.
Speaking of Shesterkin being busy, the Devils are not afraid to put the puck on the net. The team was fourth in the league in shots per game, as they averaged 34.4 shots a night.
Now, even with all of this, I still believe that the Rangers will win this series in six games. However, that does not mean that the Devils do not terrify me because of what they might be capable of accomplishing once this series gets underway.
In this week's episode we discuss the new rumors regarding the Rangers coaching situation. Then go on to the fun stuff discussing the impact Tkachuck's play will make on the game, Rangers players and more. Thanks for listening! Please rate and review our show on your favorite listening platform. Check out our partner's website at www.insidetherink.com for all your latest hockey news.