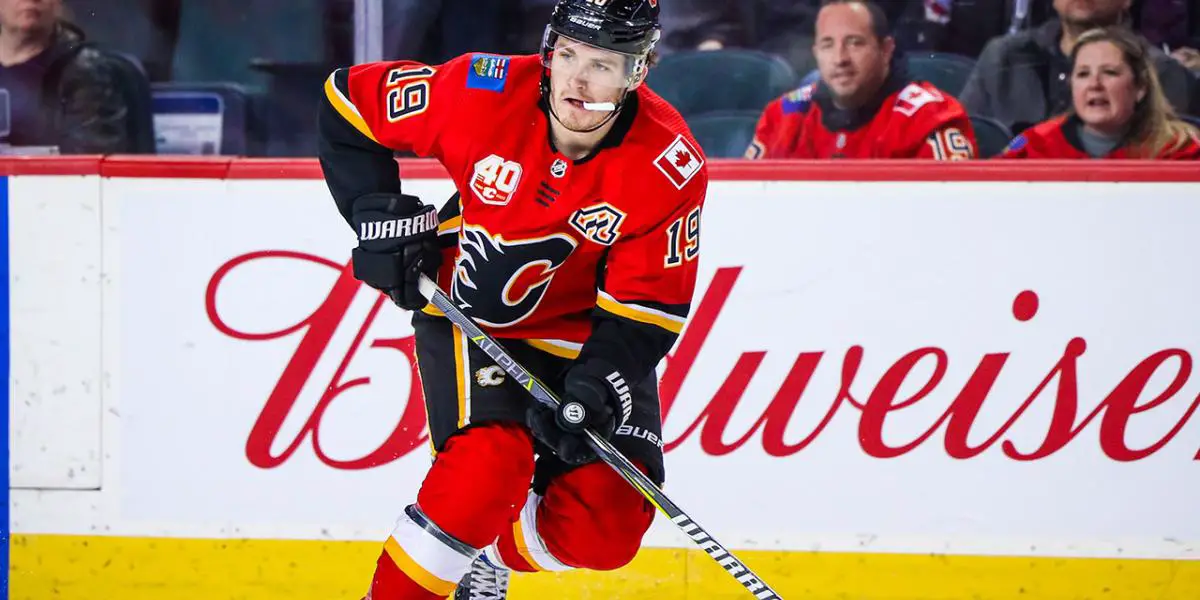 Overview
It is no secret that the Devils' manager has tried everything he can to upgrade his team. He tried to hammer out a deal for Johnny Gaudreau, but ultimately, he chose Columbus. That is not the only flames forward he has tried to lure over to the Garden State. At the draft, he tried to trade for Matthew Tkachuk, a package that included the second overall pick. The Flames said no.
Tkachuk has told the Flames front office he has no intention to sign long-term. Fitzgerald had upgraded the team already by signing Ondrej Palat, but why should the work stop there. Adding Matthew Tkachuk would do wonders for the Devils top six. But can it work? And How can this fit?
The Player
Matthew Tkachuk is an elite two-way center in this league. He can do it all. Not only does he light up the scoresheet, but he also impacts the game defensively. His 200-foot game is an impact in any lineup and would pay off tremendously for the Devils.

Tkachuk has played six seasons for the Flames, and this year he took off flying. In 82 games played, he scored 42 goals, 62 assists, and 104 points. He amassed 29 points on the power play and had a career year for himself offensively. His possession numbers were also a career-high, and he finished with a 59.8% Corsi For Percentage. He uses his size to his ability, as this past season, he registered 93 hits.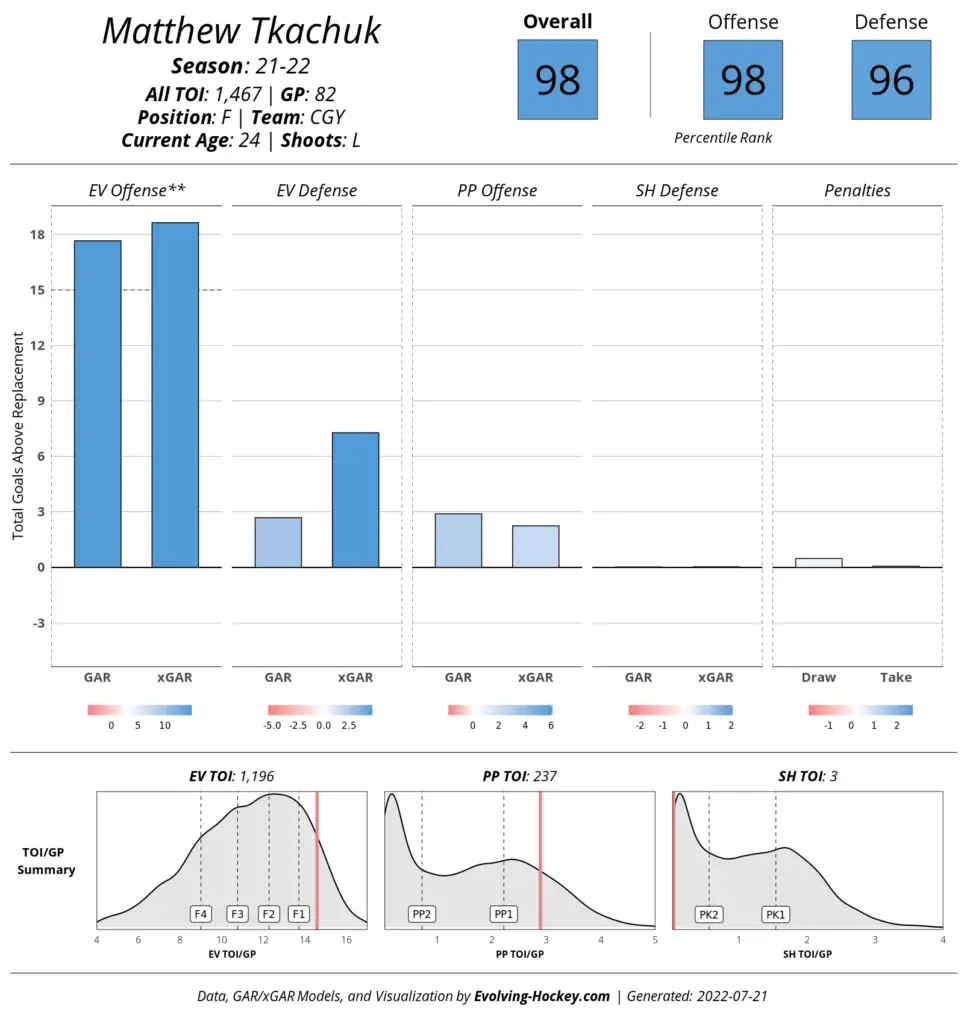 Matthew Tkachuk would be the elite winger that the Devils are looking for. Over the course of his career, he has 152 goals, 230 assists, and 382 points. He would immediately slot into the top six and possibly right on the top line. His size and skill would put this established core over the top. Tkachuk would have two solid centers to play alongside with in Jack Hughes and Nico Hischier and would thrive in New Jersey. His offense is needed and would also boost the Devils' 28th-ranked power play that was searching for goals.
How This Can Work
The Devils currently have $9.5 million in cap space. This does not include a Jesper Bratt extension, who has his arbitration deadline set to August 3rd. This was after trading for John Marino and locking up goaltender Vitek Vanecek. This cap would be enough to sign and extend Tkachuk but not Bratt. The Devils would need to clear up cap space and make some moves to make this work for both wingers. This lineup is better with both in the fold than just one.
Players That Could Be Involved
Roster Players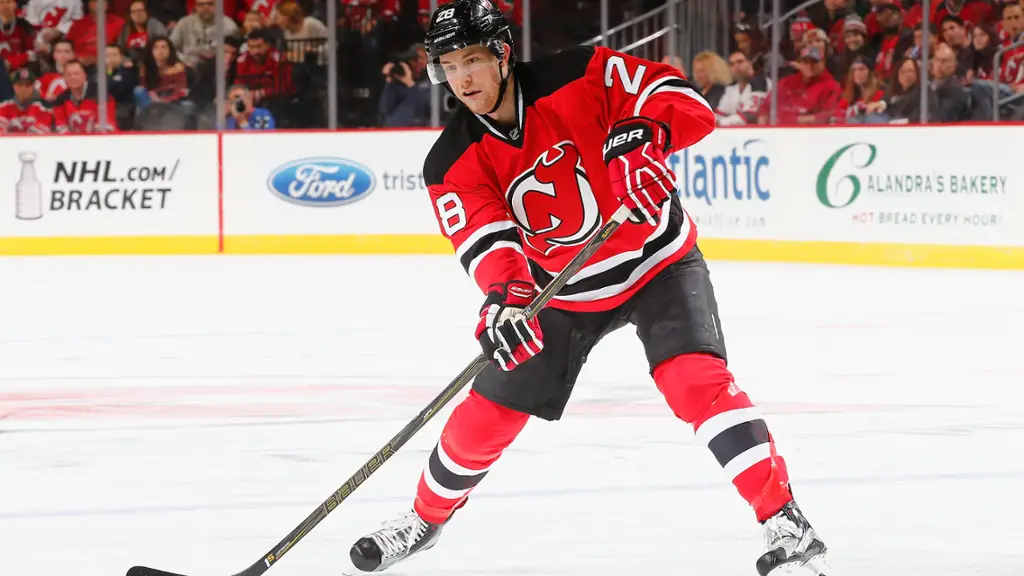 The Devils would have to send more than prospects to get this deal done with the Calgary Flames. The cap casualties that could be sent packing are forwards Tomas Tatar and Andreas Johansson. Both are UFA at the conclusion of this season, and sending them both packing will make room to sign Tkachuk and keep Jesper Bratt. Whether it's to the Calgary Flames or another NHL club, they would have to get moved. According to Cap Friendly, Tomas Tatar is set to make $4.5 million this season, while Andreas Johansson is set to make $3.7 million. Getting those contracts off the books makes sense to making this piece to the puzzle fit.
The Devils have two defensemen that are on expiring contracts. One is Ryan Graves, and the other is Damon Severson. Severson seems more likely to fetch this type of return. The biggest roster trade chip is defenseman Damon Severson. The longest-tenured New Jersey Devil currently has a cap hit of $4.2 million. He will be a UFA at the end of the season, and with the log jam on the right side of the blueline, he could be expandable. Calgary may not have an interest with their crowded blueline and the risk of losing him at the end of the year.

Prospects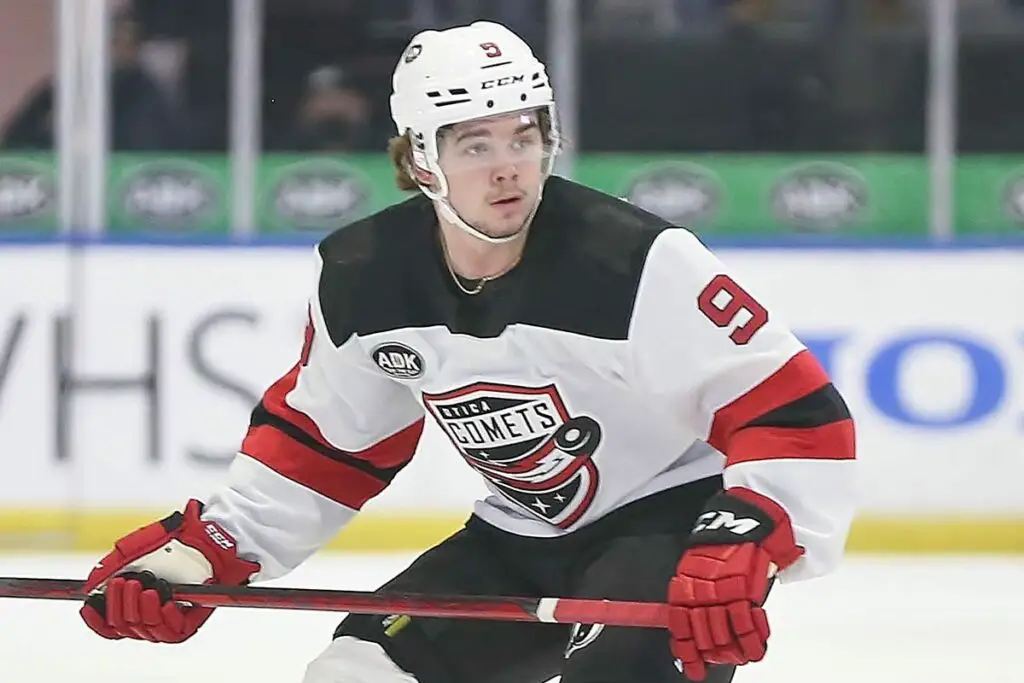 The Devils have one of the best prospect pools in the entire league. Some players would intrigue the Flames as they enter a possible rebuild. One of those players is Alexander Holtz. Arguably the best forward prospect, he could be a winger they look for to replace Tkachuk and build around.
Holtz has the potential to be a legit goal scorer in this league, but he has not yet stuck with the big club. He lit up the AHL with the Utica Comets this past year, where he scored 26 goals, 25 assists, and 51 points in 52 games. His potential is there, and he could be a building block for the Flames.
With the Devils selecting Luke Hughes and Simon Nemec, the defensive prospects are looking good. And in no way, shape, or form do those two guys get moved. The team also selected Shakir Mukhamadulin in the 2020 draft. He could be of interest as a building block on the back end. The options are there for the Flames; it just depends on what they are after.

The Devils have the prospect ammunition to pull off a move like this, which should entice the Calgary Flames management.
Conclusion
After Tom Fitzgerald got rejected at the draft, it's time he circles back around and tries again. Matthew Tkachuk is an elite two-way winger and would be the star winger the Devils have been looking for. An already solid offense would become a great offense. He would be an immediate boost to the top six and put the Devils in a competitive position in a stacked Metropolitan Division.
The Devils would have to make moves and part ways with good players and talented prospects to make it happen, but you have to trade talent to get talent. Tkachuk would be a welcomed addition to New Jersey and an instant fan favorite.
Trade Prediction: Alexander Holtz, Damon Severson, 2023 first-round pick, 2024 third-round pick
The boys are back after a long break but have plenty to talk about as the playoffs are in full swing. We go series by series, looking at how teams have fared so far and who will come out on top. Thanks for listening! Please rate and review our show on your favorite listening platform. Check out our partner's website at www.insidetherink.com for all your latest hockey news.