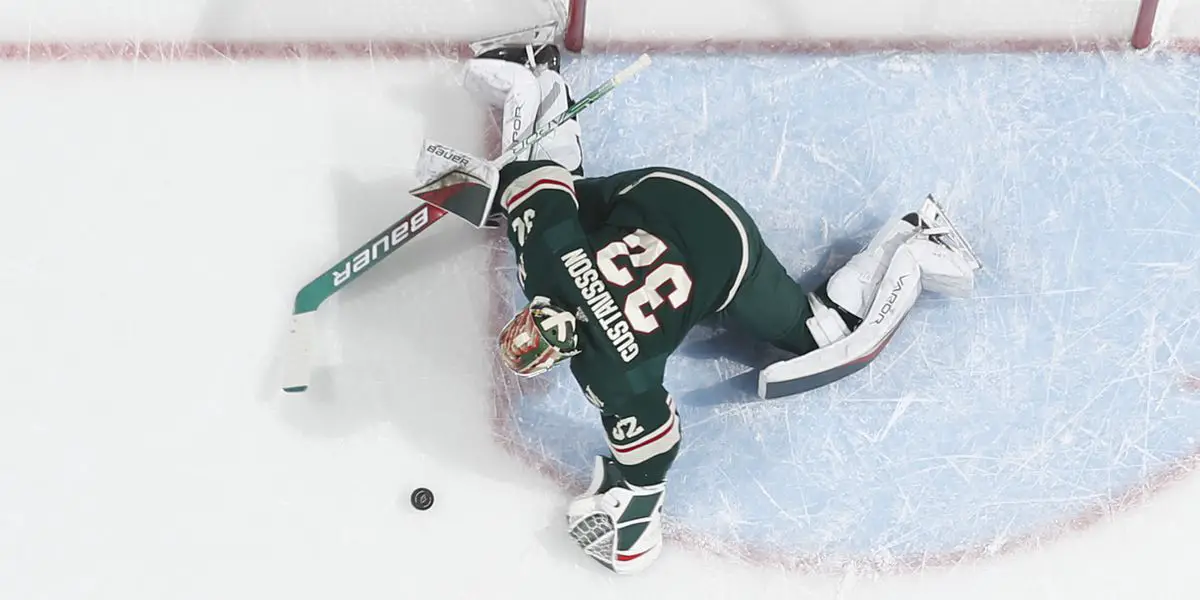 There is no doubt that when all is said and done, Minnesota Wild goaltender Marc-Andre Fleury will be inducted into the Hockey Hall of Fame.
As of this writing (Wednesday, March 1), Fleury, 38, has 538 career wins, a 2.58 goals-against average, a .913 save percentage, and 88 shutouts. He also has three Stanley Cup rings with the Pittsburgh Penguins, 92 career playoff victories, a 2.54 goals-against average, a .912 save percentage, and 16 shutouts.
With all of that said, however, Fleury has not been all that consistent this season. He is currently 18-13-0-3 with a 2.86 goals-against average, a .904 save percentage, and two shutouts.
Right now, the team is doing everything to get into the Stanley Cup playoffs. They are currently second in the Central Division with a record of 34-21-6 for 74 points.
While the team currently sits in a playoff spot, the Colorado Avalanche, who are currently third in the division, sit just one point behind the Wild. The Winnipeg Jets, who are currently in the second wild-card spot, sit just two points back of the Wild.
The Wild need to have their best players going in order to secure a playoff spot come April. This includes the team's goaltending.
With that in mind, I believe that the team should consider giving more starts to back up Filip Gustavsson. Gustavsson, 24, has been the better goaltender for the Wild this season, so team head coach Dean Evason needs to take that into account moving forward.
Gustavsson is currently 16-8-0-3 with a 2.06 goals-against average, a .930 save percentage, and one shutout. He has especially been good during this last little stretch for his hockey club.
He is 5-0-2 in his last seven starts. Take a look at these great numbers over his last five starts:
– February 17 vs. Dallas Stars: 29 saves on 30 shots (Win)
– February 19 vs. Nashville Predators: 23 saves on 26 shots (Win)
– February 21 vs. Los Angeles Kings: 33 saves on 34 shots (Win)
– February 24 vs. Toronto Maple Leafs: 22 saves on 24 shots (Overtime loss)
– February 28 vs. New York Islanders: 39 saves on 40 shots (Win)
As you can tell from the above, Gustavsson is winning a lot of games, stopping a lot of pucks, and is doing so against quality teams. This alone should warrant Evason giving him more playing time.
Secondly, Gustavsson does not allow many soft goals. He stops pucks that he should stop, does a great job of controlling rebounds, and is usually in a good position for second and third opportunities.
Fleury has struggled a bit with the above. He has allowed many soft goals this season, as pucks have found a way to go through him more often than not this season.
Lastly, with the team trying to make the playoffs, the best goaltender should get the bulk of the playing time until he falters. Right now, the team's best goaltender is Gustavsson.
Let's see what Evason does with the team's goaltending moving forward.
Episode 54 is here and the boys break down the Bruins adding Tyler Bertuzzi, Taylor Hall and Nick Foligno Injury updates, and Pastrnaks contract extension. Followed up with a tour around the NHL and breaking down the MOUNTAIN of trades that happened since last episode.DraftKings Sportsbook – Boston's hometown Sportsbook will be LIVE – soon – right here in Massachusetts! Bet local on all your favorite sports from the comfort of your own home with DraftKings. To celebrate, ALL new customers will receive up to TWO HUNDRED DOLLARS in BONUS bets when you sign up for DraftKings Sportsbook using code insidetherink! Soon you'll be able to bet local on money lines, spreads, props, and more with one of America's top-rated Sportsbooks – DraftKings Sportsbook!  Download the DraftKings Sportsbook app and sign up with code ITR to get up to TWO HUNDRED DOLLARS in BONUS bets to use once mobile sports betting hits Massachusetts. That's code insidetherink only at DraftKings Sportsbook.  If you or a loved one is experiencing problems with gambling, call (800) 327-5050 or visit (https://helplinema.org/) to speak with a trained specialist free and confidentially twenty four seven. 21+. Physically present in MA. Eligibility restrictions apply. Subject to regulatory licensing requirements. Eligibility and deposit restrictions apply. Opt in required. Bonus issued as free bets. Terms at draftkings.com/ma.