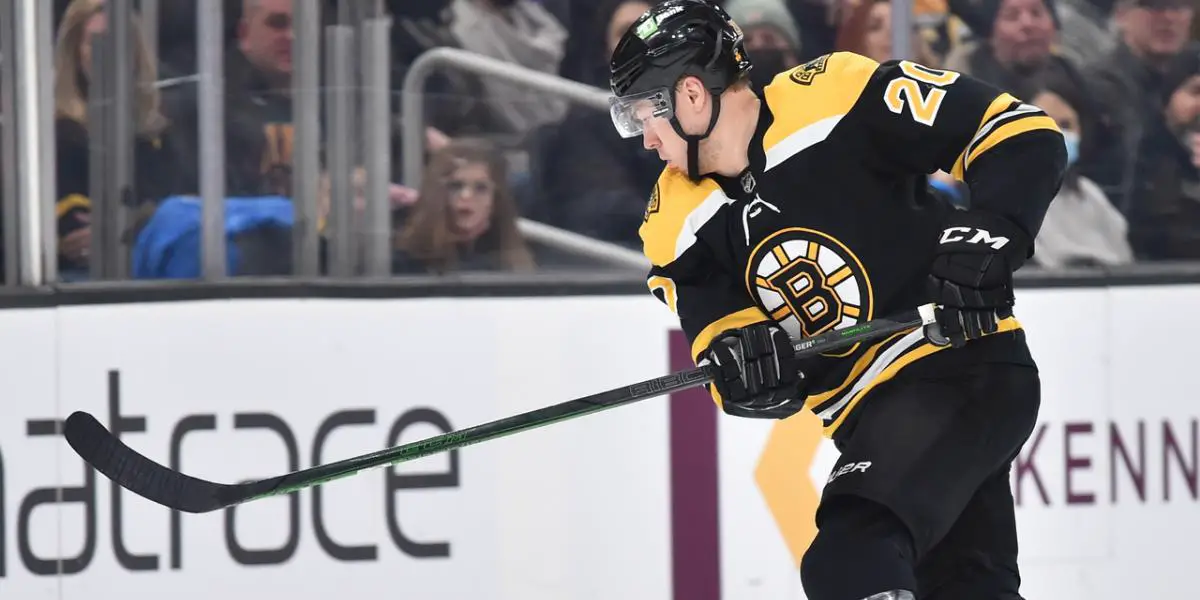 Curtis Lazar came to the Bruins from the Buffalo Sabers as part of the Taylor Hall trade at the 2021 Trade deadline. Since coming to Boston he has become a fan favorite as his high motor on the fourth line has been a key contributor for the Bruins. Lazar entered this off-season as an unrestricted free agent, but the Bruins and Lazar have expressed mutual interest in negotiating a new contract to keep the forward in Boston.
Lazar has been Key on the Fourth Line
The 27-year-old forward has played 87 regular season and 17 postseason games with the Bruins since coming over from Buffalo. In time he's tallied ten goals and 20 points in the regular season while adding one goal and two points in the playoffs. He just had his best season last year with a career-high eight goals and scoring the second-most points of his career, with 16 coming four shy of his career best 20 set back in the 2015-2016 season when he was with the Ottawa Senators.
Lazar is coming off of a two-year, $1.6 million contract that he signed with the Sabres as a restricted free agent in 2019. While he never panned out as the high-end talent many thought he would be when he was drafted 17th overall in the 2013 draft, he has blossomed as a very serviceable fourth-liner. While teams love star power, they also require depth and gritty fourth-liners that put it all on the line every shift, and Lazar checks those boxes for Boston. It makes sense why there is mutual interest between Lazar and the Bruins management, as Lazar has made it clear that he loves the Bruins' organization as well as the city of Boston. The only question remains what it will cost the Bruins as this is still a business league, and the Bruins' cap space situation will determine whether Lazar stays or goes as tough decisions will have to be made.
"Just got out of my meeting with Sweens [Bruins' general manager Don Sweeney], I think there is interest in both sides," said Lazar in May. "I love playing here. I love being a Boston Bruin. The city, the fans, the organization, they have all been great to myself and my family, and I want to be back here. But again, there's other parts. There's the business side. I mean, we will see what happens. Sweens said he will be upfront and honest with it, and our people will be in touch. So, we will see what happens."
While the Bruins would love to have Lazar back, they will have to tread lightly with how much they can commit to a fourth-liner. Even though Lazar has proven to be a very effective and valuable player, the idea of paying the fourth-liner more than $2 million a year can be costly, as the Bruins are seeing right now with the two contracts they have on the books. Mix in the fact that Patrice Bergeron's future is still uncertain; the Bruins must make sure they have enough money to either re-sign him or attempt to find a replacement.
Will Lazar be the Next Fourth Liner to Walk?
The Bruins have a history of letting fourth-liners walk instead of handing out new contracts, as we've seen with Sean Kuraly, Noel Acciari, and Tim Schaller in recent seasons. Kuraly, who played in a similar role to Lazar for the Bruins, would sign a four-year, $10 million contract with the Columbus Blue Jackets in 2021. The deal carries a $2.5 million cap hit. Acciari would sign a three-year, $5 million contract with the Florid Panthers in 2019, carrying a $1.66 million cap hit. Schaller would sign a two-year, $3.8 million contract with the Vancouver Canucks in 2018 with a $1.9 million annual cap hit.
Bruins have Bad fourth line contracts on the Books
Hockey is a business, and every decision and contract must be highly calculated. One of the main business strategies in the NHL that the majority of the teams follow is that paying fourth-line players any significant dollar value, especially on a deal with the term, is a move that should be avoided. Unfortunately for the Bruins, general manager Don Sweeney did the opposite of that, as the Bruins currently have Tomas Nosek ($1.75 million), Nick Foligno ($3.8 million), and Chris Wagner ($1.35 million) under contract for the 2022-23 season. Independently of each other, these contracts don't hurt the team too much. Together, though, they take up nearly $7 million in cap space that the Bruins could be using to fill more pertinent holes on the roster while plugging in cheaper younger talent on the fourth line. For a team that currently lacks a top-six center having that $7 million could go a long way in filling that very large hole on the roster. The Bruins have plenty of fourth-line players in Providence that could fill the role while carrying less than a million each in a cap hit.
What Could a Contract Look Like
If the Bruins want to keep Lazar around without jamming themselves up, they shouldn't exceed the $1.5 million mark annually. This would be a significant pay increase for Lazar, who is coming off a 2-year $1.6 million deal, as the Bruins would be doubling his annual value. At 27 years old, the Bruins could lock Lazar up on a three to a four-year deal with a $1.2 to $1.5 million AAV contract keeping the valuable fourth liner in the lineup till he enters his 30s. Hopefully, Sweeney doesn't fall into the trap of overpaying fourth-liners as he's done with the last three contracts he's handed out to such players. None could be as worse as the Nick Foligno contract that has the Bruins' hands tied this season as the veteran is making $3.8 million after only scoring two goals last season. No matter what unfolds, the Bruins need to find a way to bring Lazar back without compromising the future cap space, which will be necessary to re-sign David Pastrnak next year.
Episode 51: Interview w/Jack Ahcan Episode 51 is back in action talking about the New York Paingers ITR bet, Can Buffalo Sabres make the playoffs? Is Vancouver in the wrong on the Boudreau treatment? Is Tocchet the right guy? Is Daryl Sutter the last Dinosaur in the NHL?YouTube: https://www.youtube.com/@insidetherinkTwitter: https://twitter.com/CueTheDuckBoatzFacebook: https://www.facebook.com/Cuetheduckboats/Thanks for listening! Please rate and review our show on your favorite listening platform. Check out our partner's website at www.insidetherink.com for all your latest hockey news. Also, catch all of the games in this year's NHL season by signing up for ESPN+ at Insidetherink.com/ESPN