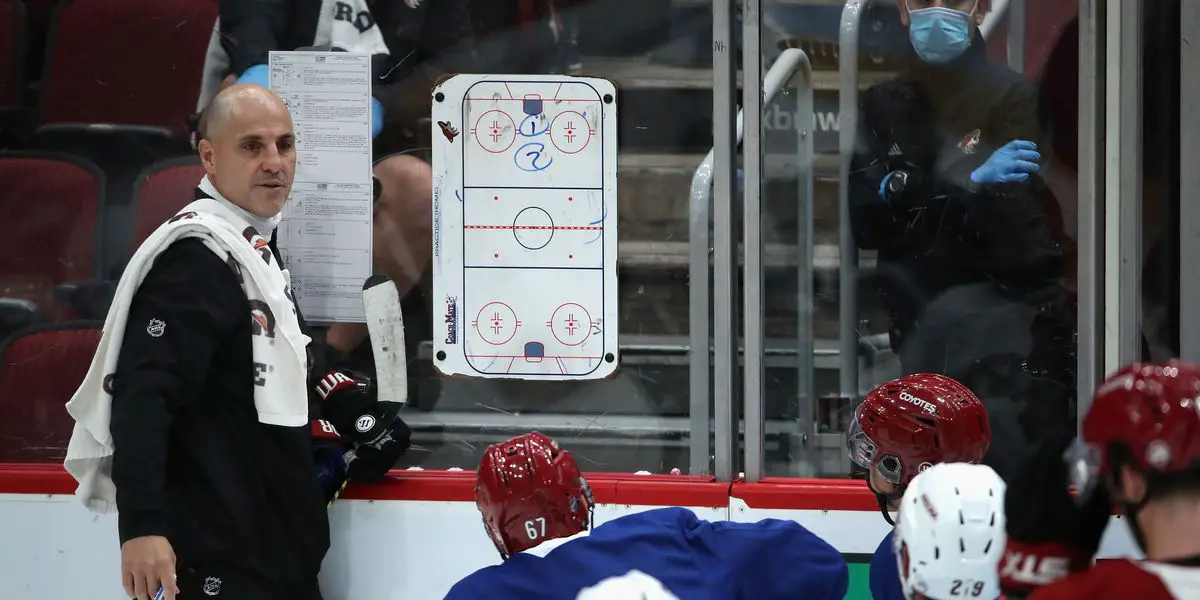 After a whirlwind of a season that saw the Bruins get bounced in the first round after finishing with 107 points, the future of the Bruins staff is in question. Many fans called for the removal of Don Sweeney after another disappointing season that fell short of expectations. But after the post-season press conferences to wrap up the season, it seems Cam Neely has other thoughts on his mind. Neely revealed that the return of Sweeney is pretty much set in stone, while the return of head coach Bruce Cassidy is up in the air.
While no specific action has been taken to remove the veteran coach, the possibility exists as the Bruins look to explore every possible option. A lot of the process has to do with the future of team captain Patrice Bergeron who still hasn't given the franchise his decision on whether he will return for a 19th season. It is without a doubt that Bergeron will have a say in what the Bruins do, as the veteran's input will carry serious weight among the Bruins' higher-ups.
Bruins Interviewed Tocchet Last Off-Season
One name that has appeared on the Bruins' radar is former player turned coach Rick Tocchet. Tocchet himself revealed a month ago while on Spittin' Chiclets Podcast that last offseason, he interviewed for the Bruins assistant coach job. For the Bruins, they wouldn't just go out and interview Tocchet if they didn't have serious interest, whether it be at the moment or down the line. Sweeney and Neely were clearly getting their ducks in a row and exploring every possible avenue.
Tocchet's Playing Days
If the Bruins decide to move on from Cassidy, Rick Tocchet would be a breath of fresh air for this Bruins team. What makes Tocchet a great choice is that during his playing days, he was a player who played Bruins-style hockey as the 18-year NHL veteran had over 3,000 penalty minutes between the regular season and postseason. Tocchet also had 440 goals and 952 points across 1,144 regular-season games, with 32 goals and 54 points across 67 games in a Bruins uniform. Tocchet also has a Stanley Cup to his name, so he knows what it takes for a team to win and go all the way. Tocchet has also played with many great NHL players as he has suited up alongside Wayne Gretzky and Mario Lemieux.
Tocchet's Coaching Career
After retiring, Tocchet was an assistant with the Colorado Avalanche and Coyotes and an associate coach with the Tampa Bay Lightning. He was promoted to coach of the Lightning on Nov. 16, 2008, but was fired after the 2009-10 season. He rejoined the Penguins as an assistant in June 2014 and was part of Pittsburgh's Cup-winning teams in 2016 and 2017 before being hired to coach the Coyotes on July 11, 2017. Over the course of his six years as a head coach and 438 games, Tocchet has a record of 178-200-60. While Tocchet may not have a winning record overall, he will be a great coach for the organization.
Tocchet is known for adapting his system for his team to get the most out of players and isn't just stuck in one set system like many other candidates. The further upside to Tocchet taking over is what he will be able to bring to the younger players on the team, such as Jake Debrusk, Trent Frederic, Jack Studnicka, eventually Fabian Lysell, and countless others. The development of younger players is the one thing that has been a concern with Bruce Cassidy as he has continued to fracture relationships with the Bruins' younger players, especially Jake Debrusk. Tocchet is a players coach and understands what it takes to build that relationship to get the most out of his players as his philosophy is "To me, it's a partnership… it's not just a dictatorship.". Tocchet will be able to help the Bruins win now while also setting the organization up for success for years to come as the Bruins prepare for life without Patrice Bergeron and other aging members.
Episode 51: Interview w/Jack Ahcan Episode 51 is back in action talking about the New York Paingers ITR bet, Can Buffalo Sabres make the playoffs? Is Vancouver in the wrong on the Boudreau treatment? Is Tocchet the right guy? Is Daryl Sutter the last Dinosaur in the NHL?YouTube: https://www.youtube.com/@insidetherinkTwitter: https://twitter.com/CueTheDuckBoatzFacebook: https://www.facebook.com/Cuetheduckboats/Thanks for listening! Please rate and review our show on your favorite listening platform. Check out our partner's website at www.insidetherink.com for all your latest hockey news. Also, catch all of the games in this year's NHL season by signing up for ESPN+ at Insidetherink.com/ESPN