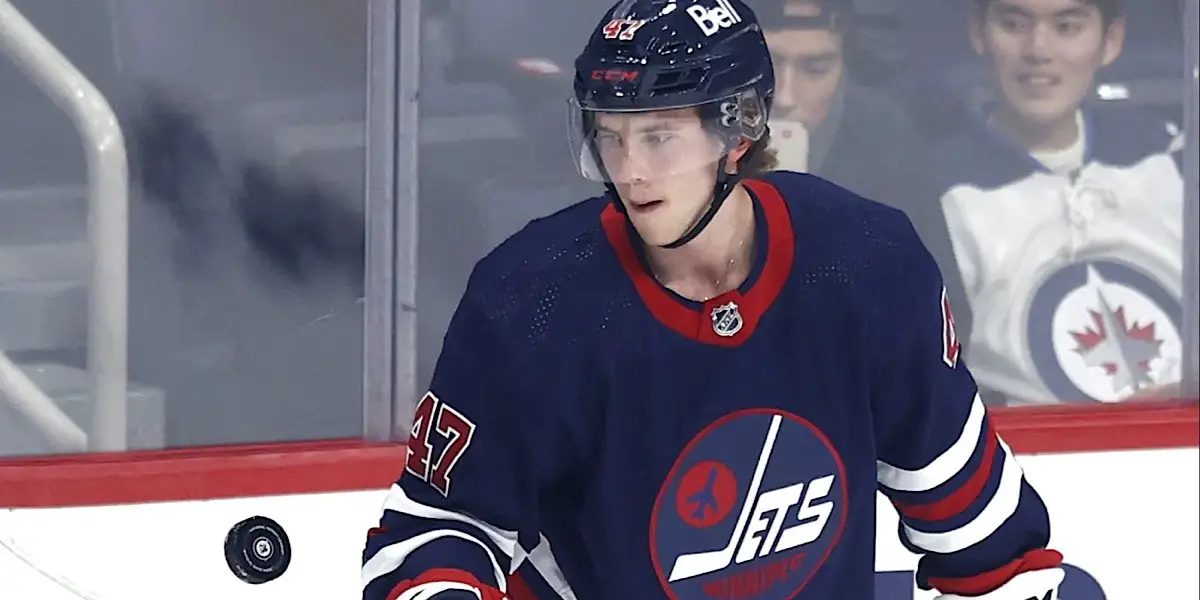 Leading up to the 2022 NHL Entry Draft, Brad Lambert was often mentioned in the same sentence as now Seattle Kraken prospect and current Windsor Spitfire forward Shane Wright, Buffalo Sabres Prospect and current Winnipeg Ice forward Matthew Savoie as to who would be the top pick of the draft.
As it turned out, none of the three even went in the top-3 picks. When all was said and done, Wright went fourth overall, Savoie ninth, and Lambert almost fell out of the first round entirely if it weren't for the Winnipeg Jets selecting him near the end of it, 30th overall.
The Lahti, Finland native had seen his draft stock drop considerably since 2021. In 2019/20, Lambert played for HIFK U20 in the U20 SM-Liiga as a 16-year-old, scoring 18 goals and adding 20 assists in 40 games. He appeared in four Liiga games with HIFK that season, where he had 2 points, both assists. All in all a pretty good season for a 16-year-old.
The 2020/21 season is where it seemed to start to fall apart for Lambert. Moving to Liiga full-time, he played 46 games, with JYP registering 15 points (7G, 8A).
In the 2021/22 season, Lambert's draft year, things didn't get any better; if anything, they got worse stats-wise. He started the season with JYP, but after playing in 24 games with only six points (2G,4A), JYP and Lambert agreed to terminate his contract, giving him the chance of a fresh start. He chose to sign with the Pelicans from his native town of Lahti in Liiga. The return home didn't help; in 24 games with the Pelicans, he had 4 points (2G, 2A).
Brad Lambert is a player who shines through his skating ability and overall mobility—offering elite transition ability and top-six upside.
With that, the Winnipeg Jets had two first-round draft choices during the 2022 draft at their disposal after trading Andrew Copp to the New York Rangers at the 2022 NHL Trade Deadline, which turned out to be the 30th overall pick, which they selected Lambert.
After being drafted by Winnipeg, the Jets invited him to their prospects camp in September. He was one of, if not the Jets' most valuable players of the Young Stars Classic prospects tournament in Penticton, B.C.
Following the Young Stars Classic, Lambert attended the Jets' NHL training camp and didn't disappoint. He showed his high potential with his impressive speed and hockey IQ. He played in three NHL preseason games in 2022 with the Jets and had one goal and one assist.
He was garnering the nickname 'Big Bad Brad' in the process with his performance against Montreal, which included a big game-tying goal in the third period, along with his speed and finesse in overtime against Edmonton.
He was attending Jets' camp as an unsigned draft pick. Unfortunately for Lambert, on Friday, October 7th, he was released from the Winnipeg Jets training camp to the Manitoba Moose to join their training camp. He signed an NHL entry-level contract with Winnipeg four days later, on October 11, 2022.
Many players drafted out of Europe are contractually obligated to head back to their home clubs. Lambert, though, was unsigned heading into the 2022/23 season by any team. He was drafted out of Finland and eligible to play for the AHL's Manitoba Moose. Had he been selected in the NHL Entry Draft from the Western Hockey League, he would have had to if been sent back to the WHL to start the 2022/23 season.
With the Manitoba Moose, he played in 14 games, only scoring two goals and adding one assist before heading to the 2022 World Junior Championship to play for Finland. It was the same disappointing result in five games; he scored one goal.
After the conclusion of the 2023 World Juniors, on January 9, Lambert was assigned to the Seattle Thunderbirds.
Seattle acquired Lambert's rights on June 30, 2022, the Saskatoon Blades. In exchange, the Blades received a fourth and sixth-round selection in the 2023 WHL Prospects Draft, a conditional first-round pick in the 2023 WHL Prospects Draft, and a conditional second-round selection in the 2024 WHL Prospects Draft. Saskatoon acquires the conditional picks if Lambert signs a WHL Standard Player Agreement with Seattle, which he later did.
In his short time with the Thunderbirds, despite missing four games awaiting his visa to process. Lambert has played well through 13 games; he has 11 goals, ten assists, and 21 points. Only being held off the scoresheet once and is on an eight-game point streak after scoring two goals on Tuesday night in an 8-0 victory over the Victoria Royals.
Suppose Seattle expects to go on a long playoff run this spring and win the WHL's Ed Chynoweth Cup awarded to the league's playoff champion and punch their ticket in the 2023 Memorial Cup in Kamloops, B.C, from May 26 to June 4, 2023. In that case, they will need Lambert to continue to show why he had once been considered one of the top picks in the 2022 NHL Draft.
First, in the WHL Western Conference standings and second overall in the WHL only behind the Winnipeg Ice, the Thunderbirds look primed to make good on those expectations.
Episode 55: Kevy Cooks The fellas get together and wrap up the last week of Bruins news, recap the Eastern Conference Playoff picture, Western Conference Playoff picture, ROR injuries, and Kirill Kaprizov is down and out. Thank you for listening to our show! If you like our content, please like, comment, and rate the podcast!DraftKings Sportsbook – Boston's hometown Sportsbook will be LIVE – soon – right here in Massachusetts! Bet local on all your favorite sports from the comfort of your own home with DraftKings. To celebrate, ALL new customers will receive up to TWO HUNDRED DOLLARS in BONUS bets when you sign up for DraftKings Sportsbook using code insidetherink! Soon you'll be able to bet local on money lines, spreads, props, and more with one of America's top-rated Sportsbooks – DraftKings Sportsbook!  Download the DraftKings Sportsbook app and sign up with code ITR to get up to TWO HUNDRED DOLLARS in BONUS bets to use once mobile sports betting hits Massachusetts. That's code insidetherink only at DraftKings Sportsbook.  If you or a loved one is experiencing problems with gambling, call (800) 327-5050 or visit (https://helplinema.org/) to speak with a trained specialist free and confidentially twenty four seven. 21+. Physically present in MA. Eligibility restrictions apply. Subject to regulatory licensing requirements. Eligibility and deposit restrictions apply. Opt in required. Bonus issued as free bets. Terms at draftkings.com/ma.