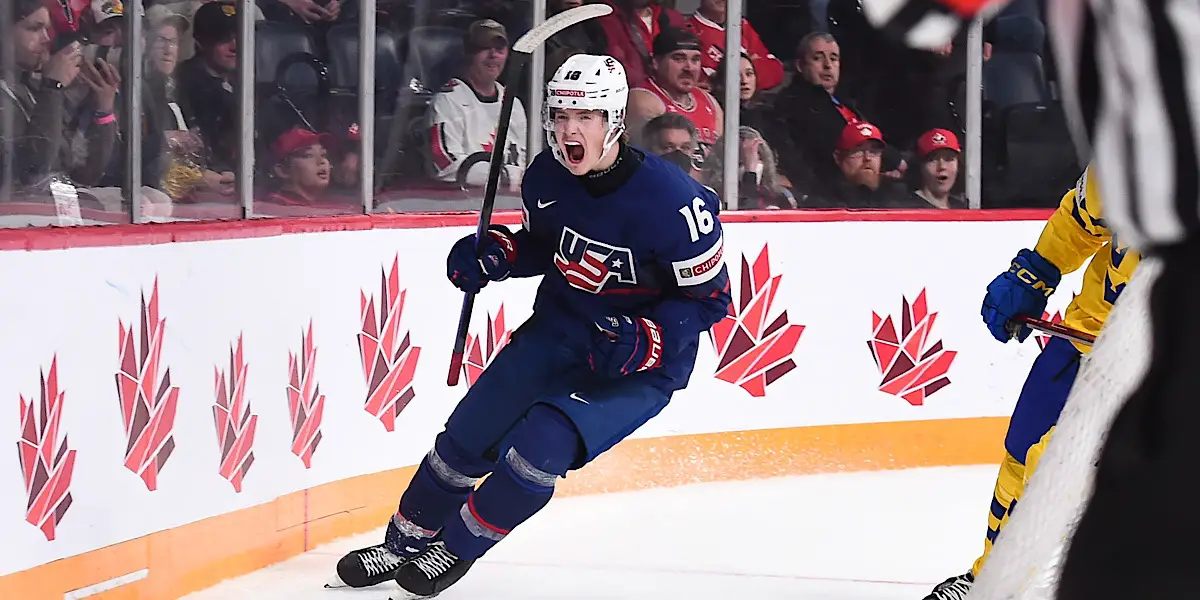 The regular season is over, and the playoffs will start this week in the Canadian Hockey League. With that, teams will have one goal: to win their respective leagues' championship title and claim their spot in the 2023 Memorial Cup.
The 2023 Memorial Cup will occur in Kamloops, British Columbia, from Friday, May 26, 2023 – Sunday, June 4, 2023.
The Winnipeg Jets will have four prospects with Kamloops in mind as their final destination to finish the 2022-23 season.
Brad Lambert – F – Seattle Thunderbirds
Jets' 2022 first-round pick (30th overall) wasted no time acclimating with the Seattle Thunderbirds, one of the Western Hockey League top teams all season; the Thunderbirds finished first in the Western Conference and second overall in the WHL behind the Winnipeg Ice.
After being assigned to the Seattle Thunderbirds after the World Junior Championship on January 9, 2023, Lambert played 26 games. He scored 17 goals and added 21 assists for 38 points.
Seattle (54-11-1-2) will start the 2023 WHL playoffs home Friday, March 31st, as the Western Conference one-seed against the eight-seed Kelowna Rockets in round one.
Danny Zhilkin – F – Kitchener Rangers
Jets' 2022 third-round pick (77th overall), Zhilkin, started the 2022-23 season with the Ontario Hockey League Guelph Storm. The Storm traded him to the Kitchener Rangers on January 2, 2023.
Zhilkin had 26 points in 25 games (12G, 14A) with Guelph and 30 points in 35 games (17G, 13A) with Kitchener.
Kitchener (33-29-6-0) will start the 2023 OHL playoffs on the road Thursday, March 30th, as the Western Conference eight-seed against the one-seed Windsor Spitfires in round one.
Dmitri Kuzmin – D – Flint Firebirds
Jets' 2021 third-round pick (82nd overall), Kuzmin, a 5'10" 187 lb defenceman, scored 14 goals and added 45 assists for 59 points in 65 games for the Flint Firebirds of the Ontario Hockey League.
Kuzmin's 59 points tied him for sixth overall in OHL points by a defenceman with Ethan Del Mastro of the Sarnia Sting.
Flint (35-28-4-1) will start the 2023 OHL playoffs on the road Thursday, March 30th, as the Western Conference fifth-seed against the fourth-seed Saginaw Spirit in round one.
Domenic DiVincentiis – G – North Bay Battalion
Jets' 2022 seventh-round pick (207th overall) didn't play like a seventh-round pick in 2022-23 with the North Bay Battalion.
DiVincentiis finished the season strong with a 6-0-0 record, 1.00 GAA, .968 SV %, and three shutouts in March, earning the Ontario Hockey League goaltender of the month. He also received the honor in January after recording a 7-0-0-1 record with a 2.23 GAA and .923 SV%.
A Bolton, Ontario native, DiVincentiis led the OHL in regular season wins with 36, a 2.33 GAA, and a .919 save percentage over 48 games, all three stats that set new Battalion single-season records. His five shutouts tied for the OHL lead.
North Bay (48-17-2-1) will start the 2023 OHL playoffs at home Friday, March 31st, as the Eastern Conference two-seed against the seven-seed Mississauga Steelheads in round one.
Honourable Mention
Chaz Lucius – F – Portland Winterhawks
Jets' 2021 first-round pick (18th overall) won't play in the Western Hockey League 2023 playoffs with the Portland Winterhawks after his season was cut short in February due to a shoulder injury that required season-ending surgery.
Lucius scored five goals, added ten assists for 15 points in six games before his injury, and was named WHL player of the week for January 23-29, 2023.
Portland (40-20-5-3) will start the 2023 WHL playoffs at home Friday, March 31st, as the Western Conference three-seed against the six-seed Everett Silvertips in round one.
The boys are back after a long break but have plenty to talk about as the playoffs are in full swing. We go series by series, looking at how teams have fared so far and who will come out on top. Thanks for listening! Please rate and review our show on your favorite listening platform. Check out our partner's website at www.insidetherink.com for all your latest hockey news.