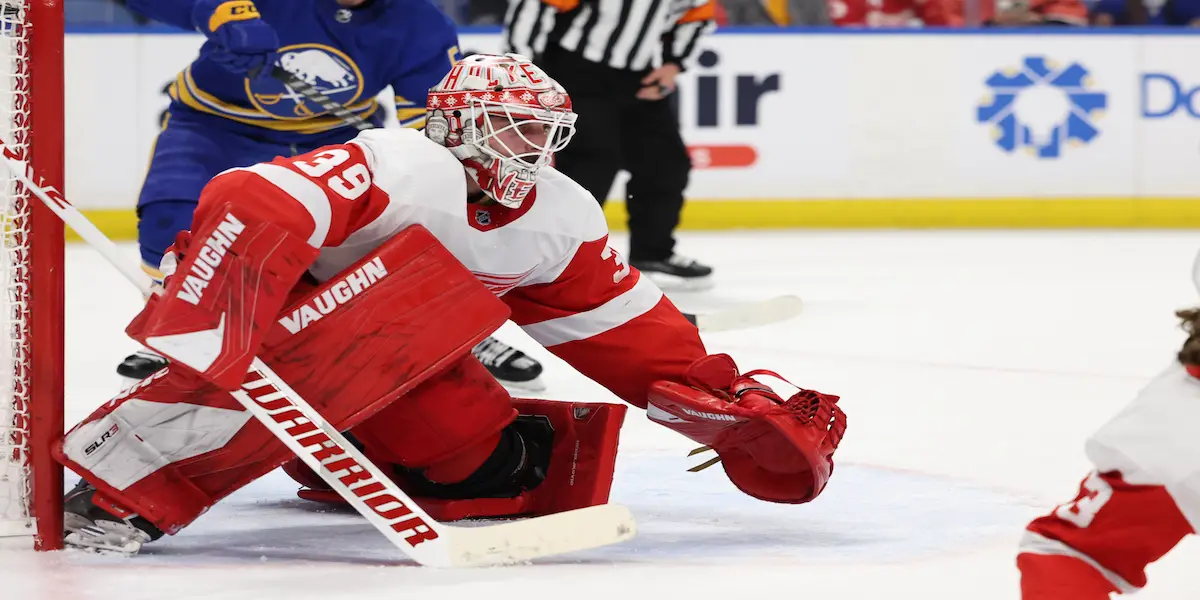 For the first time since opening night, the Detroit Red Wings are close to having a fully healthy lineup. Derek Lalonde confirmed last week that Robby Fabbri would be making his season debut Wednesday versus the New Jersey Devils after recovering from an ACL tear. Jakub Vrana is also on pace to return at some point next week upon completing his conditioning stint in Grand Rapids.
Forwards Tyler Bertuzzi and Filip Zadina are on similar timelines and will likely be activated off injured reserve next week. With a full roster and three top-six wingers in Bertuzzi, Vrana, and Fabbri, the Red Wings have some difficult decisions regarding who will be moved off the roster, whether by trade or waivers.
Hellberg versus Nedeljkovic
After being acquired from the Carolina Hurricanes for only a third-round pick and the UFA rights to Jonathan Bernier, Nedeljkovic appeared to be a potential steal for Detroit as he showed plenty of upside in his rookie season. After an up-and-down 2021-22 campaign, the Red Wings looked to the trade market and acquired Ville Husso from St. Louis to provide stability.
Now 35 games into this season, Nedeljkovic has appeared in only nine games and has struggled to find consistency, posting a record of 2-4-2, a goals-against-average of 4.09, and a save percentage of .880, which is 7th worst in the NHL among goalies who have appeared in at least eight games.
Nedeljkovic's play led to the Red Wings' decision to claim Magnus Hellberg off waivers on November 23rd. He is a familiar face to Detroit, as he was signed at the end of last season and even started the final game in New Jersey. Since being claimed, Hellberg has appeared in four games, posting a record of 2-2, a goals-against-average of 2.74, and a save percentage of .897.
While the Red Wings had the roster space to carry three goalies with the handful of injuries, Lalonde said this past week that a decision would likely be made of which two goalies will remain. Nedeljkovic seemed to have a higher ceiling with his play from his rookie season and the first half last year but has failed to string together good performances since. Hellberg has never played an entire NHL season but has looked serviceable in his few appearances.
In trying to avoid overworking Ville Husso, who looked tried last Wednesday versus Pittsburgh and was eventually pulled after giving up four goals on 12 shots, the Red Wings need consistent play in their backup goalie, which at the moment appears to be Hellberg. Time will tell, but Alex Nedeljkovic could be on the move whether via trade or waivers.
The Entry-Level Players
It seemed only two weeks ago the answer to move down would be Elmer Soderblom, as he had struggled before being injured and looked as if he could use some time in Grand Rapids. Since being recalled on December 14th, Soderblom is currently on a six-game point streak (three goals and three assists) and has looked much more confident in all areas. Recalled a week prior, Jonatan Berggren has looked like a capable middle-six winger, scoring five goals and eight assists in 22 games. Berggren has brought a high level of skill to the Red Wings' second powerplay unit and fourth line, which has some nights been Detroit's best.
After spending nearly all last season in Detroit, Joe Veleno seems to have found his game and has been one of the Red Wings' most consistent forwards. Finally getting some powerplay time, Veleno has matched Soderblom and also has a six-game point streak, scoring two goals and four assists in that time.
While these three are the easiest to move off the roster from without losing them, they have all been providing the Red Wings plenty of upside in the bottom six. I could see a reality where one of Berggren or Soderblom is sent down for a short time while the Red Wings management works to make room. All three are very much deserving of a roster spot. After practice on Monday, Lalonde had this to say about the three:
Non-Waiver-Exempt Players
With potentially three spots needing to be freed up, someone that isn't waiver-exempt will likely have to be moved.
Adam Erne has been on the Red Wings since 2019 and, so far this season has been reliable in a fourth-line role. He brings a much-need element of physicality up front and is one of Detroit's most utilized penalty killers.
Pius Suter is in his second season with Detroit and went from the team's second-line center to now a bottom-six fixture. Suter has begun to find more of a rhythm back in the middle after a long stretch on the wing, scoring a goal in Detroit's 4-2 win over Ottawa on New Year's Eve. With Michael Rasmussen's play on the wing, having Suter seems needed, as Detroit still would have four centers. Suter also has increased his role on the penalty kill over the past month.
Another player is Gustav Lindstrom, who is still only 24 years old but hasn't shown consistency as an everyday player. The Red Wings currently are carrying seven defensemen, which it is rare for a team only to carry six. Still, with the lack of usage of Lindstrom this season (17 games), waiving him would provide Detroit flexibility and give the team more time to make roster decisions.
What Happens?
With Steve Yzerman, nothing is ever for certain. As it stands currently, the Red Wings need to create three roster spots in the next seven to ten days for Robby Fabbri, Tyler Bertuzzi, and Filip Zadina. Jakub Vrana is on the active 23-man roster while on loan.
I know many Red Wings fans don't see the value in having Filip Zadina on the roster, but he was signed to a three-year contract extension just this past summer for a reason, which leads me to believe he's likely staying.
The easiest move is to choose between Alex Nedeljkovic and Magnus Hellberg and decide who is the backup behind Ville Husso. With who has started the past two games, it seems as if Alex Nedeljkovic is the odd man out.
That leaves two more spots, and I would still lean toward one of Elmer Soderblom or Jonatan Berggren being sent down to Grand Rapids. But with how well they have played, it is hard to justify the red Wings are better without them in the lineup. I think Berggren has more offensive upside and has been on the powerplay nearly his entire time in the NHL, leaving Soderblom as the odd man out.
But the final spot comes down to who brings more value, Adam Erne or Pius Suter, and ultimately the tie should go to the center. Adam Erne has been serviceable this season, but with a deeper roster, tough decisions are what competitive teams have.
In this episode, we recap the Red Wings' last three games versus St. Louis, Philadelphia, and Pittsburgh. David Perron scored his first hat trick as a Red Wing, Simon Edvinsson scored his first NHL goal, and more! We also discuss the Red Wings signing prospects Carter Mazur and William Wallinder to their ELCs, their impacts for the rest of the season in Grand Rapids, and if they could make the Red Wings next season. Marco Kasper is also reportedly coming over to North America for the rest of the season and could possibly report to Detroit.We wrap up by discussing the bottom of the NHL and where the Red Wings rank in the draft lottery odds, and which teams would be the best fit for Connor Bedard.Please rate and review our show on your favorite listening platform. Check out our partner's website at www.insidetherink.com for all your latest hockey news.