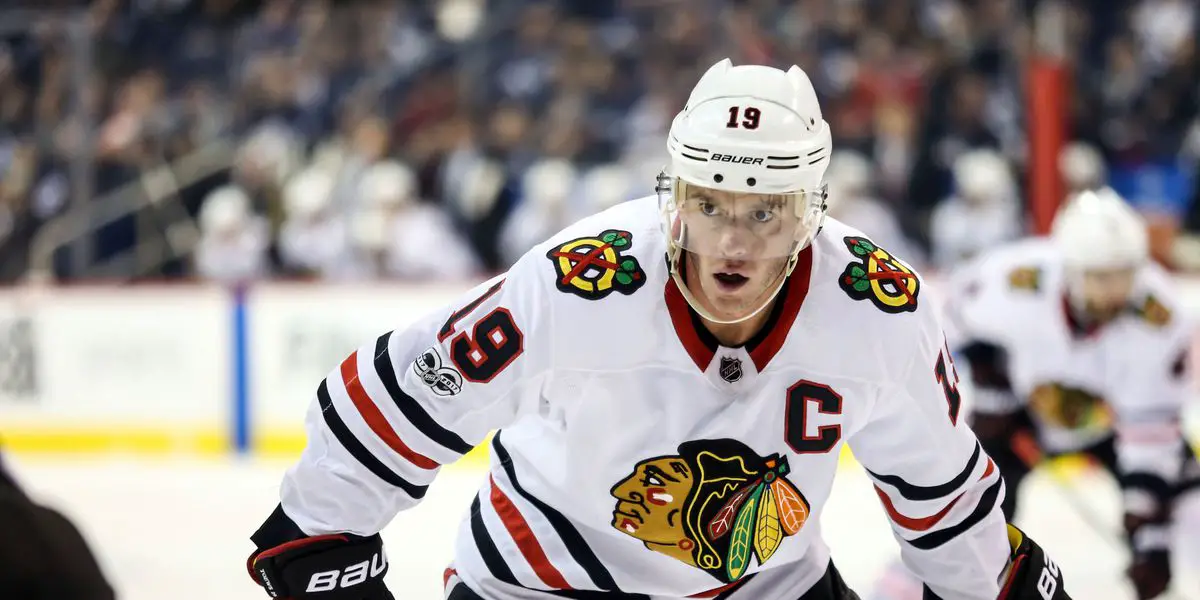 Chicago Blackhawks fans, you may want to grab your tissues for this one. Could Toews be looking at his last NHL games? Barstool Chief on the "Redline radio" podcast talked about how this contract could be all she wrote for Toews from what he's been hearing. Now to be clear, he emphasizes the fact he's not close to Toews or anyone in Toews Camp. Meaning this could be just nothing, but this remark would cause any Blackhawks fan heart to skip a beat and think about an end to Captain Serious. Could this be the case?
Toews missed the entire 2020-2021 season as he would come out and say it was due to "chronic immune response syndrome." Toews would return to the ice this season full-time. While it has been evident that Toews is not the same player he once was, he was starting to get into the swing of things before this devastating setback to Toews's career. If you talk to Bruins fans, they will tell you just how it feels to have a "Comeback" fall short as. Now no one has called this a quote-on-quote comeback. Toews is facing the first major setback since returning to the ice. Due to being in concussion protocol, Toews was placed on IR retroactive to January 26th. Toews has made it clear that his health is the priority, as it should be. With that being said, is it out of the realm of possibility that's Toews is looking at the possibility of retiring? No, maybe more likely than you'd think.
It's sad to think about, but Toews's tenure in Chicago is closer to the ending than the beginning. All Blackhawks fan's first instincts are going to be pain and sadness. Maybe a tear or a thousand but whose asking. Anytime any legend leaves an organization, it tugs at people's heartstrings, but in this case, it is different. Toews was drafted first overall and was the first "Flashy" player Chicago added to the roster in 2006. The only reason I say "Flashy" is due to the respect of Duncan Keith and Brent Seabrook. Since then, Toews has been nothing short of magnificent since being drafted to the Windy City. Over his tenure so far in Chicago, Toews has filled up his trophy cases, from Stanley Cups to a Selke Trophy. Toews was the team captain that ended a forty-eight-year cup drought well, taking home the Conn Smyth for playoff MVP and kicking off the Blackhawks Dynasty. Only Toews is certain of his future, but Chicago Blackhawks fans should stop and take a moment to cherish what they have in Toews before it's too late and he's gone. The moments of Toews scoring two goals in dominating fashion versus the ducks, or the million times Toews has gone five-hole on a goalie in the shootout are moments that will be cherished by all Blackhawks fans forever. Let's hope Toews has three to five more years left, but if all he has in the tank is this contract, be thankful that Jonathan Toews is a Chicago Blackhawk.