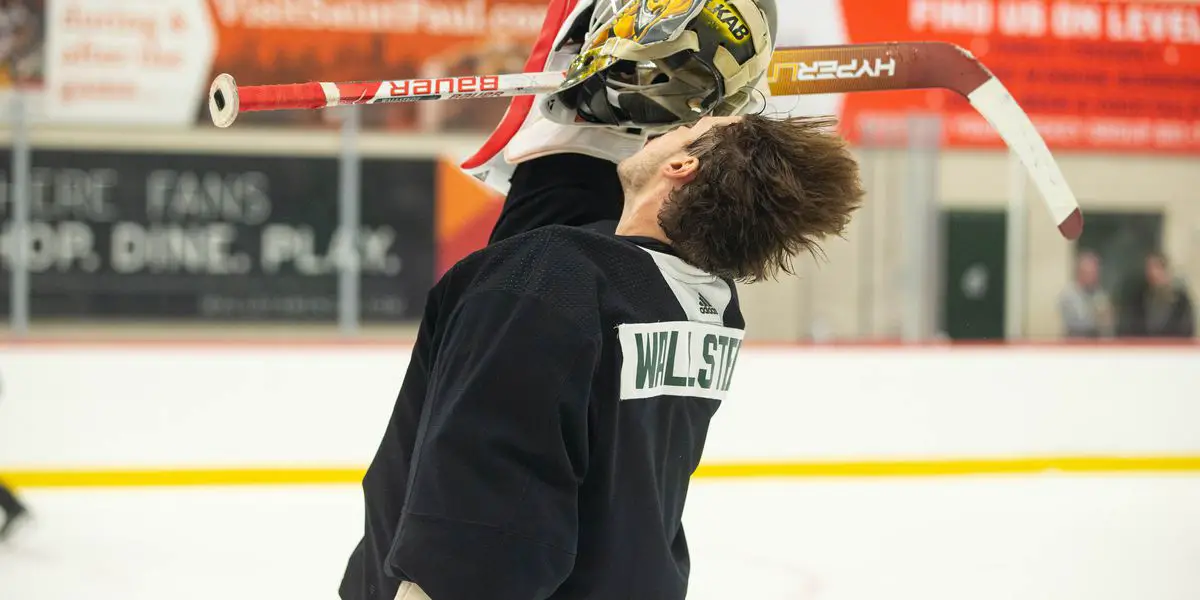 When it comes to the Minnesota Wild, they have never really had any problems when it comes to their goaltenders.
With guys like Marc-Andre Fleury, Dwayne Roloson, Manny Fernandez, Niklas Backstrom, Darcy Kuemper, Jose Theodore, Cam Talbot, Josh Harding, and several others, goaltending is something that has never really held the Wild back from winning. Rather, the position has been one of the franchise's most consistent since its inception.
It appears that the theme is going to continue well into the future. Whenever Fleury decides to hang up the pads, Jesper Wallstedt is more than likely going to be the team's future in between the pipes, even though they currently have Filip Gustavsson backing up Fleury.
There is no doubt that Gustavsson has been impressive for the Wild this season. As of this writing (Wednesday, February 8), he is 11-7-0-1 with a 2.26 goals-against average, a .922 save percentage, and one shutout.
With that said, Wallstedt, 20, has all the makings of someone who can be a star goaltender in the NHL for a long period of time. The team obviously thought that when they selected him as the 20th overall pick in the 2021 NHL Entry Draft.
One scout who believes that Wallstedt has the goods to be a big-time goaltender in the NHL is Craig Button. Button said as much in an interview with Joe Smith of The Athletic.
"He's a stud — that's their ace in the hole," said Craig Button, a former NHL general manager and TSN's director of scouting. "He's got the physical skill. He's got the technical skill and the mental skill. You watched the best guy in the league in Andrei Vasilevskiy, how he plays with that athletic acumen, technical acumen, that poise. He may go down as one of the top five goalies of all time. Wallstedt has a lot of the same similarities and qualities."
There have also been a few other signs that show that Wallstedt could be that guy for the Wild. For starters, he has been outstanding in the American Hockey League (AHL) with the Iowa Wild this season.
He is 13-7-0-4 with a 2.60 goals-against average, a .913 save percentage, and one shutout. Oh yeah, he also scored a goal back on November 12, 2022.
Wallstedt was named the AHL's goaltender of the month for the month of January. He won all six of his starts in the month while posting a 1.16 goals-against average and a .958 save percentage.
He has also shown that he can come up big on the world stage. Wallstedt was named the best goaltender at the 2022 IIHF World Junior Championship, where he helped Team Sweden earn a bronze medal.
Lastly, he has two big believers in Iowa Wild head coach Tim Army and Iowa Wild goalie coach Richard Bachman. Army told Smith in that same article in The Athletic that he believes that Wallstedt's personality and confidence will go a long way whenever he makes it to the NHL.
"There's so much pressure for a starting goalie, and many goalies get so zoned into it, so rigid, and it impacts their play," Army said. "We think (Wallstedt's) personality allows him to handle pressure with a great balance. A relaxed attitude. Now at 20 years old, it doesn't feel like any situation will be too great for him."
Bachman told Smith that Wallstedt's knowledge and sense of the game are great qualities to have whether you are a starting goaltender in the AHL or NHL.
"The big things are his hockey knowledge, his hockey sense. He sees the game really well," said Iowa goalie coach Richard Bachman, who had brief playing stints with the Oilers, Canucks, and Stars. "He's the kind of goalie that can make adjustments in the game.
"He's so calm and poised, he just looks like he's in total control. It's a huge asset to have as a goalie."
With Wallstedt getting the job done down in the AHL, it is only a matter of time before he is able to do it with the big club in Minnesota.
The boys are back after a long break but have plenty to talk about as the playoffs are in full swing. We go series by series, looking at how teams have fared so far and who will come out on top. Thanks for listening! Please rate and review our show on your favorite listening platform. Check out our partner's website at www.insidetherink.com for all your latest hockey news.