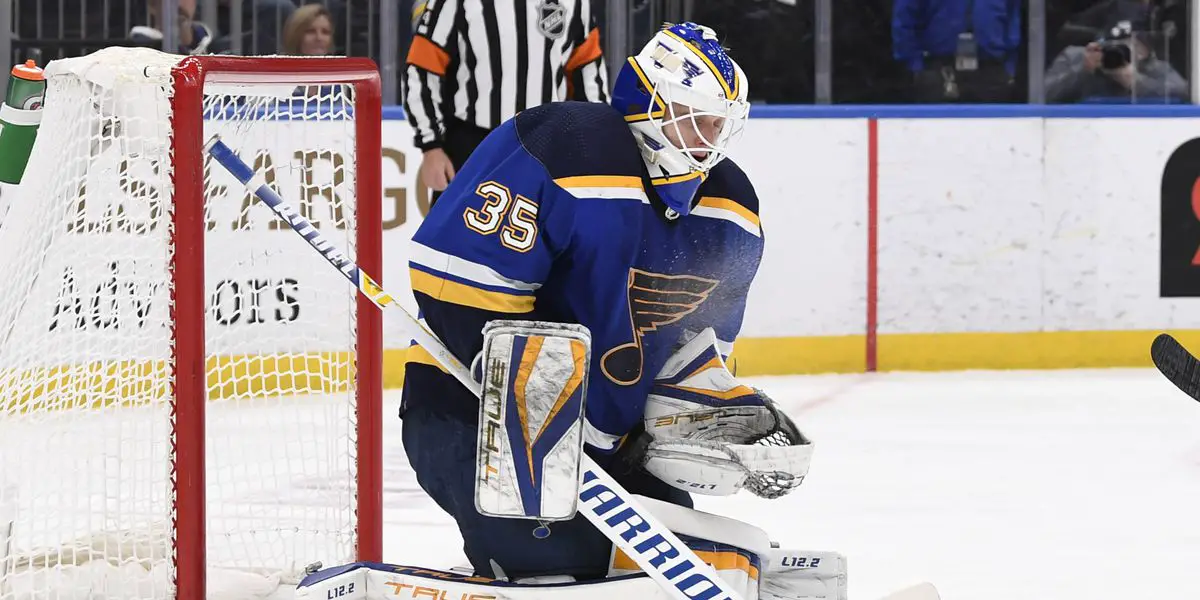 2021-22 was the end of an era in Edmonton. The Mike Smith and Mikko Koskinen duo has been carrying the load between the pipes for the oilers for the last few seasons. Now that Koskinen has signed overseas with HC Lugano and Mike Smith's retirement status is up in the air, Ken Holland will finally need to make a move this summer for a potential future goaltender.
There are several goalies on the market this summer, but one of the more sought-after names is St. Louis Blues netminder Ville Husso. David Pagnotta reported a few weeks ago on the NHL network that Husso was unlikely to re-sign with the Blues and would probably be testing the free-agent market. Teams reportedly interested in the 27-year-old include the Edmonton Oilers, Toronto Maple Leafs, Buffalo Sabres, Chicago Blackhawks, and New Jersey Devils.
Does pursuing Ville Husso make sense for the Oilers? and what is the likelihood of him starting game 1 of the season in an Oiler uniform this October? Let's take a closer look.
This past year was a fantastic breakout season for Ville Husso, who entered the year as Jordan Binnington's backup, but quickly battled his way into a starting role after outplaying Binnington all season long. His numbers were excellent, as Husso's goals saved above expected per 60 (GSAx/60) of 0.346 ranked 7th in the NHL, a number that puts him above some notable names such as Connor Hellebyuck, Juuse Saros, and most importantly, all of Edmonton's goalies from last season.
His .919 save percentage (SV%) was also ranked 7th, with Darcy Kuemper being the only free agent goalie to match that mark. Husso provided stability to the Blues, leading them to a 25-7-6 record in his starts. That type of steadiness would be just what the doctor ordered for the Edmonton Oilers, who have dealt with the ups and downs of Mikko Koskinen and the inconsistent play of Mike Smith for years now.
With all of these factors in mind, it would seem like a no-brainer for the Oilers to pursue this player. However, there are a few caveats that the Oilers should keep in mind before trying to fill Husso's pockets this summer. Firstly, while Husso was fantastic for most of the year on a Blues team that wasn't as stout defensively as years past, his SV% dipped to a more human .905 during his final 21 starts, and things only got more questionable once the playoffs began.
Husso started the postseason with a shutout but still managed just an .890 SV% and a 2-5 record. He also had the second-worst GSAx/60 in the entire playoffs. This was Husso's first year putting up elite numbers at the NHL level, and while it is common for goalies to start having NHL success in their late 20s, the Oilers must ask themselves if this is the beginning of a great career as a starting goalie or if he was simply a flash in the pan.
I wouldn't overreact to the playoff meltdown because he had to deal with the high-flying Colorado Avalanche attack that ended up dominating many goalies en route to the Stanley Cup. I am personally a Husso fan, and I think that he will likely be a fine starting goalie or at least a 1A option in the future. With that all being said, he is not without risk, and the Oilers should not get carried away if they end up in a bidding war with the other potential suitors. If the price point starts to drift during negotiations to over $5m AAV on a middle to long-term deal, I would think about backing off.
If Edmonton gets outbid for Husso, or they get cold feet about signing him, there may be other options in free agency. Recent Stanley Cup champion Darcy Kuemper will be a UFA, but the Avalanche may bring him back, so there is no guarantee he will be available. He also had some struggles in the playoffs, and one could argue that Colorado won the cup despite him underperforming at times.
Jack Campbell could also be an option, but word out of Toronto is that he is asking for a pretty penny relative to the performance he churned out over the past season. Kappo Kahkonen is another UFA goalie that the Oilers may be interested in, and he shouldn't cost more than around $3.5m per season on a multi-year deal. However, he has never played more than 25 games in a season, so it could be risky to make him the number one guy and assume he will continue his decent performance over 50+ games.
Overall, there are many options on the table. If he cannot come to terms on a reasonable deal involving the aforementioned options, Ken Holland could try to make something happen via trade. Sergei Bobrovsky could be a target if the Panthers retain salary, and riskier options like Petr Mrazek and Alexander Georgiev could be on the table if the Oilers get desperate.
I'm unsure if a slam dunk option exists on the market this summer. Still, Ville Husso did have arguably the best regular season of any of the available goalies, so it will be interesting to see if the Oilers believe in him enough to out-bid other teams.
The boys are back after a long break but have plenty to talk about as the playoffs are in full swing. We go series by series, looking at how teams have fared so far and who will come out on top. Thanks for listening! Please rate and review our show on your favorite listening platform. Check out our partner's website at www.insidetherink.com for all your latest hockey news.