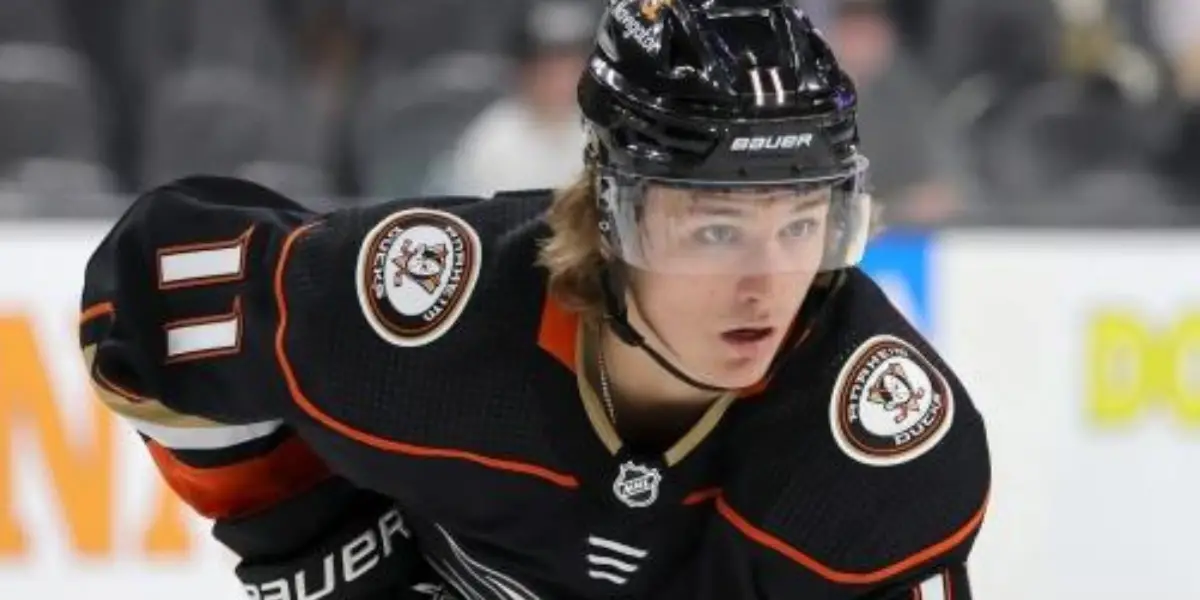 If you have any doubts that Trevor Zegras is a big game player? Look no further than tonight's Anaheim Ducks game versus the Arizona Coyotes. A very physical and vocal match went the distance plus…however the real question is…what did Trevor say?
A few thoughts on the altercation between Trevor Zegras and Tony Stecher. We all know the famous trope in baseball. There is a compound set of words you cannot say to an Umpire, or it's an automatic ejection. But this is hockey. Chirping and cursing is an art. I brought up a few weeks ago (after the stick-stealing incident) that Zegras has been slowly morphing into a Cory Perry-esque figure. Tonight May have been the culmination as Zegras reaches his final pest form.
It was such a bad look for the Coyotes but then having your antagonist slam the door on you? Embarrassing. Which is what the whole thing was. Stecher had no business talking crap when Barrett Hayton flopped when Henrique's stick came up and then took a nominal cross-check that the Coyotes faithful would let you believe was a guillotine. (It wasn't) But what could Trevor say that was that egregious? What would incense a player like that? 
Sure would be fun to know, but I can only speculate since I wasn't there.
I have done some research. Trevor's hand went into the air, slightly spinning. Did Z call him nuts? Did Z take a shot at his late father? Whatever Zegras said? It had to be pretty bad. As awful as the refs were tonight, and they were, I haven't seen a player get a 10 minute misconduct for trash-talking in some time. 
This brings me back to Corey Perry. He's easy to blame, but I think it's more Getz than Pears. The legendary chirping Picasso is Ryan Getzlaf. And I think Z models his game after his idol.
If indeed the lip readers of the world are correct, and Trevor said something close to "is your dad up watching?" Well, let's remember that Zegras is a hockey player. He's been a hockey player for his whole life. When you run your mouth that hard, you ultimately risk someone coming to shut it. And hockey players have very long memories. 
Let me touch on the actual game between the Ducks and the Coyotes. Both teams were coming off big wins, the Ducks surprisingly beat Colorado and Arizona trounced St. Louis. The Ducks were the team that came out sharp, though, and simply dominated the first 15 minutes. The Ducks had a magnificent power play, drawn when Zegras took a punch to the mouth from Nick Ritchie during a seemingly endless scrum in front of Yotes goalie Connor Ingram. Controlling all facets, the Ducks built a large shot differential early, 14 shots to 4. On that 4th shot, the player that I thought would be the villain of the game, former Duck Nick Ritchie, took advantage of a defensive breakdown and beat John Gibson. 1-0 Arizona. His tip-in goal came from a fantastic pass from Coyote Christian Fischer, whose motor was running strong all night. After the goal, the Anaheim forecheck softened, and the large shot disparity vanished. Shots ended 16-10, with Arizona holding the 1-0 lead. 
In the second, the teams traded penalties. While the Ducks were very solid, going 4 for 4 on the penalty kill in the game, it looked like a game where you outplay your opponent and still lose. Right up until Max Jones, being rewarded with first line time for good play, made a tricky turnaround shot that was roofed over Ingram. Game knotted at 1-1. Troy Terry, doing Troy Terry things, got tripped by goalie Ingram when he missed a poke check and got Terry's skates. Then, just 9 seconds into the power play, Adam Henrique took exception with some embellishment by Barrett Hayton on Adam's elbow. Henrique gives Hayton a cross-check as he's rising from his flop, then Trevor Zegras helped him back to all fours with a good measure cross-check of his own. Then all hell broke loose. 
Penalties are dished out, and the tete-a-tete between Stecher and Zegras goes on from the box. The game started to look like this was going to get completely out of hand. However, the Ducks killed the penalties, and the second ended 1-1, with Anaheim still outshooting Arizona 35 to 16. 
Third period, tie game…it's Gibby time. Arizona owned the third period but could not solve John Gibson. Gibson had an especially strong save on Matias Maccelli's short breakaway, bailing out Urho Vaakanainen's brutal turnover. Tensions were high when Zegras returned to the ice after serving his 10 minute misconduct. Other than another tough guy hit from Ritchie, neither team wanted to surrender the game over early shenanigans. The Coyotes outshoot the Ducks 14 to 5 in the period, but Gibson's shoulders get the game to overtime. Gibson was amazing in OT, and his 33 save effort was highlighted by this save.
If not for Zegras and Stecher, this overtime would be all anyone would be talking about. Packed with action, a Cam Fowler breakaway slipped between Ingram's pads, only to skip harmlessly off the post. Frank Vatrano and Mason McTavish also had all alone opportunities. It was majestic and fun hockey. The game ended spectacularly when John Klingberg came in hard off the left wing, drove the net, pulled Connor Ingram out of position, and looked like he was going to put it away. 
But that's not how villain origin stories work, is it? 
Klingberg deftly drops the puck back right onto the stick of one Trevor Zegras. He beats Ingram over the left shoulder, and boom. Game over 2-1.

Depending on your point of view, a star ascends, or a villain is born. The young Trevor Zegras and his mouth won the game on the scoreboard tonight. However, he will have to answer the bell in a much different way eventually. 
Anaheim takes a three game win streak into the long eight-day All-Star Break. The Ducks don't play until February 6th in Dallas against the Stars.
On this episode of LAP, the guys go over the Ducks recent stretch of play, John Gibson's monster week and some small moves made by Pat Verbeek. The guys also cover the wild day that was Tuesday and some of the other trades that have happened since last episode. They also answer some listener questions and have a trade break while they're still recording!Follow Late Arrivals Twitter: @latearrivalspodInstagram: @latearrivalspodFollow the hostsChris: @CJKChelConnor: @91_PlutyJake: @_JRobles71Louis: @Louiex37*We do not own any of the music used in this episode*