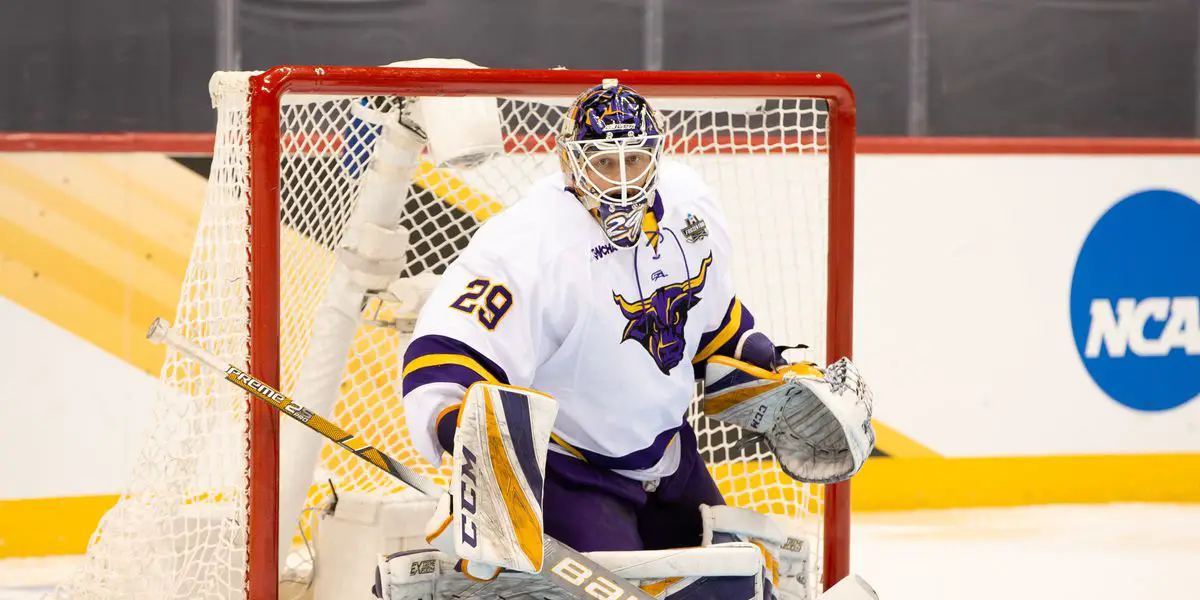 The Toronto Maple Leafs have announced they signed this year's Hobey Baker winner (given to the top NCAA men's hockey player) goaltender Dryden McKay to a 2-year AHL contract. McKay went undrafted in the NHL Draft, was a college free agent who played the last four seasons at Minnesota State University (Mankato), and has chosen the Toronto Maple Leafs. There was some news circling McKay as of late, as he accepted a 6-month suspension for an anti-doping violation, which will leave him eligible to return for training camp with the Maple Leafs. 
The 24-year-old McKay is a smaller goalie at just 5 foot 11 and 183 pounds who can take the appropriate time in the system to develop and become an NHL-caliber goaltender. He could potentially start next season in the ECHL and work his way up the ranks to the AHL and get a shot at the NHL, but let's not put too much pressure on the kid. I see this as a good depth signing with positive upside for the Maple Leafs, and they gave McKay a contract that is 'low risk, high reward.' As a Hobey Baker award winner, he has the work ethic and the smarts, but will that translate to a higher level? There is a real possibility that it could be if he is given time and could see the backup for the Maple Leafs a few years down the road, or even the starter in the Marlies and sees NHL action as the call-up option.  
McKay joins the likes of Joseph Woll, Erik Källgren, and Ian Scott as some options for the Marlies next season. Källgren has seen time as the backup in the NHL for the Maple Leafs, and Woll recently signed an extension that is a 2-way deal after the 2022-23 season, which leads me to believe McKay could see AHL level action sooner than some think. Unfortunately, Ian Scott's young career has been riddled with injuries, and he hasn't been able to stay healthy the last few seasons, which is another reason why I think this signing holds some weight. The final reason I think this signing was one that the Leafs wanted to get this done was that they lost out on Mack Gudza on the Barrie Colts to the Florida Panthers earlier this season. They liked what he brought to the organization as a goalie with 'fringe' potential, and that, to me, is what Dryden McKay now provides the Toronto Maple Leafs organization.