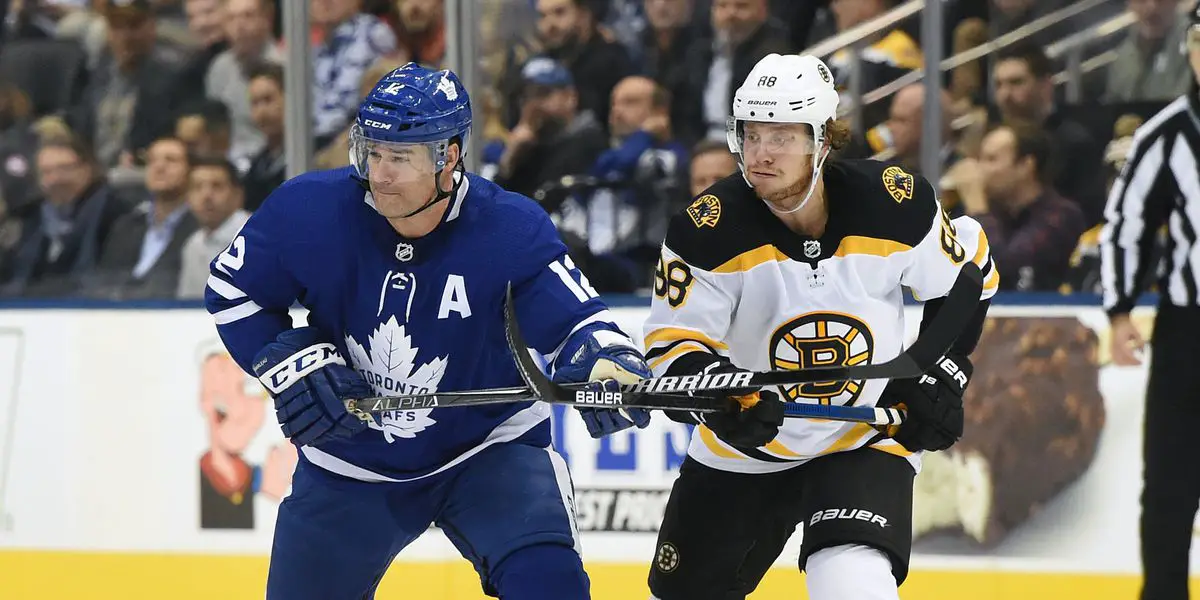 With only five games left in the regular season, the Toronto Maple Leafs have all but officially secured the 2ndposition in the Atlantic Division. At this point in the season, with the Eastern Conference set, it is just playing for home ice and playoff positioning, and things have become clear that the Leafs only have two potential first-round suitors. Toronto is either going to have a first-round date with the defending back-to-back cup winner, the Tampa Bay Lightning, or their biggest playoff foe in recent history, the Boston Bruins. But which team will the Maple Leafs face in the first round, and will they advance to the second-round for the first time since 2004?
In the last article (part 1), we talked about Toronto vs. Tampa Bay and how they would stack up against each other. Still, with the Boston Bruins only being 1 point behind Tampa for third in the Atlantic, we should discuss how these two rivals match up against one another. It hasn't gone in the Maple Leaf's favor in the last three playoff series they have had, with Boston beating them in game 7 in 2013, 2018, and 2019 but this year seems different for the Maple Leafs. They seem to be stronger on the puck on both sides, but most notable on the defensive side. This could be because they have brought in more defensive guys such as Kampf and Giordano. Still, it could also be because they are buying into the coaching system to play stronger on the defensive side of the game, and with that will come the offensive power that everyone knows Toronto can produce.
The Boston Bruins have had their struggles, with injuries and some missed opportunities to collect points, but that happens to almost every team at some point in the season. I don't think it will impact the Bruins as much as it would affect a new team to the playoffs. Just with their main core alone, they have experienced. I don't think it will faze them when it truly matters. Pastrnak is set to return before the start of the playoffs, as well as Ullmark, and they will be the usual Boston Bruins that will grind their opponents down and try to steal the series. However, it is evident that Toronto has more to lose than Boston does with a first round exit, so I think Toronto could come out on top of this series. These two teams do meet in the first round in a little over two weeks.
Toronto has had a season where a lot of their forwards have produced career highs and gained a lot of confidence ahead of the playoffs, and that may be the difference marker for this series. They stack up reasonably even, in my opinion. Toronto and Boston both have goalie tandems that aren't used to the actual pressure that comes with winning four series, both Swayman and Campbell have been great this season for their respective clubs, but their lack of experience in the postseason may be an issue for whoever advances past the first round. In terms of defense, Boston has their trade deadline piece in Hampus Lindholm on a pairing with Charlie McAvoy, who are elite d-man, and Toronto has Rielly and Brodie as their top two defencemen. Most hockey fans may consider them less than Boston's top pair, which may be accurate, but don't underestimate them if they slot in together on the pairing. The forward position is where I think Toronto has the real edge. I don't feel Boston has many real game-changers outside of their top-six, but the Maple Leafs do. On their third line alone with Engvall-Kampf-Mikheyev, that is a line that can be used to shut down teams' top lines and go out there and gain momentum and defend leads late in games. Yes, of course, both teams have top-end talent on their top two lines, but I think from experience when these two teams face off in the post-season, it is the depth players that can win the series for the team, and I feel Toronto has better depth this season than the Boston Bruins.
Toronto and Boston are set to face off against each other in game 82 on Friday, April 29th, and this game could be a potential playoff matchup for them and decide who Toronto plays in the first round. My pick for a first-round match for the Maple Leafs is the Boston Bruins over the Tampa Bay Lightning because it is about time the Leafs bury their demons and move past the first round, and who better to do that against than the team that has done it to them three times in 10 years, the Boston Bruins.