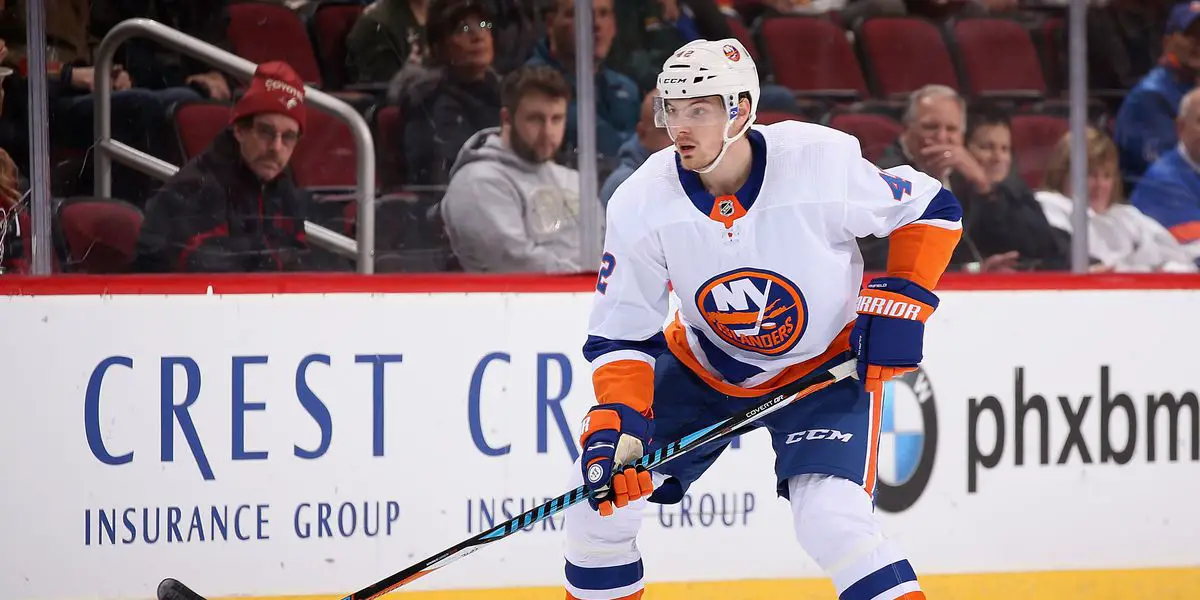 The 2023 NHL Trade Deadline is just around the corner! With the Maple Leafs sitting second in the Atlantic Division, it'll be interesting to see what additions General Manager Kyle Dubas makes on Friday, March 3rd. 
The blue and white have had a strong season so far, sitting with a 30-11-8 record. General Manager Kyle Dubas is in the last year of his contract, leading fans to believe that he will certainly make a big-time addition at this year's deadline. After the loss of defenseman Jake Muzzin, a veteran blueliner that was expected to play a key role. It isn't exactly unrealistic to believe that Maple Leafs General Manager will be out looking for a replacement. 
1. Vladislav Gavrikov, Columbus Blue Jackets
Let's start things off here with Vladislav Gavrikov of the Columbus Blue Jackets. Gavrikov is a 27-year-old left-handed defenseman who was drafted in 2015. Vladislav is one of this year's most sought-after trade deadline targets, using his strength and mobility at a unique level. When most describe Gavrikov, they jump to the 'shutdown' style for a modern-day NHL defenseman. After watching Gavrikov, I would say it's not necessarily the best way to describe his play. Gavrikov can make plays in the offensive zone and isn't afraid to get pucks on net. The only genuine concern I have with the 27-year-old is how he can get a little too active while defending. Jumping up to make the big plays sometimes catches him out of position. For a defenseman getting labeled as a premier shutdown guy, it's important to note that Vladislav has a thirty-two percent even strength defense percentage, according to JFresh, and a forty-seven percent projected wins above replacement. Paying the rumored asking price is way too high, in my opinion.
2. Scott Mayfield, New York Islanders
The next defenseman on my list is New York Islanders Scott Mayfield. The 30-year-old defenseman is in the final year of his current contract, carrying a cap hit of $1,450,000. Mayfield is a hard-nosed, physical type of defenseman with many traits that this Maple Leafs' defense lacks. While watching Mayfield, you can see how well he separates opposing bodies from the puck and has a strong ability to clamp down on other teams' attackers. Sometimes Mayfield can get caught out of position, but important to note the right-handed defenseman has an eighty percent even strength defense percentage, according to JFresh. If you're worried about Mayfield's offensive game, it's also worth noting he has a seventy-five percent even strength offense percentage as well, according to JFresh. Mayfield has had an impressive season for the Isles, playing much above his value. According to The Athletic, Scott's playing in the range of a defenseman that should be paid in the $3.4-million range, which is about a surplus of $1.9-million. Terrific value all around; definitely a name to keep an eye on if the Islanders start to slip. 
3. Jake McCabe, Chicago Blackhawks
The third name on my list here is Chicago Blackhawks defenseman, Jake McCabe. The 29-year-old left-handed defenseman is in his second year of a four-year contract with Chicago. Carrying a cap hit of $4,000,000 annually until 2024-25, McCabe would likely need some retention on his contract to make this work. This addition would be intriguing, but McCabe doesn't have a lot of qualities that most Leafs fans want. Jake's more of a mobile, quick left-handed defenseman that does well in possession. The only concern I have with Jake is that I noticed a lot of gaps in his play and being too slow to react at times. Playing in a lesser role, with a better Maple Leafs roster, may work wonders for Jake. The 29-year-old has an eighty-four percent projected wins above replacement, according to JFresh, and a seventy-nine percent even strength defense percentage. There's a lot to like here with Jake McCabe, and it's worth noting Leafs General Manager Kyle Dubas was also in attendance at the Blackhawks' most recent game in Vancouver. 
4. Connor Murphy, Chicago Blackhawks
Well, since the Leafs' General Manager was watching the Chicago Blackhawks' last game, it's worth bringing up a name Sportsnets Elliotte Friedman brought up on the "32 Thoughts Podcast". The name Connor Murphy has certainly been brought up by many; the Blackhawks defenseman has quite some term on his deal but, with retention, could make him a valuable addition to any contender. The 29-year-old right-handed defenseman plays a rugged style and is not afraid to get physical when called upon. Murphy has been solid defensively this season, scoring eighty-seven percent even strength defense percentage, according to JFresh. Connor's cap hit is set at $4,400,000 until 2025-26. 
5. Dante Fabbro, Nashville Predators
The next defenseman on my list here is Dante Fabbro of the Nashville Predators. Fabbro is a younger defensive option that could be a nice piece long-term. In the last year of his current contract, the 24-year-old right-handed defenseman will be a restricted free agent come July. It's not a guarantee that the Predators are looking to sell, but with how their season is going; they may move on from Fabbro as they may look to change things up. Dante is a strong skater who likes to get the puck on net, lacking the size and physicality of the other options above. Fabbro still possesses a lot of qualities that would be a nice addition here in Toronto. 
6. Will Borgen, Seattle Kraken
The next defenseman that could potentially be an option is Seattle Kraken's, Will Borgen. Now this one's hard to tell; the Kraken have had an impressive season that shows they'll likely be buyers at this year's deadline. However, with rumors of the team looking to get stronger up-front, maybe Seattle looks at moving Borgen, who is currently in the last year of his current deal. Borgen has been a nice player for Seattle this year, being purely a defensive defenseman. The 26-year-old right-handed defenseman has a staggering ninety-one percent even strength defense percentage and projected wins above replacement at seventy-four percent, according to JFresh. Borgen has been playing at a tremendous value this year, with a cap hit of only $900,000. According to The Athletic, Borgen has been playing at the current value of a $3-million defenseman with a surplus of $2.1-million. With an expiring contract that surely should see a raise with restricted free agency on the horizon, maybe it's not out of this world that the Kraken move the 26-year-old. 
7. Justin Braun, Philadelphia Flyers
An interesting depth addition could be Philadelphia Flyers defenseman, Justin Braun. Braun, is a veteran defensive defenseman that has played a ton of hockey in his career. This would be a unique addition to the group and one that could help a lot in the long run. The 35-year-old stay-at-home defenseman plays a heavy game and has achieved some positive results this year. According to Jfresh, Braun has a ninety-three percent even strength defense percentage and only carries a $1,000,000 cap hit. Braun wouldn't cost much and could be useful in case of injury, especially if the blue and white make a deep postseason run. At this stage of Braun's career, it's unlikely he can play top-end minutes, but the 35-year-old brings over one hundred and nineteen games of playoff experience. Braun could bring a lot of playoff experience to this defensive core in Toronto by making deep runs with San Jose, Philadelphia, and New York. 
8. Robert Bortuzzo, St.Louis Blues
Another option I like that could potentially work here in Toronto is St.Louis Blue defenseman Robert Bortuzzo. Bortuzzo, a right-handed defenseman that's under contract until 2023-24, carries a cap hit of $950,000. More known for his defensive game than what he can do on offense, Bortuzzo has a unique set of skills that may fit well here in Toronto. This season according to JFresh, Bortuzzo has a sixty-four percent even strength defense percentage, which could see a boost if brought into this Maple Leafs system. I don't think it would take much to get Bortuzzo out of St.Louis, and perhaps he could be included in a larger trade. The Thunder Bay, Ontario native has a large frame, with a good reach, and carries over fifty games of playoff experience. 
9. Jakob Chychrun, Arizona Coyotes
This one's already been talked about for a while now, but the addition of Arizona Coyotes defenseman Jakob Chychrun. Now Chychrun is one of my favorite players league-wide. He's great in the offensive zone and better than given credit for defensively. Jakob's a 24-year-old, mobile defenseman that isn't afraid to shoot the puck. Getting pucks on goal at a high rate could make this a really intriguing addition. As for the financials, it would definitely take some work, but it's a fairly team-friendly deal at $4,600,000. My favorite part about Chychrun's game is his strong play on the rush, a unique weapon when he's on his game. Chychrun would take quite the package but could be a significant addition to this Maple Leafs team.
10. Nick Jensen, Washington Capitals
The last name on my list here is more of a "pipe dream" addition but worth mentioning since he's set to be an unrestricted free agent come July. Defenseman Nick Jensen of the Washington Capitals would be my dream trade deadline addition. The mobile right-handed defenseman has been huge for Washington this season on a very team-friendly contract. Before diving into his analytics, seeing a trade involving Nick might not be too out of the picture. The Washington Capitals are now without top defenseman John Carlson due to a scary injury. Once the Capitals bring back Carlson, Trevor Van Riemsdyk's strong play may make Jensen available. In the last year of an expiring deal, maybe Washington sells high since he certainly will be getting a raise from his $2,500,000 cap hit in July. This season with Washington, Nick Jensen has a ninety-four percent wins above replacement with an eighty-seven percent even strength defense percentage. If you're concerned about his offense, Nick has a sixty-seven percent even strength offense percentage, according to JFresh. Playing at about a $5.9-million value for Washington this season, according to The Athletic, Jensen would be a significant addition to the blue and white. Nick is a mobile two-way defenseman that's got good speed and skates well. The 32-year-old defenseman is strong in possession and was linked to the Maple Leafs prior to being acquired by the Capitals.
I tried my best to find unique names that aren't always spread across the media. Some of these additions are more realistic than others, but why not have some fun here. This list took a significant amount of work, reviewing each name's tape and checking over the money and analytics with my good friend Nathan Bondy. I hope you enjoyed it; make sure you check out Nathan's work, who also writes here at Inside The Rink! Thanks for reading; for more hockey content, follow me on Twitter at ITR_Anselmo!
WELCOME BACK TO LEAFS LATE NIGHT! Presented by Inside The RinkRoscoe / Galaxy Biehn – Dubas Out?!?- Remember All The Good Times We Shared- I Don't Love Our Options- Matthews Next Deal?- Keefe's Fate- AI MascotsSPORTS! IS FUNMERCH IS AVAILABLE!JOIN OUR DISCORD!Remember to follow us on Twitter @LeafsLateNight & IG @LeafsLateNightCheck out Mike, Josh, and Nathan's articles on the Leafs + many more! insidetherink.com