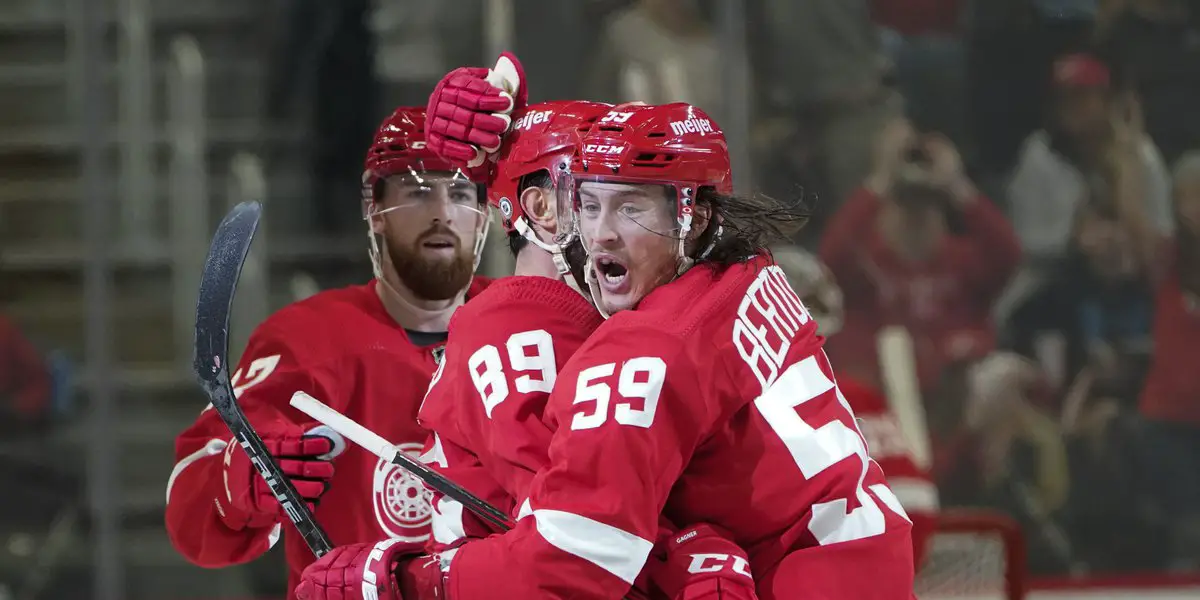 In the spirit of the Holiday season, it is time to see who has made old Saint Steve Yzerman's Naughty or Nice List on the 2021-22 Detroit Red Wings. 
The Nice List
Lucas Raymond 
The 19-year rookie has been everything the Red Wings could have dreamed of this season. Raymond has 28 points in 31 games, leading all rookies in the NHL. The line of Bertuzzi, Larkin, and Raymond have really clicked and are arguably one of the best lines in the NHL. Raymond is one of the front runners for the Calder Trophy, and if his point pace continues, it'll be hard for him not to win it. The last rookie to have 70 or more points was Mat Barzal. That's good company to be around.
Vladislav Namestnikov 
After a dismal 20-21 season, many fans wrote off Namestnikov. In 22 fewer games this season, he has already passed his goal and point total from last year with nine goals and 16 points. Namestnikov plays a grinder role but also has a lot of skill. He's been the perfect 3rd line forward for the Red Wings this season.
Alex Nedeljkovic
Steve Yzerman arguably committed highway robbery when he acquired Nedeljkovic from Carolina for only a third-round pick. Still, technically in his rookie season, Nedeljkovic has taken the reins as the starting goalie. With a 9-7-3 record that puts him first among rookie goalies. Nedeljkovic ranks 16th in the NHL among starters with a .916 save percentage. He's been exactly what the Red Wings have needed as they haven't had an exciting young goalie since Pete Mrazek's rookie year.
Dylan Larkin 
Dylan Larkin has had a dream bounce-back season for the Red Wings. He leads the team in goals and points with 15 and 29, respectively. Developing chemistry with Bertuzzi and Raymond Gus's been able to bring out more of Larkin's offensive game. In previous years, Larkin was carrying a large defensive load while also producing at a high level. Larkin has had more time in the offensive zone with responsible wingers and more defensemen that can move the puck effectively. Larkin is on pace for 43 goals this season which hasn't been done since Marian Hossa in 08-09. 
Moritz Seider
Moritz Seider overachieves at every level he plays at. Coming off winning SHL defenseman of the year, Red Wings fans' expectations were very high. Somehow Seider has managed to exceed even the fan's expectations this year as he's become the Red Wings' number one defenseman. Seider has excelled in both ends of the ice despite playing with substandard partners. With 21 points in 31 games, he's third on the Red Wings in points and third in rookie scoring in the NHL. With the way Seider is playing offensively and defensively, he's my pick for the Calder Trophy.
Pius Suter
An underrated move by Steve Yzerman was signing 25-year old free agent Pius Suter to a 2-year contract this past July. The Red Wings haven't had a capable second-line center a few seasons, and Suter has been that. With 15 points in 31 games, he's been producing at a reasonable rate, but his defensive play has been his strength. He's been tasked to shut down the opposition's top line a few times and has done that very well. He's been arguably the best Red Wings forward on the penalty kill and has really improved in the faceoff circle. It's refreshing to see another center other than Larkin on the ice and see consistency.
Robby Fabbri 
The Fabbri trade is Steve Yzerman's best trade as the Red Wings GM, hands down. Fabbri has been a consistent offensive threat since he arrived in Detroit in the middle-six. Fabbri has 14 points in 29 games, which is a little below his usual pace, but his effort has been a factor. Early on in the season, Fabbri and Bertuzzi were the heartbeats of the Red Wings as they were playing a gritty/skill game that the team embraced. Fabbri stepped up when Bertuzzi was put into Covid-19 protocol in early December, and he went on to score four goals in 5 games. He signed a three-year contract extension at a $4 million AAV on the 13th of December. He was getting a groove right before being placed on protocol, and it'll be interesting to see how he comes out of it.
Tyler Bertuzzi 
When Tyler Bertuzzi has been in the line-up this year, he's been one of the Red Wings' best players. In the first game of the season, he scored four goals against Tampa Bay, one of those being arguably the goal of the year.
Since Bertuzzi has been playing with Dylan Larkin, there has been chemistry, but adding Lucas Raymond to that line has taken both of them to a new level. This year, the Red Wings still have six games in Canada, all of those coming in the final two months of the regular season. Without Bertuzzi, the Red Wings have struggled to go 2-6 in those eight games. If the Red Wings play like that without Bertuzzi in Canada, it likely means they won't make the playoffs.
Marc Staal
When the Red Wings were given a second-round pick to take on Marc Staal from the Rangers, the expectations were very low. But through last season and the start of this season, Staal has been one of Detroit's more consistent defensemen. He's been a key to an improved penalty kill and the perfect bottom-pair defenseman. The pairing of Staal and Lindstrom has been a real surprise, as they have been used in a lot of shutdown situations and have excelled. Staal has really embraced the veteran role and was named an assistant captain this season.
Filip Hronek
Filip Hronek would have been considered for the naughty list if Christmas were at the end of October. Hronek struggled in his 20-21 campaign, which still ended with Hronek leading the Red Wings in points as a defenseman. The issue with Hronek throughout his young career has been his defensive play. Those deficiencies carried over into this season, and to send a message, Jeff Blashill scratched Hronek for two games in only the second week of the season. The message was well-received as Hronek responded with a big assist on Adam Erne's goal that helped the Red Wings come back and win in overtime versus Washington. Hronek has been the player who has benefited the most from Moritz Seider's arrival. Hronek was playing 25 minutes last season against the league's best, which is asking too much of him. Playing him in a second pair role and using him on the half wall on the power play has really brought out the best in Hronek's game.
Gustav Lindstrom 
One of the few players still around from the infamous Red Wings' draft class of 2017, Lindstrom came over to North America in 2019, splitting time between Grand Rapids and Detroit until this season. Lindstrom has been a pleasant surprise as he beat out Troy Stecher and Jordan Oesterle for the 6th defensive spot and hasn't looked back. There's nothing flashy about Lindstrom's game as he's not a great skater or highly offensive. He makes a strong first pass and is reliable in his own end. He's been able to smooth out any wrinkles in his game playing with Marc Staal. Still, after over 100 pro games between the AHL/NHL, Lindstrom still has yet to score a goal believe it or not. Hopefully, Santa is good to Lindstrom and brings him some goals for the rest of the year.
Sam Gagner 
After being a throw-in from Edmonton in the Andreas Athanasiou trade, Gagner has been the perfect bottom-six forward for Detroit. He has been able to transform his game from an offense-first player to a reliable defensive forward at age 32. That's not to say that Gagner isn't capable of offense either, as he has 12 points in 31 games. Sam Gagner has also been able to play on both special teams' units but has had a more significant impact on the penalty kill thus far. 
Mitchell Stephens 
After being traded from Tampa Bay to Detroit this past summer, Stephens beat out Carter Rowney for the 4th line center spot. Before sustaining a long-term lower-body injury, Stephens was a shot of energy every night. He is a speedy player whose strength is being hard on the forecheck and getting to loose pucks. In 16 games so far this season, Stephens has yet to score and has four assists. The offense hasn't been a hallmark of his game at the pro level, but he has been a helpful penalty killer and energy player for the Red Wings thus far.
Carter Rowney 
Rowney was signed as late in the offseason to compete with the likes of Givani Smith and Mitchell Stephens for the last forward spot. After losing out in training camp, Rowney bounced in and out of the line-up early and faired well. He has scored a couple of timely goals and has been able to play both center and wing, which is valuable for your 13th forward. He has been exactly what the Red Wings have needed with the injuries that have come in the bottom-six this season.
Jeff Blashill 
As a historic Jeff Blashill critic in years past, I am impressed with what he has done this season. Last year's game plan for the Red Wings was to play suffocating defense with little offensive pressure and hope the opposing team doesn't score more than two goals. With the talent pool of the 20-21 Red Wings, Blashill's strategy made sense. With the influx of talent, that system needed to change this year, and Blashill has done that. Playing Lucas Raymond and Moritz Seider a lot of minutes in prominent roles has paid off for Blashill as it's Christmas and the Red Wings are still in a playoff spot.
The Naughty List
Filip Zadina 
Right off the bat, I want to clarify that Filip Zadina hasn't been awful this year. Zadina has been cursed with some sort of voodoo and cannot score to save his life with only four goals through 30 games. It's been a disappointing season in both his and Red Wings fans' eyes. Before being placed on the Covid-19 protocol list, Zadina had back-to-back games where he registered seven shots. The main thing for Zadina is for him to get to more dangerous areas on the ice to shoot. Hopefully, this break can have him come back and be the player Red Wings fans know he can be.
Nick Leddy
With plenty of draft stock in the 2021 draft, Yzerman traded a second-round pick to the Islanders for Nick Leddy. Leddy throughout his career has been a smooth-skating, offensive-minded defenseman. Through preseason and the first part of the regular season, Leddy was paired with Seider, and the two looked very impressive. Since being taken off that pair, Leddy has struggled. Through the past 17 games, Leddy has only two assists and is a minus 12. Leddy is still a good defenseman, and reuniting the Seider-Leddy pairing seems to be the solution for Leddy to get back on track.
Michael Rasmussen 
Rasmussen was the first pick of the Red Wings rebuild, and it was a costly one. They were leaving the likes of Nick Suzuki and Josh Norris on the draft board, which turned out to be top-6 centers. The Red Wings end up with a player who's likely to be a 4th line center at this point. Last season Rasmussen showed some promise as he was playing in a third-line shutdown role and was playing well. This season, however, is not the same. Rasmussen seems to be losing a lot of puck battles he's been in, and for a 6'6 defensive center, that's not ideal. The last game he played in versus the Islanders was his best game as a Red Wing. He was a force in all three zones and got rewarded with the game-winning goal. If he can build off that game and play like that more consistently, he could be more than a 4th line center when this team is competing for the Stanley Cup. 
Adam Erne
Adam Erne was one of the few bright spots from last season. He led the Red Wings in goals while only playing in 45 games which tied his career-high. The expectation this year was that Erne would continue to build off his breakout season and become a consistent middle-six option. In Erne's first seven games, he recorded 5 points, exceeding expectations. Since then, in 23 games, Erne only has 4 points. He's struggled outside of production as he hasn't been reliable defensively either. He's proven that he can be a reliable producer. The Red Wings' new third line of Erne-Rasmussen-Zadina was arguably the Red Wings' best line versus the Islanders. That performance might just be what those three needed to turn their seasons around.
Danny DeKeyser 
Danny DeKeyser has, for the most part, been a shell of his former self since he had back surgery during the 19-20 season. He's logging minutes that he can't handle at this point of his career. DeKeyser has struggled in his own end, as he often turns over the puck or is outmuscled in a puck battle. Being paired with Moritz Seider has helped hide deficiencies in DeKeyser's game. At the same time, it has increased Seider's workload significantly. Danny DeKeyser can still be useful on this team in a reduced role. At the end of last year, DeKeyser was on the third pair with Gustav Lindstrom and actually played well.
Thomas Greiss
Throughout his Red Wings tenure, Thomas Greiss has been a very streaky goalie. Through his first 22 starts, Greiss was averaging over three goals against per game, and a .889 save percentage. In his last 12 starts, he was the hottest goalie in the league with a goals-against-average of 1.39 and a save percentage of .953. With the acquisition of Nedeljkovic, it was supposed to lighten Greiss's workload and help him stay at a consistent level. So far, he's been down more than up as he's averaging well over three goals against and has a save percentage of .893. I think Thomas Greiss is a good goalie and still seems to be adjusting to a lesser workload. In his last game, besides giving up a weak goal, he was great, stopping 31 of 33 shots for a win over New Jersey.
Jordan Oesterle 
The Dearborn Heights, MI native Jordan Oesterle signed a two-year contract this past July after an interesting season in Arizona. After two solid seasons for the defenseman in the desert, Oesterle was often the odd man out as he was scratched and sometimes even played forward. This season Oesterle started as the 8th defenseman and didn't get into action until the end of October. When Oesterle has been paired with Seider, he has looked competent, but with anyone else, he has struggled. He is a good skater but often struggles with his decision-making in his own zone. While I think Leddy should be paired with Seider,  I could see a pairing of Oesterle-Hronek complementing each other's playing style very well.
Givani Smith
Smith has been an exciting watch so far for the Red Wings this season. In the first game against the Islanders this year, Smith had his best game as a Red Wing so far as he had a goal and an assist while still playing a physical style. Early on, Smith could stay out of the penalty box to save his life, resulting in him being a healthy scratch. When he returned to the line-up, he would avoid playing with an edge at all. Then there have been a few games this year where Smith finds that perfect balance of physicality and skill and has been a difference-maker. The ability is there for Smith to be an everyday player in the NHL; the question is the consistency.
Not Enough Games
Joe Veleno
Troy Stecher 
Jakub Vrana