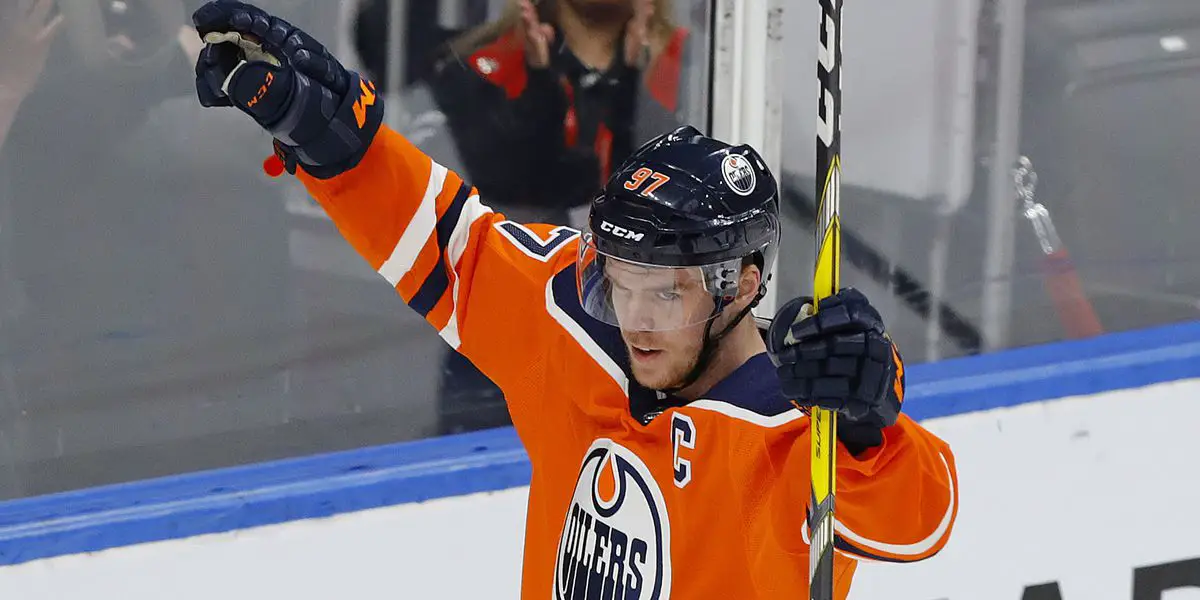 The 2021-2022 NHL season is nearing its halfway point. With each team having nearly 40 games under their belt, it seems like as good of a time as any to look at which players are leading in the major award races. Let's break this down.
Hart Trophy: Connor McDavid – Runners up: Alex Ovechkin and Leon Draisaitl
There's always a hot debate surrounding what the criteria is for the Hart Trophy. The award is supposed to go to the most valuable player to their team. So do you give the award to the league's best player? Or the one that is the best relative to their teammates? While technically, the ladder is more accurate to the award's criteria, I believe that because the Hart is the most important award to a player's legacy, we must take the best overall player into account when deciding this. Otherwise, a goalie would win every year. Let's be honest they have the most impact out of any one player on the ice. With all of that out of the way, I have to go with Connor McDavid as the MVP so far. This season, McDavid, Ovechkin, and Draisaitl have all achieved unbelievable offensive production. However, all of them admittedly leave a lot to be desired defensively.
McDavid has the best defensive numbers of the three with the lowest expected goals against (xGA) and Corsi against (CA.) Along with Ovechkin being the weakest of the three defensively, he also has the lowest P/GP. McDavid and Draisaitl have a slight edge over Ovechkin statistically, but what about the importance of these players relative to their teammates? Ovechkin should, in theory, have the advantage in that department given that McDavid and Draisaitl are teammates, and Ovechkin's next highest scoring teammate has 17 points less than him. However, when you dig into the numbers, you will discover that Connor and Leon's next closest teammate in points besides each other is Nugent-Hopkins, with a whopping 27 points less. McDavid and Draisaitl have both factored in on 44.7% of their team's goals, while Ovechkin has factored in on 42.3% of his. If you take away McDavid or Draisaitl, the Oilers are probably at best a bottom-five team in the league, and I don't think the same could be said for Ovechkin. Despite the dynamic duo's advantages in most of the criteria, it's a bit of an unwritten rule that the Hart Trophy can't go to a player that doesn't lead his team into the playoffs, so if the Oilers continue to spin their wheels, Ovechkin is a shoo-in for this award. McDavid has been the most valuable player to this point, but there is a lot of season left for that to change.
Vezina Trophy: Igor Shesterkin – Runners-up: Jack Campbell and Jonathan Quick
Shesterkin and Campbell being the top two will surprise no one, as they are first and second in the league respectively in both save percentage (SV%) and goals-against average (GAA). These two have been fantastic, and they were an easy choice for the Vezina front-runners. Some might be surprised with my inclusion of Jonathan Quick. After all, he sits tenth in SV% and Eighth in GAA. GAA is heavily influenced by team success, and the Kings are not a very strong team, so let's focus more on SV%. The problem I have with SV% is that it doesn't account for shot quality, only shot quantity. While most hockey fans are familiar with the traditional SV% stat, most professional hockey analysts prefer to use goals saved above expected (GSAx) as the gold standard for evaluating goaltenders. This metric uses factors such as shot speed and shot location to determine the quality of the scoring chance so that we can calculate the number of saves a goalie makes relative to the amount we should expect them to make based on the shot quality. Shesterkin leads the league in GSAx/60, Jonathan Quick comes in at second, and Campbell third. Shesterkin is the heavy favorite to win the Vezina Trophy at this point, and Campbell is in the race. Quick is unlikely to win, but he deserves the respect of at least being in the conversation. If the Kings didn't give up so many high-quality chances, there would likely be few people questioning his inclusion in the top three.
Norris Trophy: Cale Makar – Runners-up: Roman Josi and Charlie McAvoy
Cale Makar missed several games due to injury. However, if you extrapolated his stats to a full 82 game slate, Makar is scoring at a 43 goal and 95 point pace. Absolutely incredible numbers and his defensive game has been strong as always. Former Norris winner Roman Josi has over a point per game this season and sits second in goals for defenseman behind Makar, which puts him in a good spot to win if Makar starts to regress. Charlie McAvoy is down at 19th in scoring among NHL D-men this season, but he is having a superb season by every defensive metric. McAvoy is quite possibly the best defensive player in the game, and he is still scoring at a 58 point pace. Many defenders also deserve mention as dark horses to win the award, such as reigning Norris winner Adam Fox, Victor Hedman, Aaron Ekblad, and Devon Toews. These players have been fantastic, but I gave McAvoy a slight edge for being the more complete player this year than the rest. Regardless, if Makar keeps up this pace, we might be talking about the best offensive season from a defenceman since Paul Coffey, and that would be more than enough to give him the Norris Trophy unanimously.
Selke Trophy: Patrice Bergeron – Runners-up: Auston Matthews and Matthew Tkachuk
Patrice Bergeron has been one of the best defensive players in the league for the majority of his career. The 4-time Selke winner is having his best statistical season yet in terms of the defensive numbers, at the age of 36, which should put him atop the leaderboard at the halfway point. Amazingly, Bergeron is on pace for career-high rates in Corsi for percentage (CF%), xGA/60, CA/60, and Faceoff Percentage. This season, he is also better than the other Selke candidates in all of these categories except for CF%, where Tkachuk edges Bergeron by about 2%. Bergeron is without a doubt the leader, but Matthews and Tkachuk have put together the best two-way seasons of their careers, and they are starting to prove that when Bergeron's age inevitably causes his game to decline, they could be among the next generation of Selke winners. Speaking of the next generation, Nick Suzuki's defense shouldn't be ignored here either, as the young centreman has put together a tremendous defensive season despite his team's horrible record. Evan Rodrigues, another potential candidate that has earned the right to be in the Selke conversation, has comparable numbers to Tkachuk and Matthews this season.
Calder Trophy: Lucas Raymond – Runners-up: Trevor Zegras and Moritz Seider
Lucas Raymond leads all rookies in points and is tied with Zegras for second in goals. Zegras and Raymond are neck-and-neck in most traditional stat categories such as goals, points, time-on-ice, shots, and shooting percentage. Whether it's fair or not, I give the edge to Raymond because Zegras has more responsibility as a centreman. His average defensive play and the weak 41% faceoff percentage hurt his overall impact slightly. Zegras definitely has a flashier game, and with all the buzz surrounding him this year, it wouldn't surprise me at all if he won. Moritz Seider is third in rookie scoring as a defenseman, giving him a strong argument for winning the award, but dark horses such as Michael Bunting and Tanner Jeannot shouldn't be ignored either. This year's Calder Race will be fun to watch unfold in the second half of the season.
Jack Adams Award: Mike Sullivan – Runners-up: John Hynes and Rod Brind'Amour
The Pittsburgh Penguins have been devastated by injuries to their key players all season long. Their top two centers, Sidney Crosby and Evgeni Malkin, missed significant time in 2021, and so did some of their top-six wingers like Bryan Rust and Jake Guentzel. Veteran coach Mike Sullivan overcame this adversity. He led his team to a respectable record until Crosby's return, which saw the team skyrocket in the standings thanks in part to a recent ten-game win streak. Lesser coaches wouldn't have been able to get enough production from the depth players for the team to tread water while their top stars were absent, but Sullivan was able to rally the troops and get the Penguins into contention for a home-ice playoff position. Nashville's John Hynes has also been doing a fantastic job, as he has led the Predators to a shocking 24-12-2 start that has been spearheaded by some of his veteran players like Matt Duchene and Ryan Johanson. Finally, I have chosen to put the Hurricanes head coach Rod Brind'Amour in the running due to his team's excellent defensive structure and 24-8-2 start. Rod is a popular coach amongst his players and has kept them motivated to reach a new level in their game.
Jim Gregory General Manager of the Year: Bill Zito – Runners-up: Joe Sakic and Kyle Dubas
The Florida Panthers were a team that came up short of expectations repeatedly throughout the 2010s, but in just a few short years, Bill Zito has transformed them into a legit Stanley Cup contender. Before the 2021 trade deadline, he added the underperforming Calgary Flame Sam Bennett and a sixth-round pick in exchange for Emil Heineman and a second-round pick. This move turned out to be a savvy one for the Panthers, who have witnessed Bennett thrive in Florida with 36 points in his first 38 games with his new team. This summer, Zito made another critical deal when he acquired Sam Reinhart from the Sabres for Devon Levi and a first-round pick. Reinhart has been fantastic, with 29 points in 34 games. In order to make the cap space to improve the team, Zito was also able to offload Anton Stralman's $5.5 million cap hit to Arizona, giving the Coyotes a pick and a prospect for their troubles. These moves over the past year have transformed the team and should earn Zito the General Manager of the year. Sakic should also be given consideration for building the juggernaut that is the Colorado Avalanche. Still, this team's core was built before this year, with most improvements coming from the internal growth of the personnel that was already in place before this season. Kyle Dubas' Toronto Maple Leafs are also having a great first half of the 2021-22 season. While Dubas was quiet this summer, sometimes the best move is the one you don't make. He didn't panic and deal Marner or Nylander after the Leafs first-round exit against Montreal last spring. He stayed the course and is being rewarded.
Ted Lindsay: Connor McDavid – Runners-up: Alex Ovechkin and Leon Draisaitl
I'll keep the Ted Lindsay explanation short because I went over this in the Hart Trophy section. The Ted Lindsay is awarded to the best player as voted by their peers. I think McDavid has still shown this season that he is the best player in the league, but Ovechkin and Draisaitl are close behind. Brad Marchand is also a player I would like to see get some recognition, as he has been playing some of the best hockey of his career this season.