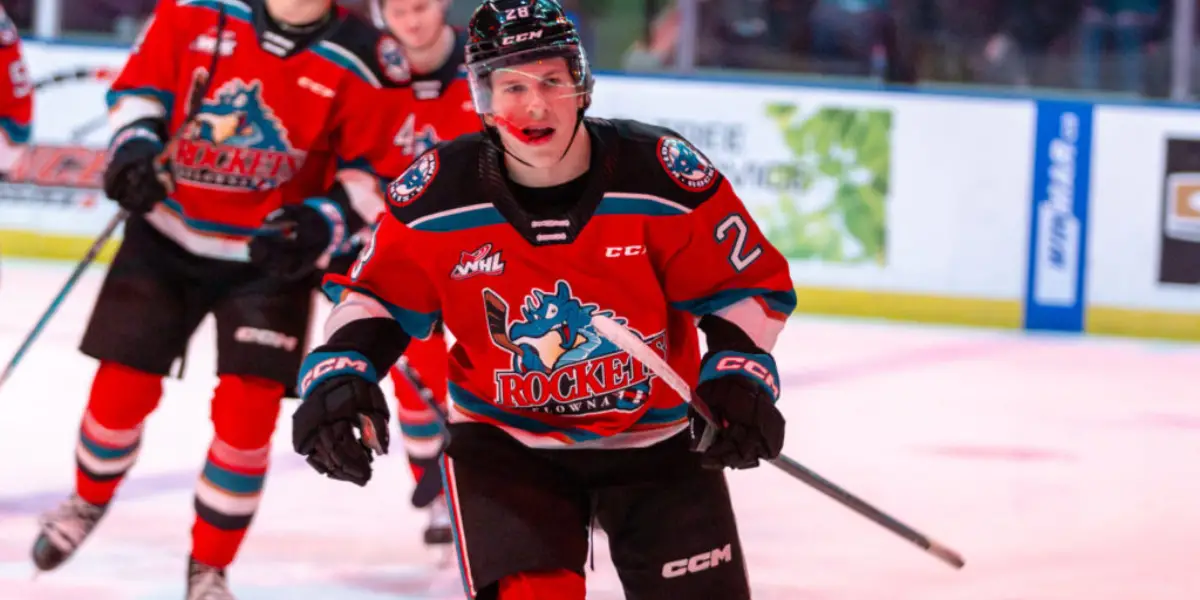 Andrew Cristall is a highly-touted prospect in the upcoming 2023 NHL draft. The Vancouver native is a dynamic forward with excellent speed, agility, and puckhandling skills. He is praised for his ability to create scoring opportunities and his willingness to drive to the net. While there are still areas for him to improve on, Cristall has the potential to become a star at the NHL level.
Andrew Cristall has been ranked as high as 6th by The Hockey News. However, not everyone agrees that he should be at the top end of the first round:

Ranked #13 by Inside The Rink
Ranked #8 by EliteProspects.com
Ranked #16 by Daily Faceoff
Ranked #6 by The Hockey News
Ranked #18 by TSN/ Bob McKenzie
Ranked #15 by NHL Central Scouting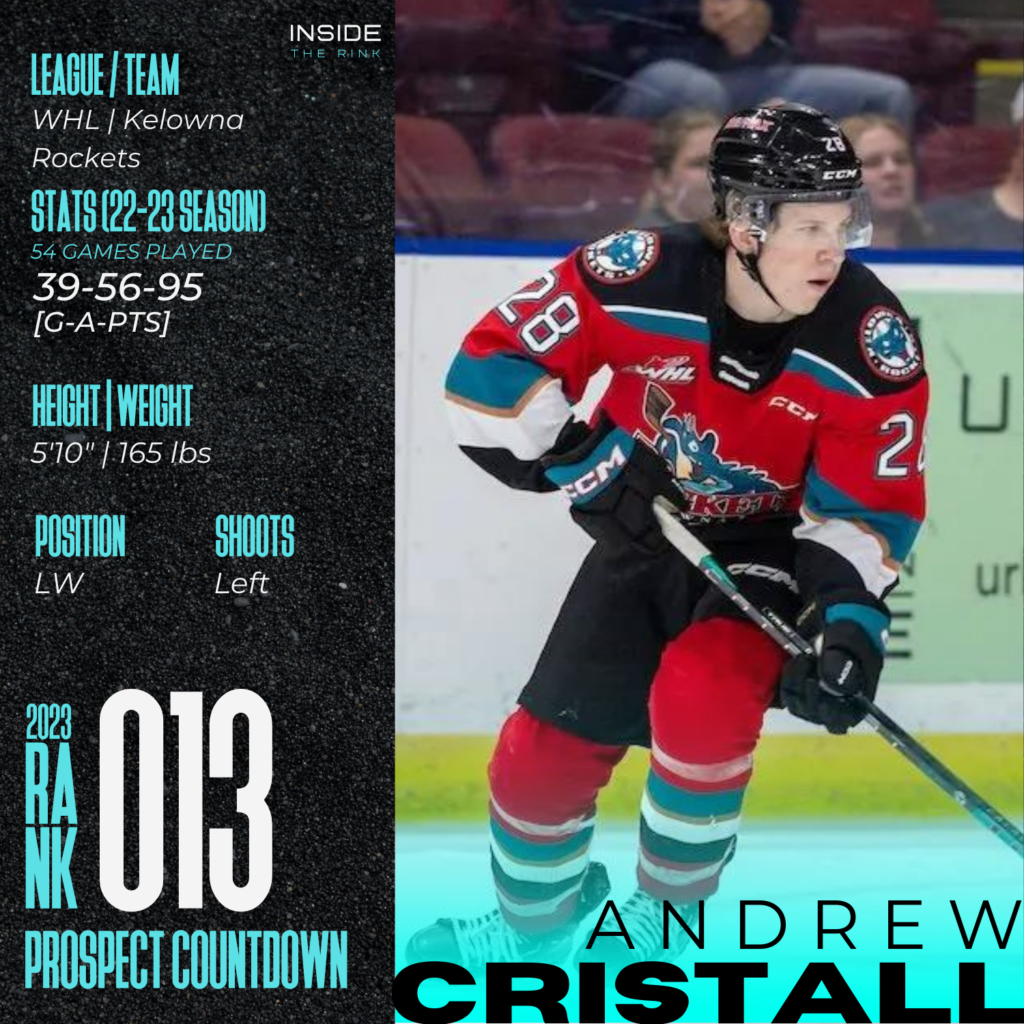 Playing Style
Cristall's playing style is defined by his speed and agility. He is a quick skater who can blow by defenders with ease. His puckhandling skills are also a major asset, as he can make quick moves and change directions on a dime. Cristall is a dynamic offensive player who can score goals and set up his teammates with his passing skills. He is a true playmaker who can create opportunities out of nothing.
What makes Cristall stand out is his strong defensive play and willingness to backcheck. He is not content to just be an offensive threat and works hard to help out on the defensive end. This two-way ability will be a major asset to any NHL team that drafts him.
Strengths
Cristall's strengths are numerous. As previously mentioned, his speed and agility are major assets. He has a quick first step and can get up to top speed in a hurry. Cristall's puckhandling skills are also a major strength. He can make moves that leave defenders spinning and can change direction quickly to evade pressure.
Cristall's offensive instincts are also a major strength. He is a natural scorer who has a nose for the net. Cristall is able to find open spaces and create scoring opportunities for himself and his teammates. His ability to set up his teammates with his passing skills is also impressive.
Defensively, Cristall is a strong back checker who is willing to compete for loose pucks. He is not afraid to get involved physically and will use his body to gain an advantage.
Weaknesses
While Cristall is a dynamic player, there are still areas for him to improve. One area of improvement could be his consistency. While he is capable of dominating games, there are times when he can disappear from the scoresheet. Cristall could work on being a more consistent offensive threat.
Another area for improvement could be his decision-making with the puck. While Cristall has great offensive instincts, there are times when he can force plays and turn the puck over. He could work on being more patient and making smarter decisions with the puck.
Finally, Cristall could stand to add more size and strength to his frame. While he is not small by any means, adding more muscle could help him compete physically at the NHL level.
Potential
Overall, Andrew Cristall has the potential to become a star at the NHL level. He has all the tools necessary to succeed, and his work ethic and dedication to the sport are impressive. Cristall's two-way ability and dynamic offensive skills make him an attractive prospect for any NHL team looking for a high-scoring forward.
While there are areas for him to improve, Cristall's strengths far outweigh his weaknesses. With the right coaching and development, he has the potential to become one of the top players in the league.
HSP – May 29th 2023 – Canucks Cap Issues, CFL Pre-Season and Arturs Silovs is the man!!!
–
Hughes Sports Podcast- HSP
Introducing the Hughes Sports Podcast, your go-to source for insightful discussions and expert analysis on the hottest topics in the world of sports. Join your hosts, Jake and Kevin Hughes, as they delve deep into the captivating realm of sports.In our latest episode, we spotlight the Vancouver Canucks' cap issues, dissecting the complexities and implications of their financial challenges. Jake and Kevin meticulously analyze the team's salary cap situation, offering invaluable insights into the strategies the Canucks can employ to navigate this obstacle and achieve long-term success.But that's not all! We also dive into the exciting realm of Canadian Football League (CFL) pre-season action. With a keen eye for detail, Jake and Kevin break down the standout performances, highlight emerging talents, and provide a comprehensive overview of what to expect in the upcoming CFL season. Whether you're a die-hard CFL fan or a newcomer to the sport, this episode will keep you well-informed and ready for the gridiron action.And let's not forget our tribute to the incredible goaltending prowess of Arturs Silovs. Recognizing his exceptional skills and immense contributions to the sport, Jake and Kevin pay homage to Silovs' extraordinary talent and discuss how he has become a force to be reckoned with in hockey. From his remarkable saves to his unwavering determination, we delve into why Silovs is the man to watch out for.Tune in to the Hughes Sports Podcast for a captivating blend of SEO-focused copywriting expertise and in-depth sports analysis. Jake and Kevin Hughes bring their passion, knowledge, and wit to the forefront, delivering a podcast that will keep you entertained, informed, and craving more. Don't miss the latest episode—your ultimate sports fix awaits!